Last week we announced AMP post-click landing page functionality where marketers can create AMP-compliant pages fast, without a developer. It is another feature that empowers marketers to create optimized mobile experiences, and in turn, generate more conversions.
To get a better sense how the feature was developed and understand its true power, I spoke with our VP of Product, Oliver Armstrong, who led our AMP efforts from the beginning.
*Update: As of September 2018, you can A/B test AMP post-click landing pages and publish to WordPress.
What is the new AMP functionality in Instapage?
OA: We are introducing the ability for our customers to build their post-click landing pages in the AMP framework right within our existing product. From now on customers will have an option to build either a standard post-click landing page with all the bells and whistles, or build a lightning-fast AMP page with the same easy to use and powerful page builder that Instapage is known for.
Why do digital marketers need AMP?
OA: AMP presents digital marketers with a unique opportunity to get a leg up on the competition. Most activity on the web is from mobile devices these days and a majority of digital ad spend is also targeted at mobile.
Not only are many digital marketers lagging behind the broader trend toward mobile, when they are able to focus on mobile it can be tedious and time-consuming. Even then, the pages may still be slow to load in many regions or depending on the visitor's connection speed. AMP is designed from the ground up to be as fast as possible.
Some businesses can invest in experimenting with AMP, and are seeing excellent results. But not everyone has the time or bandwidth to get a handle on this new framework, let alone divert precious resources to learning how to develop these blazing fast mobile pages. We are leveling the playing field by making it dead simple to deploy a sophisticated AMP post-click landing page strategy.
How can AMP affect the metrics that matter most to marketers?
OA: In short, because page load speed matters a lot. There are a plethora of statistics available highlighting the correlation between slow page load speeds and bounce rates.
In our State of Mobile report we cite that 40% of visitors will leave a page that takes longer than 3 seconds to load. Not only that, 61% of them won't come back. That's a lot of lost traffic that you've already paid for or earned.
On top of losing 40% or more of your potential post-click conversions, those slow load speeds and high bounce rates will hurt your paid advertising campaigns and cost you more on your pre-click ad spend going forward.
To put this in perspective, the AMP pages you can build with Instapage typically load in 0-1 second from a mobile device. We're seeing incredibly fast page speeds, even when loading in the 3rd party browsers native to Facebook, LinkedIn, or Gmail which are typically much slower than a conventional browser. Our customers already see fantastic mobile conversion rates of around 22% on average with our standard pages, even in globally diverse regions. Combined with the near instant load speeds of AMP we're really excited to see the results on conversion.
How is the AMP builder different than the traditional Instapage builder?
OA: In a lot of ways the AMP builder is identical to our standard page builder. The basics of design, grouping, and layout are the same. You can use all the Instablocks™ that you've already created, connect to Google Analytics, and integrate your pages easily.
There are a few differences, however. AMP is fast because it pre-caches the page on Google servers. To do this, the framework restricts the usage of JavaScript, and caps the CSS file size at 75KB. Because of these limitations with the AMP framework not every feature in the standard builder is currently supported.
One major difference is that we'll warn you if you approach the maximum CSS file size (image 1, below). As you build we'll let you know when you're approaching the limit to remove any doubt (image 2), and when you're ready to publish your page we'll validate that it's AMP-compliant for you (images 3 and 4). If you've gone over the limit we'll let you make the necessary changes to ensure you've got an AMP page that can be properly cached with Google (image 5):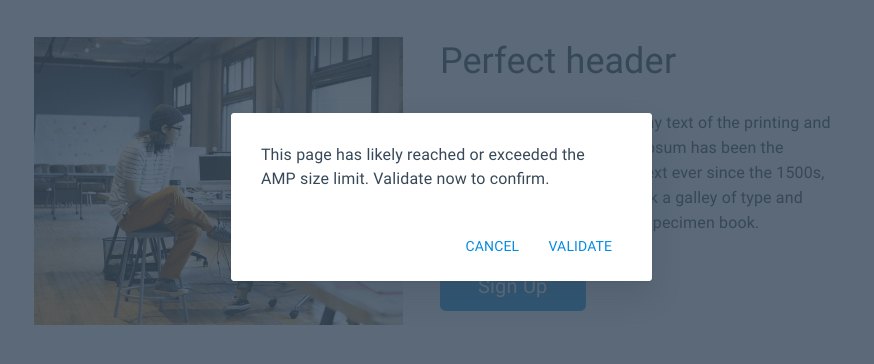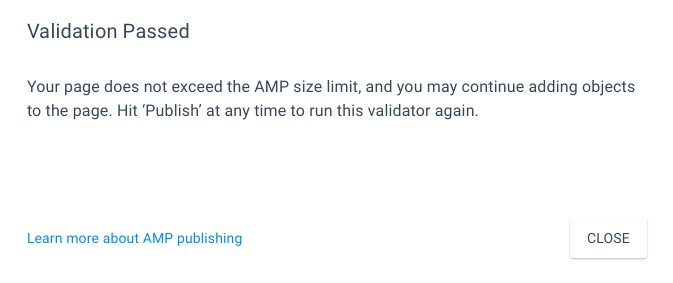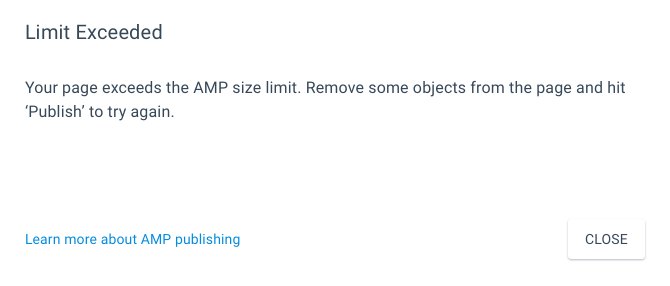 AMP is still only a couple years old, so we're confident that the development community and Google will continue to support more and more functionality to make AMP even better. We've got some exciting things planned as well.
What role did Google play in Instapage developing the AMP feature?
OA: We've partnered with Google on a couple of different programs in the past. In the course of our collaboration, we let them know that an AMP solution was something that we had in development and were pretty close to having a functioning product.
Since then we've been in communication with their team on a number of fronts. One of our senior developers, Piotr Dolistowski and I even spoke at the annual AMP developers conference in February. It was a great experience and we had a lot of fun sharing some of the problems and successes we've had in providing conversion-oriented features to AMP.
Even though Google has an interest in seeing AMP succeed in improving the user experience of the web, it is fundamentally an open source technology. They've done a really great job bringing a lot of search platforms to the table making sure that the benefits of AMP are universally beneficial across the web. In the same way that Google wants the mobile web to be a better experience, we want digital marketers to be able to create those experiences as efficiently as possible.
Is this a common feature in the industry or is it unique to Instapage?
OA: Even though it is still young, it is gaining some serious traction with 4 billion AMP pages covering 25 million domains to date. That being said, the ability to build and deploy AMP pages with the ease and scale that Instapage provides is truly a first. We're very proud to be the first platform to provide AMP post-click landing pages to supercharge the post-click optimization efforts of digital marketers everywhere.
Start creating your AMP post-click landing pages today
AMP post-click landing pages can be a campaign-changer for you, especially if you are spending a significant amount on digital ads. Don't let another potential customer leave your pages due to poor user experience.
Request a demo today and see the power of Instapage AMP post-click landing pages for yourself.
Get an Instapage AMP Demo
See how quick and easy it is to create AMP
post-click pages in Instapage.