What are Splash Pages?
A splash page is a page that precedes the main pages on your website. The purpose of a splash page varies: You can promote a new offer, show a disclaimer, or require visitors to verify information, depending on the industry or niche your business operates in.
Unlike a squeeze page or a landing page, splash pages don't necessarily ask visitors to enter their name or email address. The basic purpose of a splash page is to inform visitors of something, such as a new company update or to confirm their geographical region to personalize their experience like the Casa page does.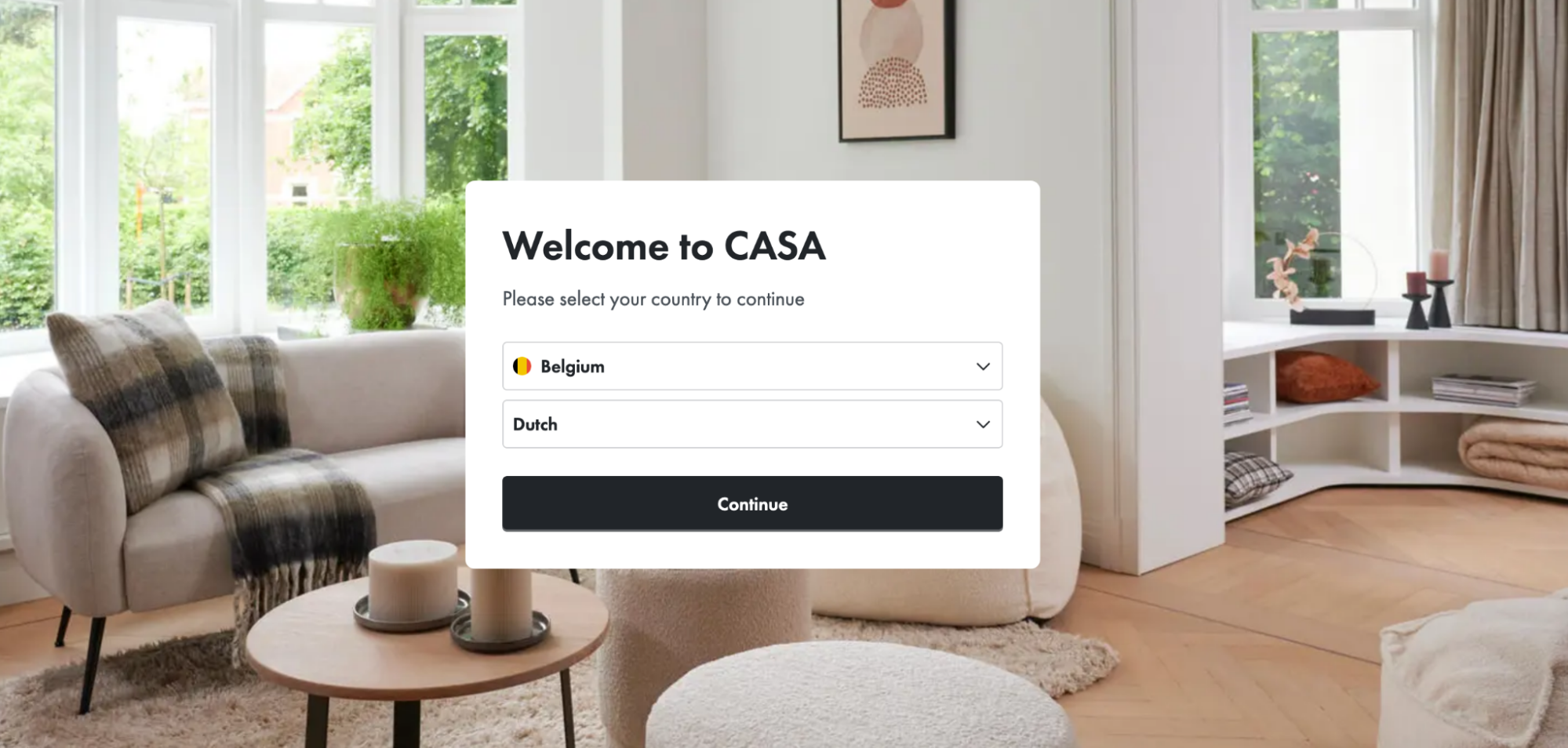 A typical splash page contains minimal copy, a background image, and most importantly a link that takes the visitor to the main website. In Forbes' example, the "continue to site" directs visitors to the homepage.
A splash page can be a welcome screen to the main website or a teaser that gets visitors excited for the content they're about to view.
You may have noticed that many alcoholic brand websites include an "age disclaimer" splash page, which serves as a warning to the visitor. Although Federal law does not require these splash pages, the Federal Trade Commission says brands selling alcohol should self-regulate themselves and use age verification technologies.
These are special types of splash pages because they are industry-specific, do not have an exit link, and force the visitor to verify their age before granting access to the main website.
Tito's splash page confirms the visitor's age before they can clickthrough to the website.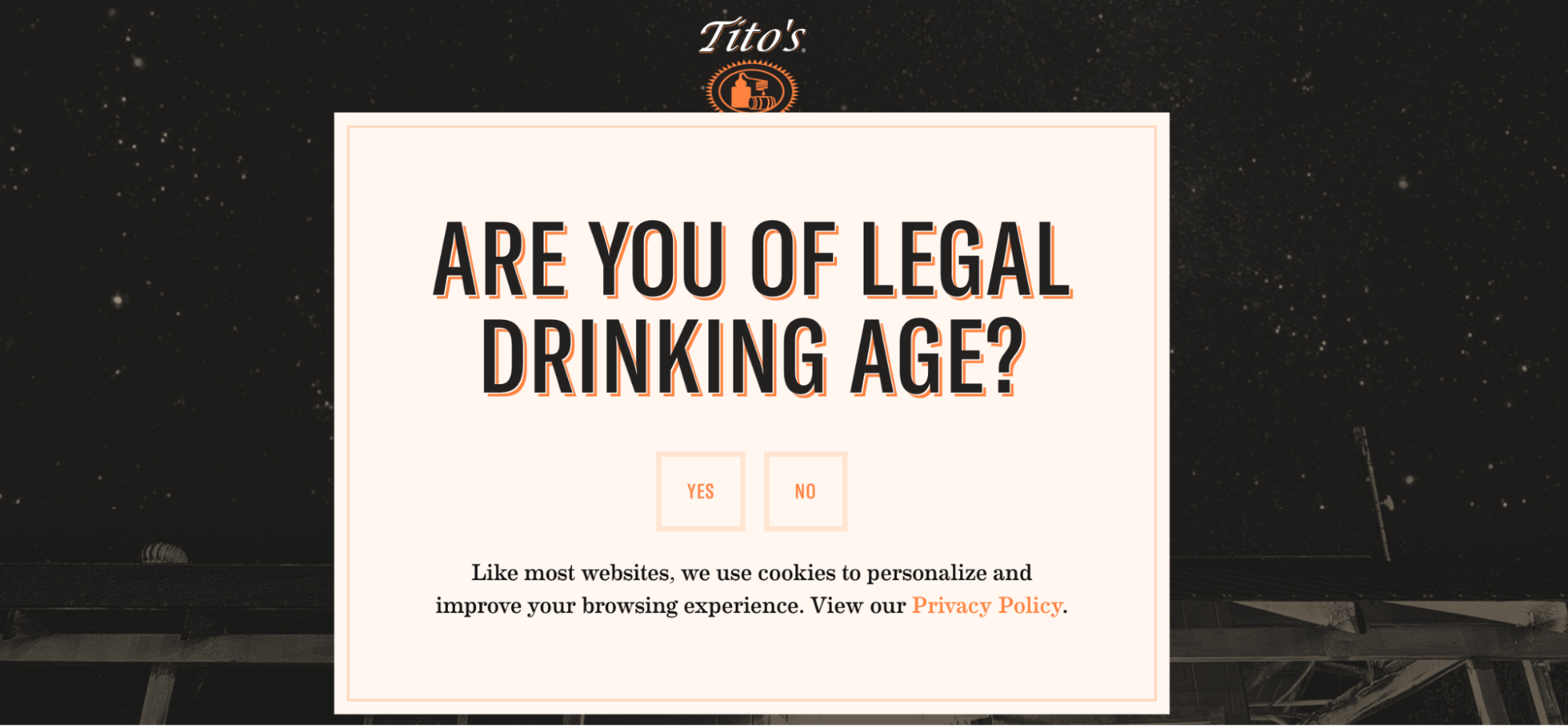 The purpose of splash pages
The purpose of a splash page is to enhance the user experience of your webpage. Users are either informed of something that may entice them to buy a product, such as a discount.
They should also include a noticeable and easy-to-find link to navigate away from the page.
The difference between splash pages and landing pages (with examples)
A landing page is a standalone page that is created to fulfill a single conversion goal. This goal can vary from collecting webinar registrants to securing ebook downloads.
A splash page, on the other hand, is not a standalone page—it's more of a large window hosted on the main website page. The goal of the splash page is to provide valuable information to the visitor.
For example, the Dollar Shave Club splash page asks visitors to fill out a quick quiz to personalize products for them: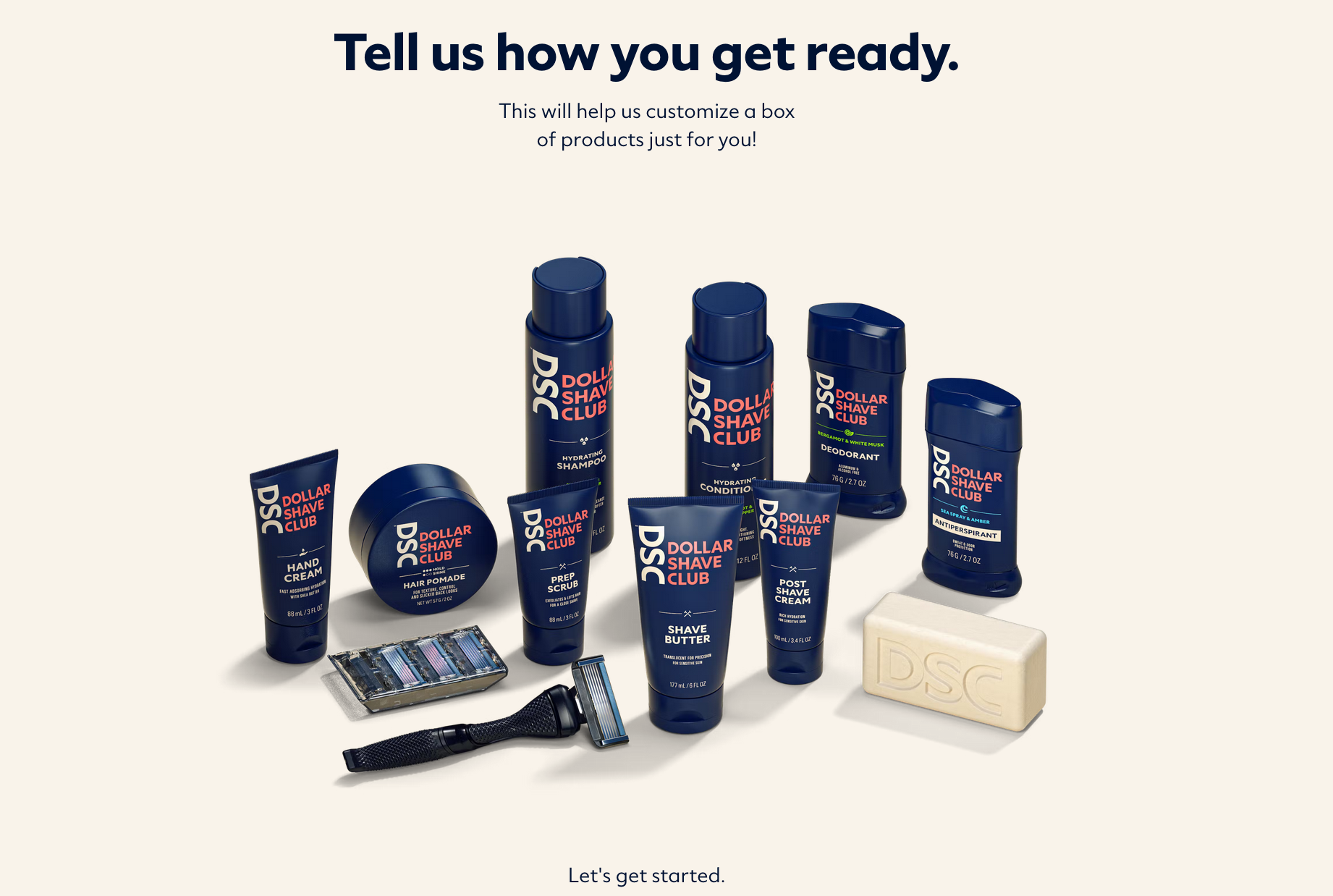 Your splash page could feature a giveaway that will excite your visitors. This will heighten your credibility even before they officially enter your website—making them more likely to buy whatever product or service you are offering.
The Conversion Gods splash page is a great example of this giveaway-type of splash page: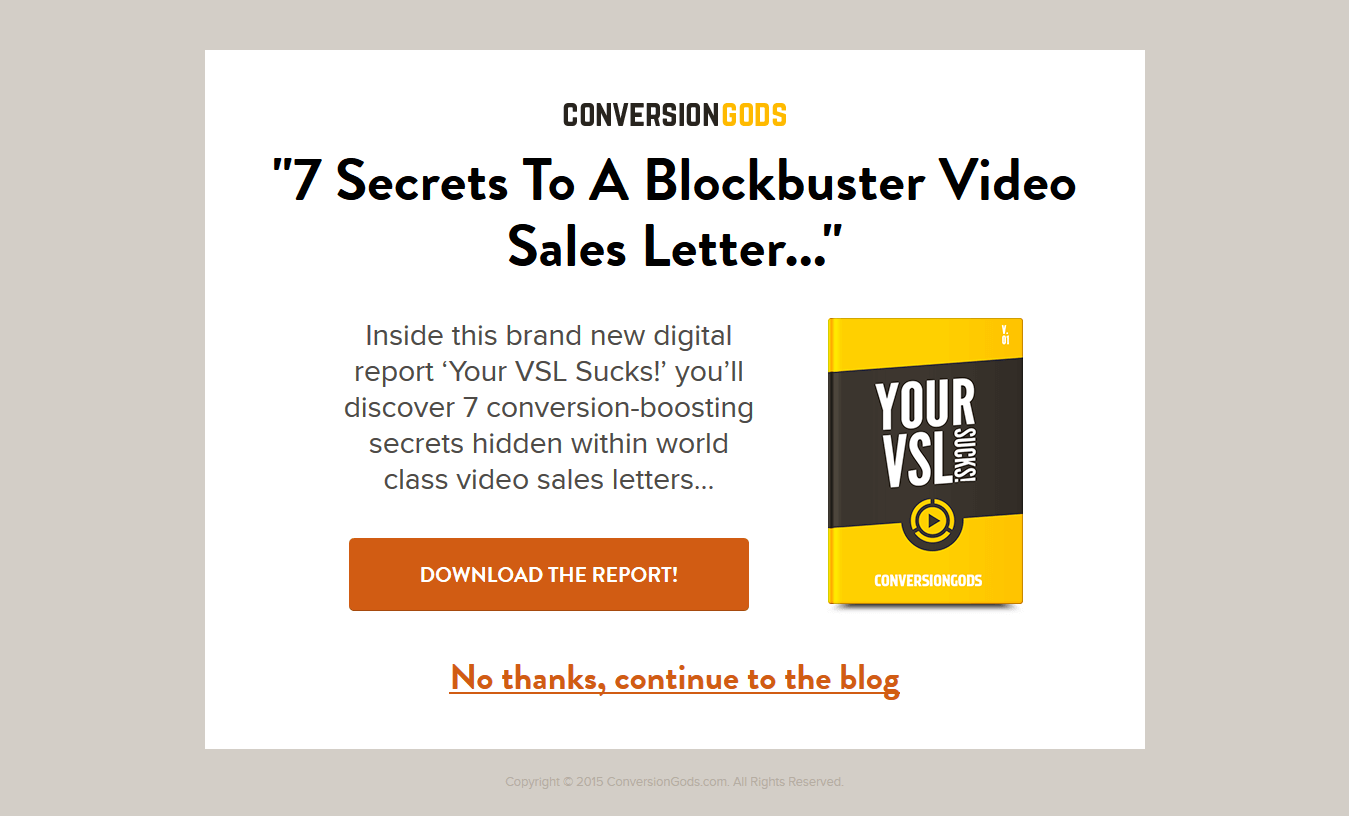 There are also splash pages that ask visitors to identify which language or version of the website they want to see.
The difference between Splash Pages and Homepages
A splash page can be connected to your homepage, any content or product page page, or your blog. A splash screen is a "welcome screen" and is the first page the visitor sees before the website.
The homepage, content page, or blog page (and respective splash pages) share the same root URL, however, there are some subtle differences between the main website pages and a splash page.
A splash page has very few elements—one short message and an exit link
A homepage typically has navigation links and a lot of information on your product or service
A splash page doesn't necessarily have a background image or graphic
A homepage has at least one and often a variety of graphics
A splash page has a single purpose (either presenting visitors with a choice or relaying a message to them)
A homepage can have multiple purposes, including introducing visitors to your brand and making it easy for them to find relevant products or features via navigation links or otherwise
As an example, let's look at Zara.com and identify the differences between the homepage and splash page.
This is Zara's splash page: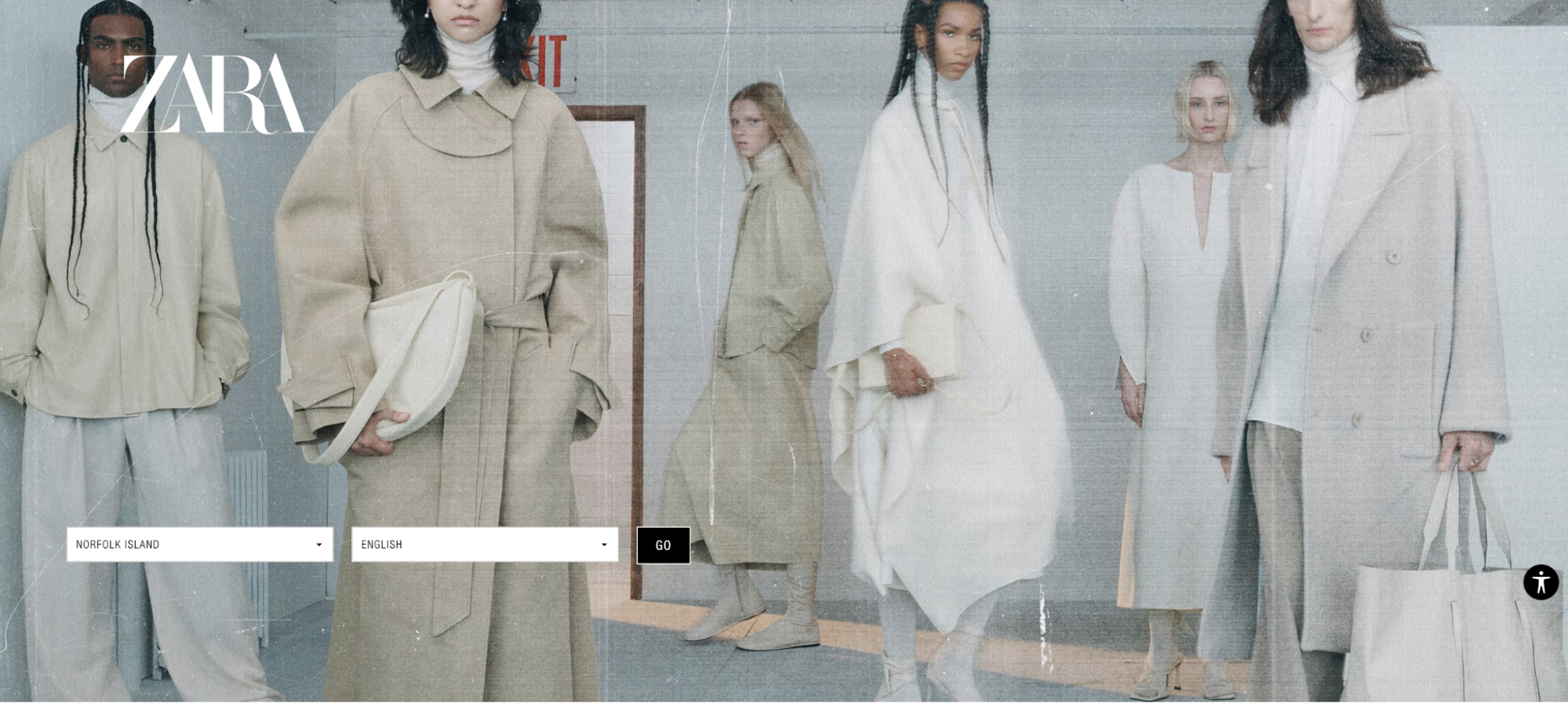 The splash page has:
A background image that's relevant to the website
A single message (the choice of the country for which you want to view products)
A CTA button that takes you to the website

This is what Zara's homepage looks like:

The homepage has:

Multiple images that showcase multiple products
Navigation links taking you to other pages within the website for various types of products, sales, a shopping cart, etc.
A search bar that allows you to find the products you're looking for
How Do I Create a Splash Page?
When creating a splash page you can::
Have your internal web designer and development team create one for each of your relevant pages—if you have these resources
Hire a third-party designer and developer to create a splash page template—and then host the page on your website
Use Instapage to design your splash page quickly


With the first option, you will most likely spend too much money and experience a lot of waiting time for the designer to create the page and coordinate with your IT department in hosting the page.

With Instapage's easy-to-use interface, drag-and-drop builder, in-app collaboration, and robust analytics, you can quickly create a splash page and track the results. Get started with a 14-day trial to see how Instapage can help increase your campaign performance.