What is Content Marketing?
At the most basic level, content marketing is a strategic way of creating and distributing content that engages your target audience and persuades them to take an action.
The content itself can vary and includes (but is not limited to) blog posts, ebooks, white papers, webinars, videos, podcasts, and post-click landing pages. These types of assets can help you build your brand value and create a sense of loyalty among your audience, so when you finally ask them to perform an action they are more willing to do so.
A Brief History of Content Marketing
Content marketing is not a new concept. It was first introduced back as early as 1895 when John Deere used its customer magazine 'The Furrow' to solve farmer's problems and encourage them to use the latest farming technologies through the power of content.
Content marketing in 1895 was performing the same function it is today, i.e. engaging users with useful and relevant information and persuading them to take an action, leading to an increase in business growth.
The major component that has changed is content consumption. The way we consume content has transformed with the invention of the internet, so the barriers to entry have disappeared. Now, marketers don't need platforms such as The Wall Street Journal to reach audiences. Marketers can create personalized content for target audiences and distribute it to them on channels their audience prefers much easier than ever before.
Today, technological advancements make it easier for marketers to make sense of data and communicate with the end user on a more personal level, too. For example, you can make use of artificial intelligence to simplify data and create better customer experiences. Furthermore, you can even use chatbots to engage potential customers in meaningful conversations.
Why is Content Important?
In digital marketing, content is used as a powerful tool to communicate with prospects. Content separates a brand and defines its distinct value among its readers. High-quality, engaging content can generate search and social media traffic and compel readers to share it on different social media outlets and other channels.
Brands use content to enhance the current and future value of their product or service, so they need content for consistent communication. With valuable content, they attract more potential customers and increase their brand credibility. However, the goal of producing high-quality content is not merely limited to acquiring new customers but also increasing the lifetime value of current customers and retaining them.
People prefer to associate themselves with high-value brands. And even if they don't buy instantly, they like to see what that particular brand is developing for the future. For example, many people cannot afford to purchase a new Mercedes-Benz, yet, their Facebook page has more than 20 million followers. All of those 20 million people are not Mercedes customers, but they keep up with the brand because they find their updates engaging.
Users love to associate themselves with a brand that provides them with reliable and high-value stories. And in the digital marketing world, users often provide their email address to read and engage with these stories. In turn, this helps increase a brand's subscription base and allow them to spread their message even further.
Content Marketing Mediums
Content marketing is a strategic way of telling your story; how the story gets told is up to you and the audience you want to engage. You can use different mediums or content assets in your content marketing campaigns, such as blog posts, videos, webinars, podcasts and post-click landing pages.
Different content assets work differently for different brands. Your audience will tell you what they prefer and what works for them by their engagement level with each asset. The key is, do some research and dig into your analytics to find the answers for the questions you're asking.
Some main content assets and mediums you can use for your content marketing campaigns include:
Email Marketing
When email lists are highly segmented and messages are distributed properly, email marketing has proven to have a high return on investment. In fact, Smart Insights indicates that, 93% of B2B marketers reported using email to distribute content.
The primary purpose of every email marketing campaign should be to educate, nurture, convert, and ultimately retain satisfied customers. It is is an essential ingredient of any digital marketing strategy as marketers and agencies can use it at every step of their content marketing funnel:
Sending a generic, non-personalized email weekly or monthly won't get you anywhere. Rather, a segmented database and email sends that are targeted at each buyer person is required. By dividing your email lists into segments, not only does personalization become easier for you but the recipients are more likely to engage with the message and share it, too.
For example, to segment your lists properly, here are some sample questions to ask new subscribers:
Do you prefer, daily, weekly, or monthly emails?
Which type of content do you like? Blog posts, infographics, or videos?
What is your primary role in the organization?
What goals are you trying to accomplish?
To demonstrate, here is CoSchedule's post-click landing page sign-up form, of which all fields are generic: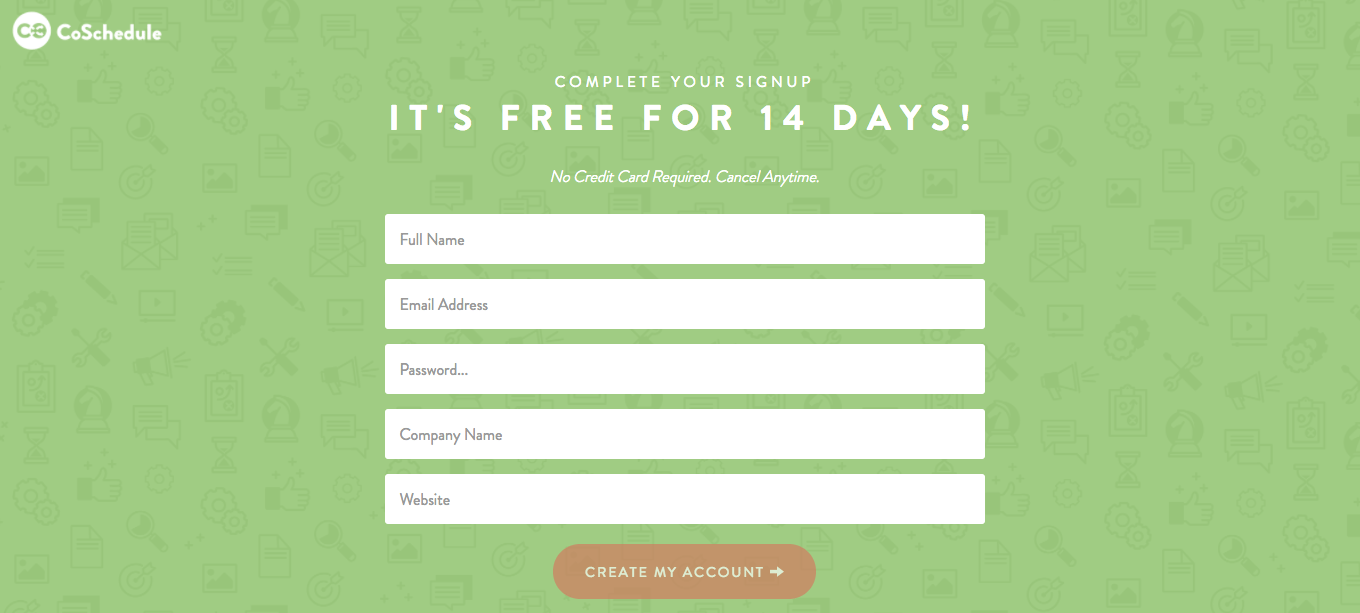 Upon completion, the form expands and requests more detailed information about the online user — including team size, and the user's main goal: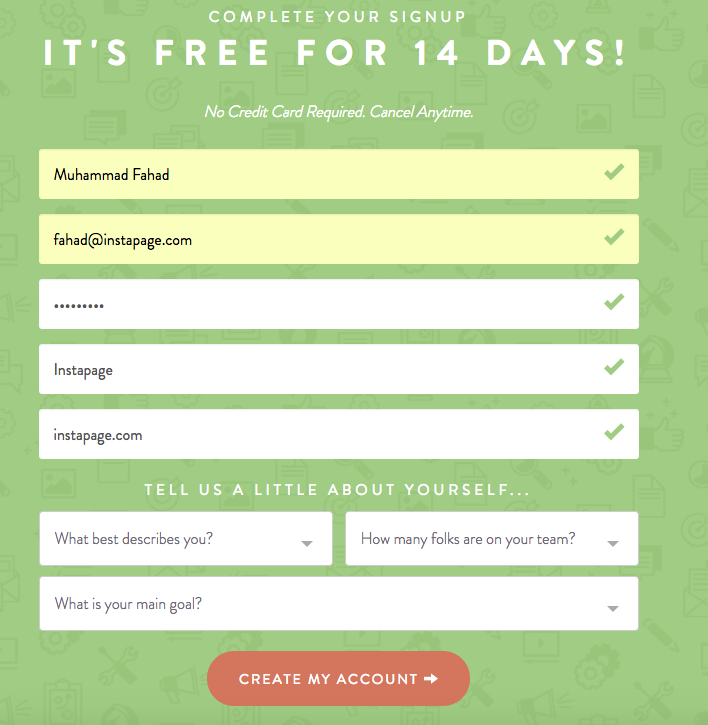 The purpose of this form is to bucket the users in a particular segment and qualify he/she accordingly. By designing the form this way, CoSchedule can send higher-targeted emails while providing more relevant content that proves they can help solve the user's problems. Granted, all those emails will likely be automated, but they'll at least be personalized because of the information CoSchedule has already collected.
Email marketing automation is a behavioral targeting email sequence that triggers when users interact with your product or services on different channels like your website, social media, or emails. According to Marketo:
63% of companies successful in marketing automation plan to increase their marketing automation budget.
To increase your chances of engaging and nurturing prospects as well as retaining customers, combining email marketing with marketing automation is an industry best practice.
Blogs
Blogs play a significant role in content marketing strategy. As the importance of content marketing rises, blogging has become a primary means for brands to establish expertise and distribute a message. Blog articles can become a huge source of education, induce loyalty, and can shorten your sales cycle by providing target audiences with consistent, relevant, and useful information.
Blogging also has certain SEO advantages. Every blog post helps increase the number of pages of your website, which are crawled by search engines. According to HubSpot "businesses with websites of 401-1000 pages get 6x more leads than those with 51-100 pages". By writing better quality content and incorporating the right keywords, each post helps attract increasing amounts of search traffic to your site so that your brand attracts the right audience.
In addition to expertise and SEO benefits, blogging has the power to lower your customer acquisition cost. That's because every blog post gives you an opportunity to attract more search traffic to your site — leading to the possibility of converting readers into customers.
Sending an email newsletter to leads not only educates your potential customers but also keeps them loyal to your brand and pushes them further down the sales funnel. Brands use several techniques to re-engage their blog visitors.
HubSpot, for instance, uses a complementary lead magnet at the end of each blog post to increase the probability of conversion. So, on a blog post titled, "10 Examples of Successful Co-Branding Partnerships (And Why They're So Great)" they have the following CTA:

At Instapage we use an exit intent form on our blog to increase our subscription base: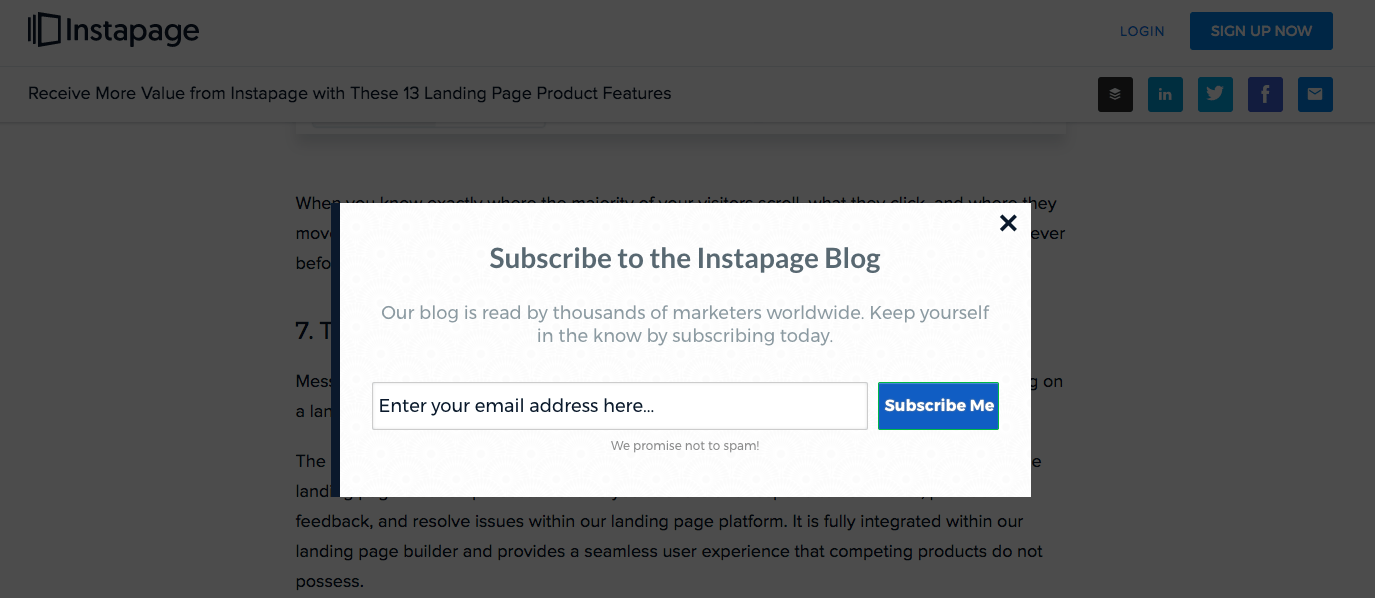 Influencer Marketing
Influencer marketing which rose to popularity in 2016, involves using influencers (people your target audience admires, follows, and looks to for expertise) to promote and sell products and services via social media and other media platforms.
Within influencer marketing campaigns there are three tiers:
Micro-influencers: These have a limited reach of influence i.e. immediate circle of friends, family, and colleagues.
Power/middle influencers: People who have organic social media followers between 10,000 and 250,000 come in this tier. Middle influencers have the highest level of impact on their audience because they trust their reviews and opinions, which makes them more likely to listen and engage with what they are saying.
Top tier influencers/celebrities: Celebrities have the highest audience reach of all the influencer tiers as they often have millions of social media followers. However, they charge a premium for their endorsements and have a lesser probability of persuading their visitors to buy something compared to power influencers.
This Instagram post features a middle tier influencer promoting a green tea ice cream to their audience: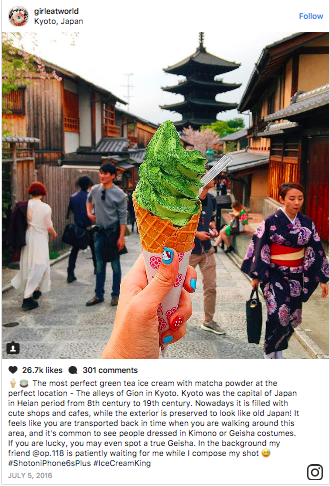 To measure the success of influencer marketing, it's important that you keep an eye on metrics such as impressions, views, reach, cost per view (CPV), and cost per engagement (CPE).
The unique characteristic that makes influencer marketing a success is that it involves persuading real people to produce content they know audiences will respond to. It helps you stay on trend and strengthen brand identity, with the help of influencers whom audiences already find credible, making your brand more credible.
post-click landing pages
A post-click landing page is a standalone web page created to promote a single offer and get visitors to take action. This action can vary from signing up for a free trial, registering for a webinar to downloading a white paper and more.
post-click landing pages contain persuasive elements such as compelling headlines, no off-page navigation, a lead capture form, social proof, explanatory videos, and a strong call-to-action that convince visitors to convert.
You can use post-click landing pages in your content marketing arsenal regardless of your business industry and niche. Smartsheet uses the following post-click landing page to promote their free trial: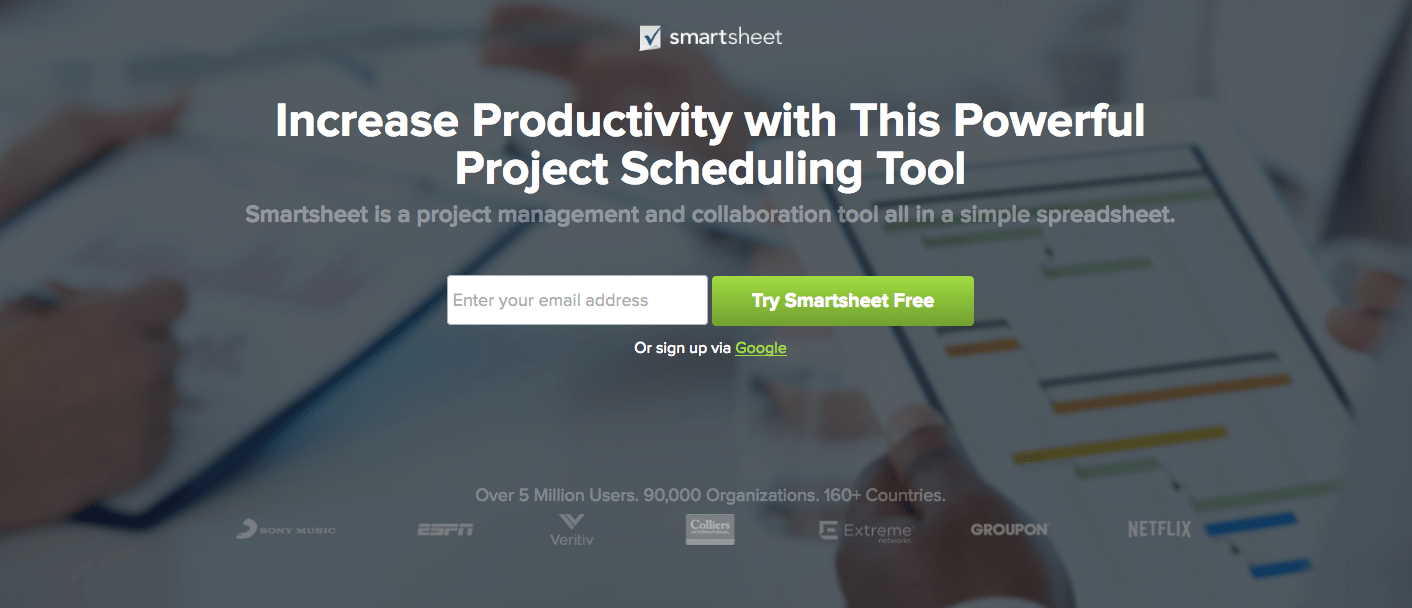 post-click landing pages are essential pieces of every content marketing campaign, as they help optimize the visitors' journey from the ad to your page.
Webinars
Every high-quality content asset has three main goals it should fulfill:
Provide educational and relevant information that interests your target audience.
Give answers to the biggest concerns and problems that your audience is facing.
Increase online visibility and credibility.
Webinars help you achieve all three goals because they help educate your audience in a format that offers a deeper level of engagement. But what exactly are webinars?
A webinar is a live meeting, presentation, discussion, educational session, or a product demonstration. Webinars can be viewed online by users, and can also be saved and archived for the future (in your monthly email newsletter, for example). This video content format is generally focused on one topic and conducted to educate and inform attendees about subjects related to the brand's main value proposition.
Webinars can help establish leadership and authority in your industry because they offer you the unique opportunity to partner up with influential personalities or brands and address potential customers from a joint platform.
A common section of webinars is the Q&A (typically at the end) where presenters have the opportunity to have a personal connection with their audience. During this portion, the audience gets a chance to ask questions about the content, which gives presenters an opportunity to eliminate any doubts about them from purchasing the product.
As an example, Instapage hosts a weekly webinar to educate audiences the importance of post-click landing pages, advertising personalization, and how to scale post-click landing page production with the platform: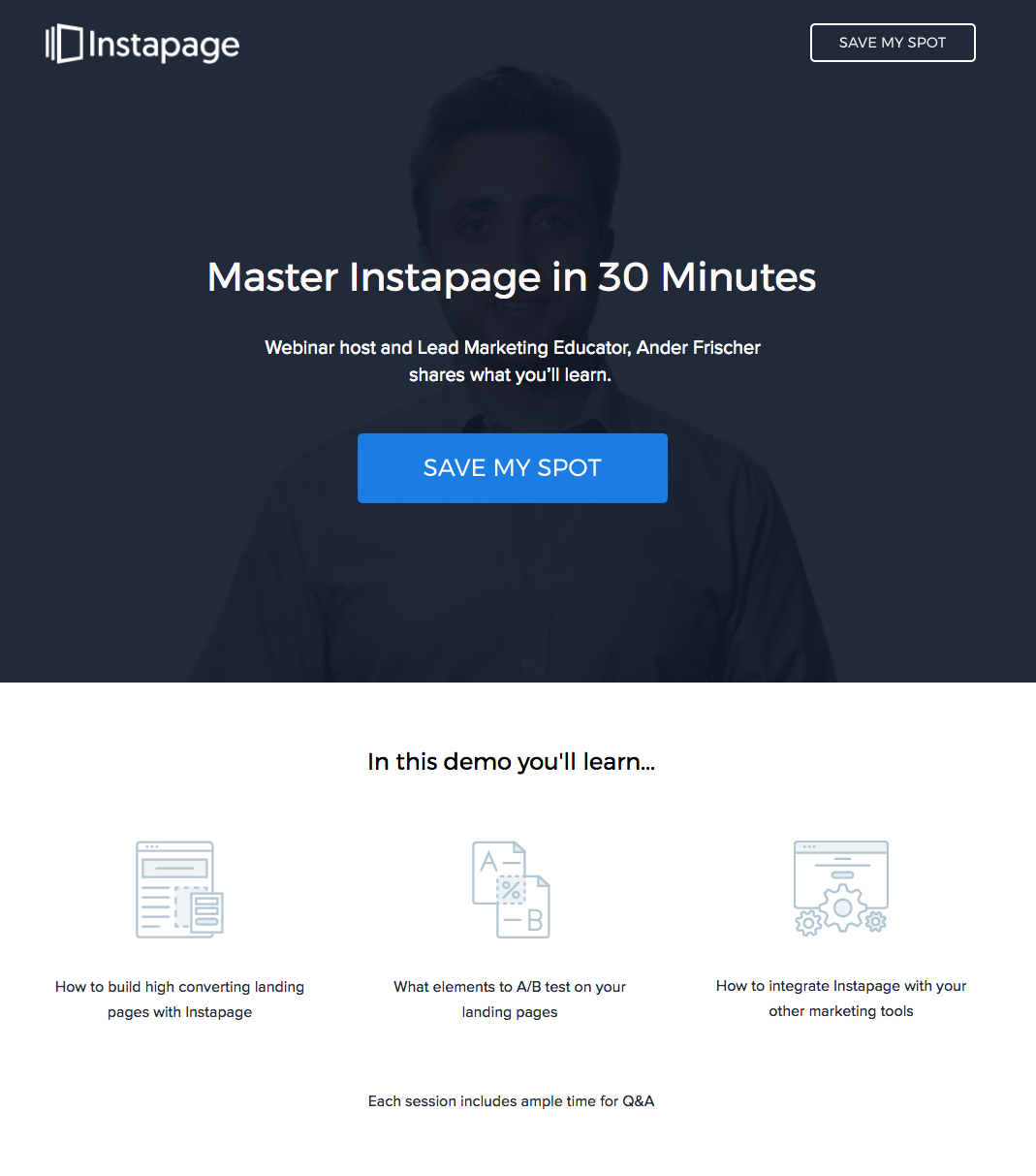 Podcasts
At the end of 2016, more than 57 million Americans were listening to podcasts on at least a monthly basis — a 23% increase over 2015. Clearly, audio content assets used in content marketing continue to gain popularity.
Podcasts offer marketers the opportunity to reach out to their audience with minimal investment, on a platform that currently has a lot of shareability. Since podcasts are quicker to digest marketers are using them in their content marketing campaigns to establish thought leadership and credibility among their target audience.
Inviting guest speakers on podcasts is a great way to take advantage of the shared audience pool to discuss your brand's unique value proposition. Including a CTA at the end of each podcast provides a customer acquisition opportunity.
Instapage hosts podcasts that feature marketing thought leaders from Silicon Valley and beyond who share their stories of breaking through the noise to build respected brands and successful businesses.
Before you decide which content assets you would like to invest in for your content marketing campaigns, it's essential that you define your buyer personas so you know what the audience prefers.
Create Buyer Personas
A buyer persona is a semi-fictional representation of your ideal customer based on market research and the data you've collected from your existing customers. Connecting with relevant customers is an important step of any marketing strategy, a buyer persona is a simple way to narrow down your potential customers. Creating buyer personas helps you answers the question of how and why people buy.
By identifying your target buyer personas you can determine what they like and what they don't, you can find out if they are facing any challenges and what resources do they have to solve those problems? Detailed buyer personas help you gain valuable and relevant information about your ideal customers.
Dividing buyer personas into segments based on the information you've managed to collect, helps you target content marketing campaigns more efficiently.
However, your buyer personas should not include more than 2 or 3 large segments. As, a different chunk of buyers responds to different marketing techniques, having 10 or 12 buyer persona segments can create problems for you. Remember that each profile segment needs a lot of attention. Multiple profiles will create more confusion – they can affect your budget and force you to spread a thin layer of attention on all your segments.
Interviewing your customers is the best way to collect information about your potential buyers as with the technique you can collect top notch qualitative data such as what motivated them to buy your product or service. Especially, people who have recently purchased your product will give you better insights about their buying experience.
As interviews are a part of qualitative research, they give you an opportunity to ask direct and in-depth questions – so asking your customers 'what motivated them to act in a certain way?' Can reveal several pain points of your potential customers.
Asking your customers their final decision-making process of buying your product can help refine your value proposition.
Understand Your Customer Journey
Mapping out your customer journey gives you an algorithm of how your potential customers become aware of your company or brand, how they interact with it and when they enter into different buying cycles.
Autopilot is a marketing automation tool that helps automate customer journeys. You can use Autopilot or similar tools to collect audience data as well. The data collected will be helpful in predicting customers' actions as customer behaviour data can help you understand why customers are performing certain actions while interacting with your content.
Here, the main goal of your content is to educate your potential customers at different stages of their customer journey. Remember, customers at different levels of their journey need different types of content.
Customer journey mapping helps you decide the needs of your users. When they need short blog posts, when they need how-to-videos, when they need detailed guides, and when they need coupons and special offers.
You can map out different types of content which you show to your customers at different stages of their journey.
Content Marketing Frameworks
Analyzing content marketing frameworks helps you answer the question why you need content and how content marketing works. Let's look at the two frameworks most often used in content marketing.
Andrew Davis introduced the content quadrant model. The model answers the fundamental question of why we need content. It dictates that a brand or a product needs content to highlight the problems of their target audience and how they can solve them.
In other words; content is the key to building trust among your target audience for a particular product or service, to help produce subscriptions.
Brand Awareness + Unique Value = Subscriptions
A consistent flow of high-quality content reminds your customers that they are a part of a credible brand. It creates a sense of loyalty and increases the lifetime value of your customers and raises retention.
Andrew Davis discusses three major goals of content production in his model:
a. The first goal is to produce owned media or traffic which is unique to your brand, and you can control. The heart of any content marketing campaign is to enhance your subscription base. All your social media channels, your blog, and newsletter subscribers are your owned media.
For example; imagine the reach of a brand that has 1 million followers on its Twitter account as compared to a brand that has only 1 thousand followers.

b. The second goal of producing content is to win more by using your content on different social media and search engines. There are many brands out there which run native advertising campaigns on different social media channels.
The purpose of these campaigns is to attract more followers and broaden the subscription base. Remember different advertising campaigns run at different funnel levels and target different audiences.

c. The third goal of content marketing is to grow your customer experience or earned media. Your goal is to create evergreen pieces of content in such a strategic way that they gain organic ranking in different search engines listings. These search engine results will introduce your brand to a multitude of potential customers.
Once your brand is able to effectively distribute its unique value among its audience, people will become your referrals through word of mouth. Loyal customers will share your content, give reviews on different community forums, recommend and give a shout out to your product or brand on social media.
Content Marketing Framework by CMI
The content marketing framework was developed by Joe Pulizzi and Robert Rose of Content Marketing Institute in 2013. They updated the framework in 2017 after a series of experimentations and insights collected by observing which part of their framework performed well while working with well over 100 brands:

Purpose & Goals
A content marketing mission statement will help you prioritize your goals. It will help you define which tactic, channels and techniques help you achieve your goals.
According to the model, content marketing essentially helps you achieve three different goals:
The holistic purpose of content marketing is to engage audiences. So, whatever content-based campaign you are running to achieve your short-term goals, your sole purpose is not to create campaign-based content (because campaigns are short-term and run dry as they end) but your purpose is to create content around your main value proposition that drives your content marketing mission statement.
A content marketing mission statement will help you prioritize your goals. It will help you define which tactic, channels and techniques help you achieve your goals.
According to the model, content marketing essentially helps you achieve three different goals:
Campaign goals: Value-driven content marketing can accelerate your sales related goals. Content can make the sales process more efficient as your target audience, who are already your subscribers have consumed some or a lot of your content. So, they will smoothly travel through your sales funnel.
Cost saving goals: Data collected from your audience will help you locate your target audience in the sales funnel. Those who have consumed more content have travelled down your sales funnel and are likely to convert easily. So, your paid advertising campaigns work efficiently to target those prospects.
Business-growth goals: Once you have streamlined one asset you can develop other areas and attract more audiences. For example, once the Instapage blog gained a lot of traction, we ventured into creating marketing guides, podcasts, marketing videos and a marketing dictionary.
Audience
Audience plays an integral role in content marketing because they help you gather data – they allow you to gauge the success or failure of your campaigns.
How would you know if the blog post you just wrote has successfully completed its conversion goal if you don't have any data i.e. you don't know the post if the post engaged or didn't engage your audience to take an action.
An engaged audience provides you with data. This is why subscribers have an important role in content marketing, because they allow you to measure current content assets and then create streamlined content assets for the future.
Moving from top to bottom of your marketing funnel, you can collect data at 3 levels of subscriber framework.
An engage subscription is measured by looking at who read your content and clicked through to other pages. You can look at the metric of new and returning visitors and also measure which content page got more traction by looking at your Google Analytics. Your RSS subscription is also a great way to measure your content reach.
An inspire subscription is measured by collecting in-depth insights from returning visitors through polls and surveys.
A reach subscription is the audience which is willing to subscribe in exchange for their contact information. You can bring them in your subscription circle by offering them valuable content. For example you can offer them an ebook, white paper or personal case study in exchange for their information.
Story
Marketers are in the habit of telling their audience what their value proposition is, and how their product or service can solve the audience's problem. What they aren't in the habit of telling are good stories that have the power to engage their audience.
Good stories don't simply inform your audience about your product, they inspire them. When brands are able to create a good narrative they motivate their audiences to stay connected with the brand and persuades visitors to take action.
TOMS' narrative of 'One for One' pulls at people's heartstrings – who wouldn't want to 'improve lives' when it doesn't even cost them anything extra: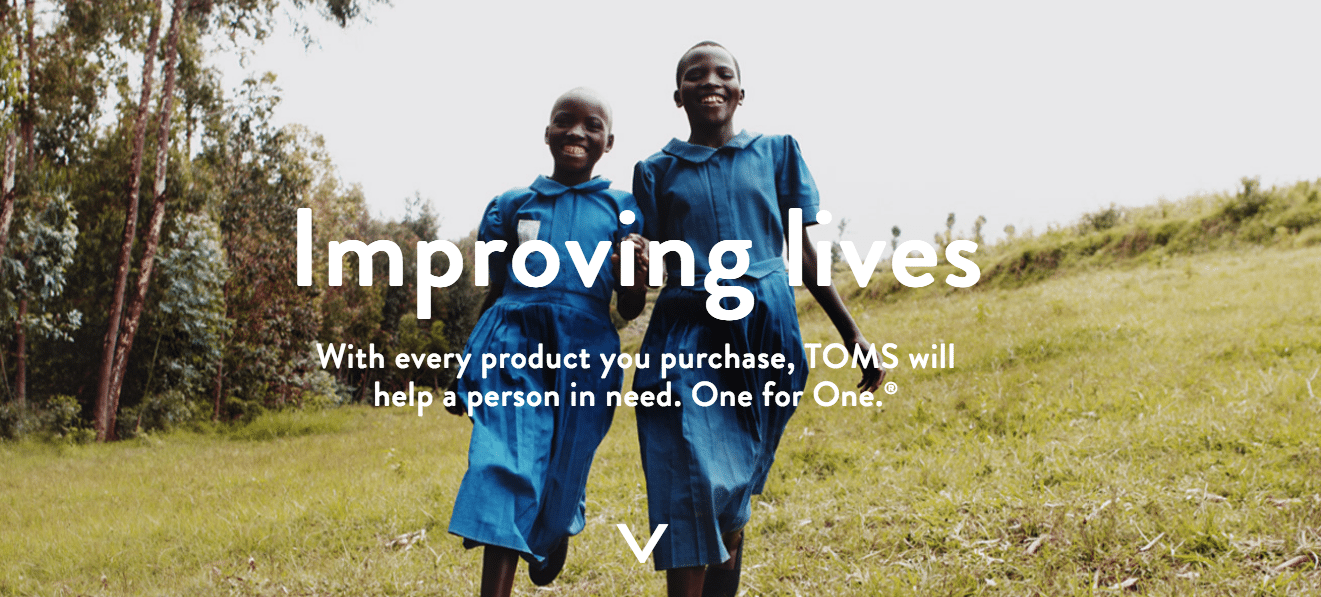 Process
Process is the plan of action- it explains everyone's roles. For example, if initially you want to focus on your blog, here are some questions you need to answer:
Who will right the first draft?
Who will edit the draft?
At what time is it going to publish?
Which media channels should be used?
Which tools are going to help gain more productivity?
It is important that your content marketing plan should have an overall purpose, it shouldn't have an end date on it. Your content marketing should focus on iterating and improving your existing campaigns to pave the way for more focused and improved campaigns.
Measurement
Measuring your business' success is important but you need to define your goals first.
Setting up your goals will determine what you want to measure, and will help inform your future content marketing campaigns.
These content marketing models can come in handy when creating your content marketing plan as they give you a blueprint of what you need to do and what you can expect your content to achieve.
Content marketing has the potential to positively impact your business growth by engaging your audience with the right content asset on the right channel. The success of your content marketing campaigns lie in creating an effective content marketing strategy, which is what the next chapter of the guide discusses.
How Do You Create a Content Marketing Strategy?
Content marketing is not about creating, publishing and distributing content just for the sake of putting content out there. Every piece of content that you create and eventually distribute – be it a white paper, post-click landing page or podcast should have a specific goal to achieve. And you should be able to measure the success or failure of that goal.
Creating a content marketing strategy allows you to plan, execute and, iterate the types of content you need to create effective content marketing campaigns.
What is a Content Marketing Strategy?
A content marketing strategy essentially deals with the internal guidelines and governance of content pieces to ensure that every piece of content you produce and distribute fulfills its goal, is coherent, appeals to the target audience and forwards your organization's vision.
A content marketing strategy ensures that your content marketing is useful, inspirational and motivational i.e. every piece of content you produce engages users and convinces them to perform an action at every stage in the funnel.
Your content marketing strategy needs to be specific to your business and target audience, merely seeing what your competitors are doing and copying them doesn't count as a marketing strategy.
A good place to start with your strategy is by looking at your company's vision, that's the foundation of your content marketing, it frames everything your content must achieve in order for your business to be successful.
Creating an effective content marketing strategy can be broken down into five basic steps.
1. Define your Target Audience
Whether you're writing content for a blog post or copy for a post-click landing page, you're addressing someone through that content piece, the person you want to engage i.e. your target audience.
When you know who your target audience is you are able to create the right content for the right people, because content is not a one size fit all bargain.
A marketing executive at a Fortune 500 company won't react to content the same way a stay at home mother of three would – you have to know your audience first to be able to create content that engages them, inspires them and persuades them to take action.
Create detailed buyer personas to help pinpoint your specific target audience. Aim to go beyond the basic demographic questions and find out what problems are ailing your target audience and how your product can help. Find out what challenges they face, their motivations and their frustrations.
Collecting the right information from your customers is key in creating buyer personas. Conduct regular user surveys and interviews, ask questions via email, take a peek at your analytics and use tools such as Facebook Insights to better define your target audience and create detailed buyer personas.
Information that you must know about your target audience includes:
Information that you must know about your target audience includes:
1. Basic demographic info: age, location and gender.
2. Work Info: current work position and where do they aspire to reach within the organization.
3. What channels do they use: which distribution platform do they prefer and how much time to they spend on it.
4. Who are they influenced by: Who has the power to have an influence on their decisions.
5. Pain points: What challenges are they currently facing and what 's the impact of these challenges on their work and life in general.
Negative personas in your marketing campaigns help you visualize who you're not writing for. The exclusionary tactic brings more clarity to your content marketing campaigns.
The graphic below explains the steps to identify your business's' negative personas: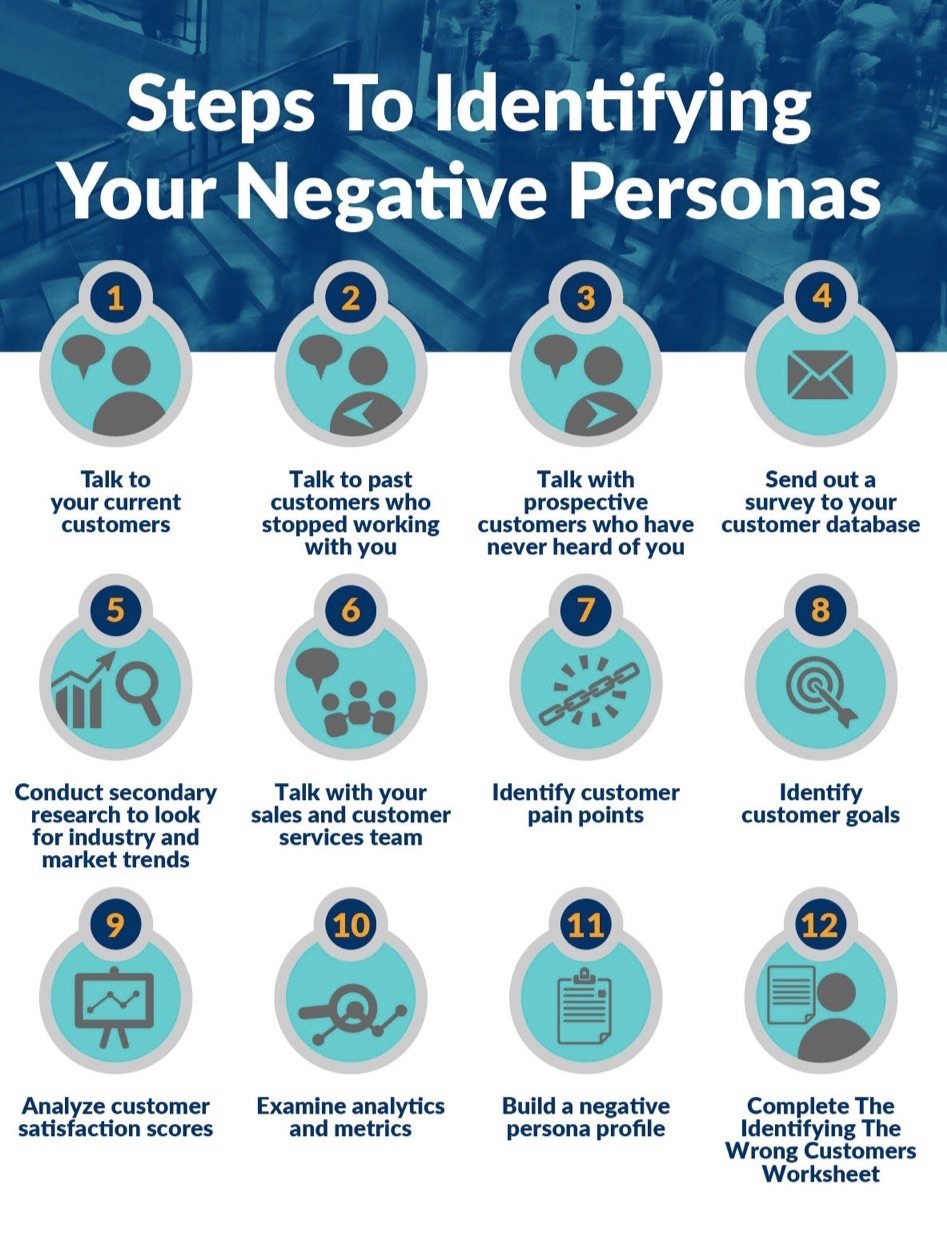 After you've created your target buyer personas and negative personas it's time to move onto your content audit.
2. Carry out a Content Audit
A content audit helps you get a clearer picture on all your existing content. The aim of a content audit is to perform a qualitative analysis on all your website content, social media content and standalone post-click landing pages.
Through the audit you get to determine if the content you've already produced is relevant for your target audience, addresses their needs and forwards the goals of your organization, it also helps shape and ascertain the feasibility of future content projects.
There are three main steps of a content audit:
Step 1: Inventory existing content
Create an inventory of all the content you currently have, you can use tools such as Screaming Frog to create the inventory as it can be a lengthy process depending on the amount of online content you have.
For content audits indexable content is important, which means you can forgo all crawlable content which isn't relevant to the audit and save yourself some time.
Step 2: Organize and tag your content
The next step is to organize and tag the content you have in your inventory. Your content audit should be organized using the following criteria:
Topic: What does the content discuss, is it about social media, or marketing psychology? Is the content purely promotional or educational? Come up with a relevant list of categories for your business, so you know which category your audience most positively responds to.
Length: What's the word count of the content piece. Does the length of the content have an effect on its readability? Do your readers prefer long form content or short form content?
Tone: What tone is your content mostly written in. Do you have professional content, or humorous cheeky content?
Relevance: How aligned is your content with what your product or service is? Is your content explicit or implicit about your business and the products you're selling?
Date: How evergreen is the content? For example, trends posts usually last a year depending on the topic, another type of content that gets stale are company updates that expire with time.
Formats: Which formats do you deliver your content in? Do you use infographics, videos, lots illustrative imagery etc.
This is what a typical organized content audit looks like: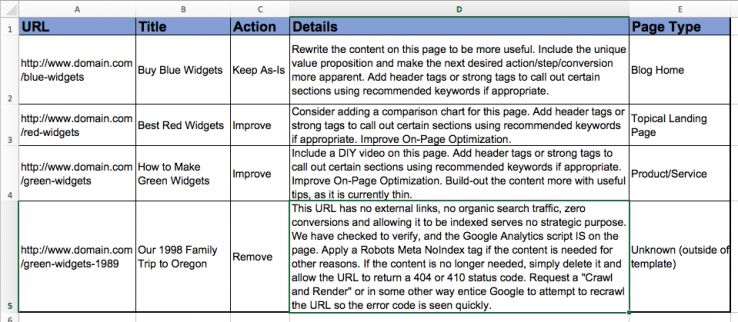 Step 3: Add success metrics
When you have the list of your entire published content in front of you it's now time to add success metrics. The metrics will vary on the initial goals you set for the content pieces, however, the usual success metrics include:
Traffic
Engagement stats (average time spent on page, number of visited pages)
Social shares
Step 4: Analyze your data
After you're done with step 3 you now have in front of you a complete organized list of all your online content accompanied by their success metrics, now it's time to analyze your data for patterns and gaps.
Is there a particular category that does well with audiences but it doesn't have enough content in it? Do your audiences prefer beginner posts or do they like to get into the advanced stuff.
What content format does your target audience prefer. Answer questions like these to get a better idea of how you need to create future content for your content marketing campaigns.
Set Goals
Once you have defined your target audience and performed your content audit comes the time to set your goals. Create goals that are meaningful, measurable and time sensitive so you know how well you've achieved your goals.
Set metrics and Key Performance Indicators (KPI) for all the content you create so you have a better idea of what's working and what you need to change.
Some metrics and KPIs that you can use for your content are as following: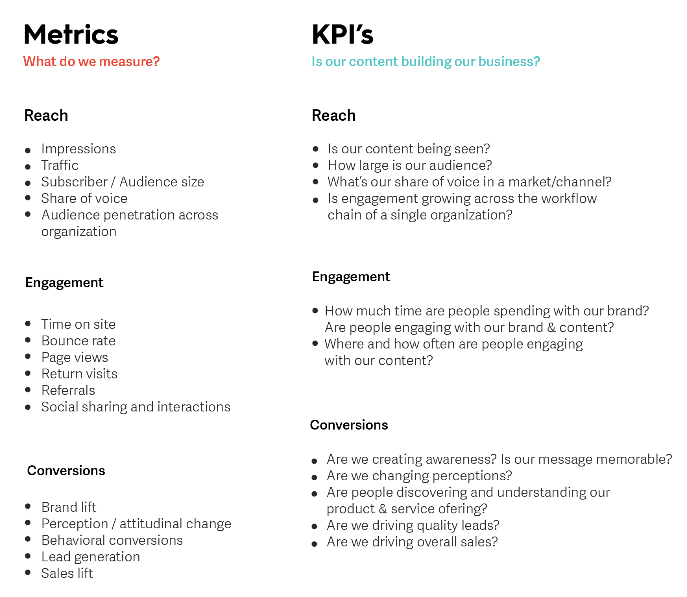 Align your Content Style with Your Brand's Personality
Consistency is key in every content marketing strategy, you need to ensure that every piece of content you produce has the same style and tone of voice, moreover the content should be synonymous with your brand's personality.
Document the content style you want to go forward with so all content marketers are on board and there's no inconsistency between content pieces.
Create an Editorial Calendar
An editorial calendar helps you organize and maintain consistency between every content piece you create. A content marketing editorial calendar provides you with a framework of how to reach your audience with the best content and establish trust with them.
The editorial calendar helps you strategize every type of content you need to produce and it helps you analyze the goals of the content and lets you know how you can improve your content for more positive results in the future.
Creating a content marketing strategy provides you with the framework you need to analyze, organize and iterate past content and plan and inform future content with consistency.
It keeps your target audience at the center and helps you create content that engages and inspires them.
Why Content Engineering is the Future of Content Marketing
We live in an age of content overload. Businesses keep producing more content because a majority of them believe that more content leads to more engagement.
And where our quality versus quantity mindset might suggest otherwise, the aforementioned statement does hold true in some cases.
The Washington Post for example publishes around 1,200 posts a day. That's a lot of content to publish in a mere 24 hours, one would assume that the quality of their content would suffer because of the quantity, resulting in a decrease of visitors. However, the opposite is in fact true, as their visitors have grown 28% over the period of a year which has given them an advantage on the New York Times.
The number of online content is on the rise, and it has been for several years.
The growth in content can easily be seen by looking at the number of indexed pages in Google. The pages the search engine has indexed over 7 years from 2008 to 2014 has increased from 1 trillion to 30 trillion: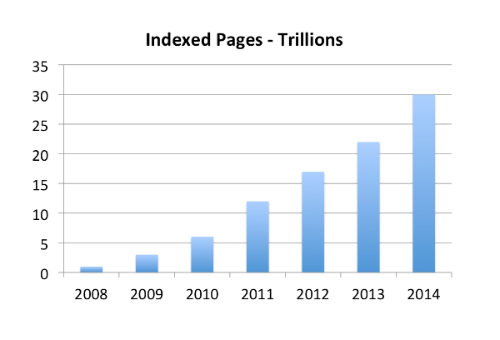 In July 2016 almost 70 million posts were published on WordPress. Coming back to the quality over quantity mindset, which is also the most logical assumption one can make by looking at these statistics is that a lot of this content wasn't of high quality, which is quite possibly true but not in every case.
Yes, the quantity of content is definitely increasing but so is the quality. Marketers are on the lookout for new mediums to engage their audiences through content. A long form blog post not working in your favor, how about trying an interactive infographic?
The future of content marketing belongs to marketers who not only create content that's best suited for their target audience but adapt and personalize that content to serve customers on a variety of content platforms and technologies – this is where content engineering comes in.
A solid content marketing plan ensures that you create the right content in the right format for the right people, it puts the target audience at the core of content creation. Content engineering uses technology and structured processes to automate the distribution of the content created from the content marketing plan.
Content engineering enables marketers to save time on manually converting content into various formats to suit their target customers' needs, it takes over this job and improves efficiency.
The job of a content engineer is to handle areas of content management that are largely forgotten by traditional marketing technology solutions. Content engineering takes care of the following areas of content marketing:
1. Content Relationships: Ensure consistency and that content ties in well with specific user profiles.
2. How is the content presented: Creating the right publishing template to create personalized content that works.
3. Content Process: Determining what is the best way to convert and transform content so that it can be published across a number of platforms and devices.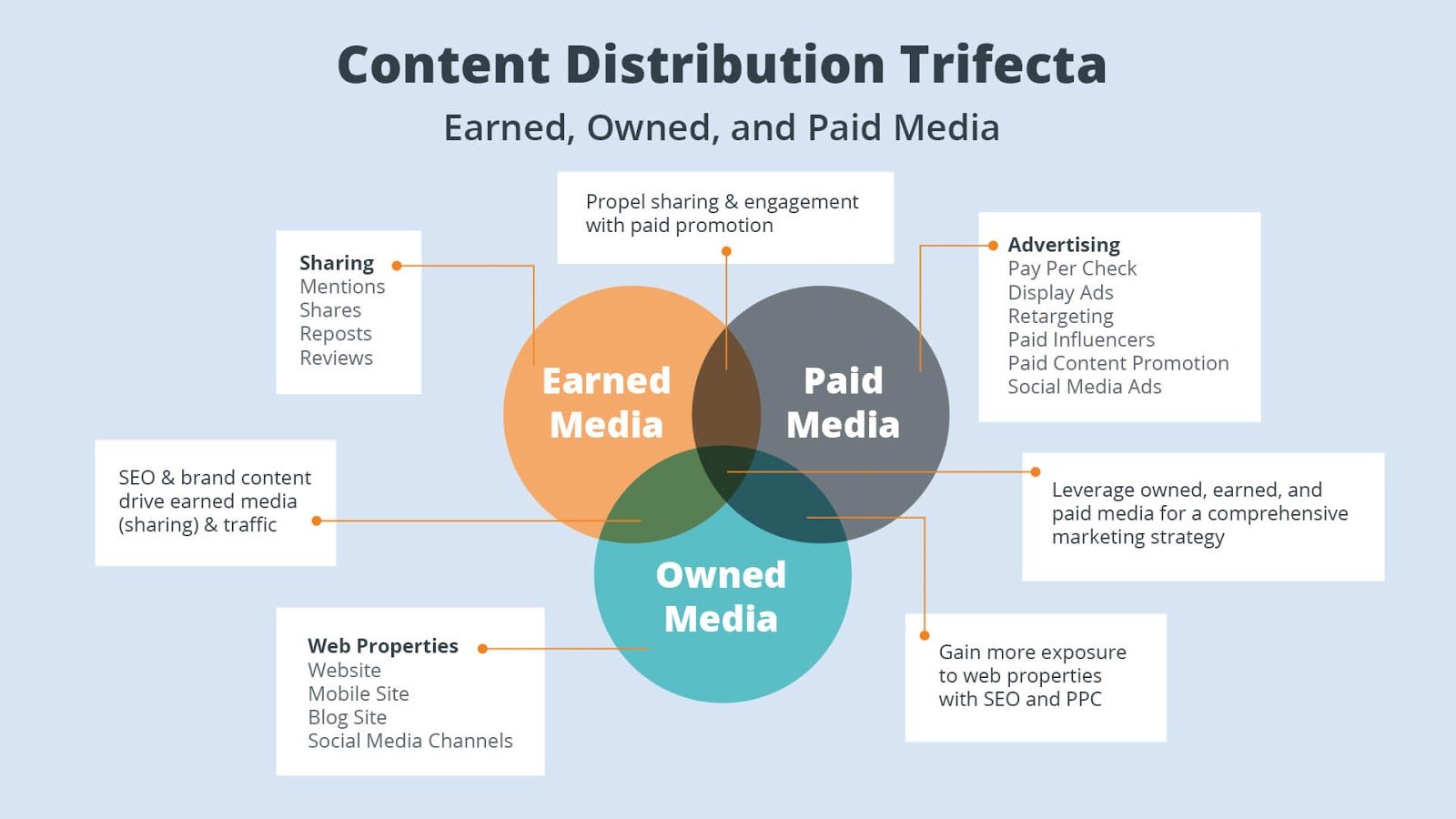 Content engineering doesn't view content as a static and finished piece, instead it finds ways to adapt and personalize the content to serve target audiences using content platforms, technologies and opportunities.
The content created today is confined in content blocks and is stuck to a single CMS, one webpage and one content format – it is limiting.
Content engineering transforms this limiting content into limitless opportunities by:
Increasing the value of content assets
Decreasing costs for publishing content assets
Improving digital maturity and customer experiences
Where content strategy encapsulates the who, what, why and where of content, content engineering organizes the shape, application and structure of content resulting in an optimal and personalized content experience for the user.
Scott Abel and Rachel Anne Bailie used a content engineering methodology to create a printed book, ebook, website and a deck of cards titled 'The Language of Content Strategy' all from a single source of content. Though the content exists in a variety of formats yet it is important to note that the content itself was only created once. There was no copying and pasting of content involved in the process, the goal was to use content engineering to publish content systematically on different platforms.
The result? The book and deck of cards were purchased by businesses in the bulk, and the authors managed to do this on a considerably small budget.
For larger enterprises that produce a hefty amount of content, content engineering will do wonders in saving time, cutting costs and influencing target audiences via the power of content.
How Content Engineering Helps Create Better Customer Experiences
The main goal of a content marketing campaign is to create better customer experiences through content – engaging visitors with a variety of content assets, building credibility and inspiring visitors to act.
Content engineering transforms content marketing by offering better customer experiences in the following ways:
Content Relevance
Creating relevant content for your target customers is an integral part of content marketing. Content engineering helps with content relevance by providing a systematic structure of which content assets are suited for which devices and applications for which audiences at particular stages in the marketing funnel.
Content engineering takes the details from buyer persona descriptions and customer journey maps to identify the right content structure for different funnel stages. While content strategy directs and informs the customers experience, content engineering automates the process through content structure, meta data, schema, taxonomy and CMS topology.
Content Agility
Content agility is extremely important because audiences crave personalized experiences which can't be delivered with one-size-fits-all content.
Content engineering helps with content agility as it provides content strategists with templates for different types of content with clearly defined elements and structures.
Moreover, content engineering helps define data fields for buyer personas, which determine which type of content needs to be distributed through which channel – making the content distribution process automated and seamless.
Content engineering is all about developing scalable and proficient processes for producing, managing and distributing content, and this is what's going to shape the future of content marketing campaigns for businesses.
How to Create a Content Marketing Distribution Strategy
Distributing relevant content you've created to the right people at the right time is an integral part of content marketing.
With an effective distribution strategy in place you are able to build and strengthen relationships with your target audience and eventually lead them to take the desired action – which could range from signing up for a newsletter to downloading an ebook.
The first step to creating a content marketing distribution strategy is understanding the goal of your content marketing campaign. You also need to have an insight into your target audience's behavior – you need to know which content distribution channel they prefer and what type of content they are looking for at what time. If you've created a content marketing plan as discussed in chapter 2 you will already have your goals in place and will have the right information about your audience.
It's time to move onto the types of distribution channels you can use in your content marketing distribution strategy.
There are three main types of content distribution channels:
1. Owned Content Distribution (owned media): It includes your company's owned media channels such as your blog, website, email newsletter. Owned media channels also include your business' branded properties, for example your social media pages and your post-click landing pages.
2. Paid Content Distribution (paid media): When you explicitly pay to get your content distributed, such as running Google Ads campaigns and social media ads for your content.
3. Earned Content Distribution (earned media): This involves the distribution of your content by third parties such as guest blog posts, retweets, shares and PR pieces.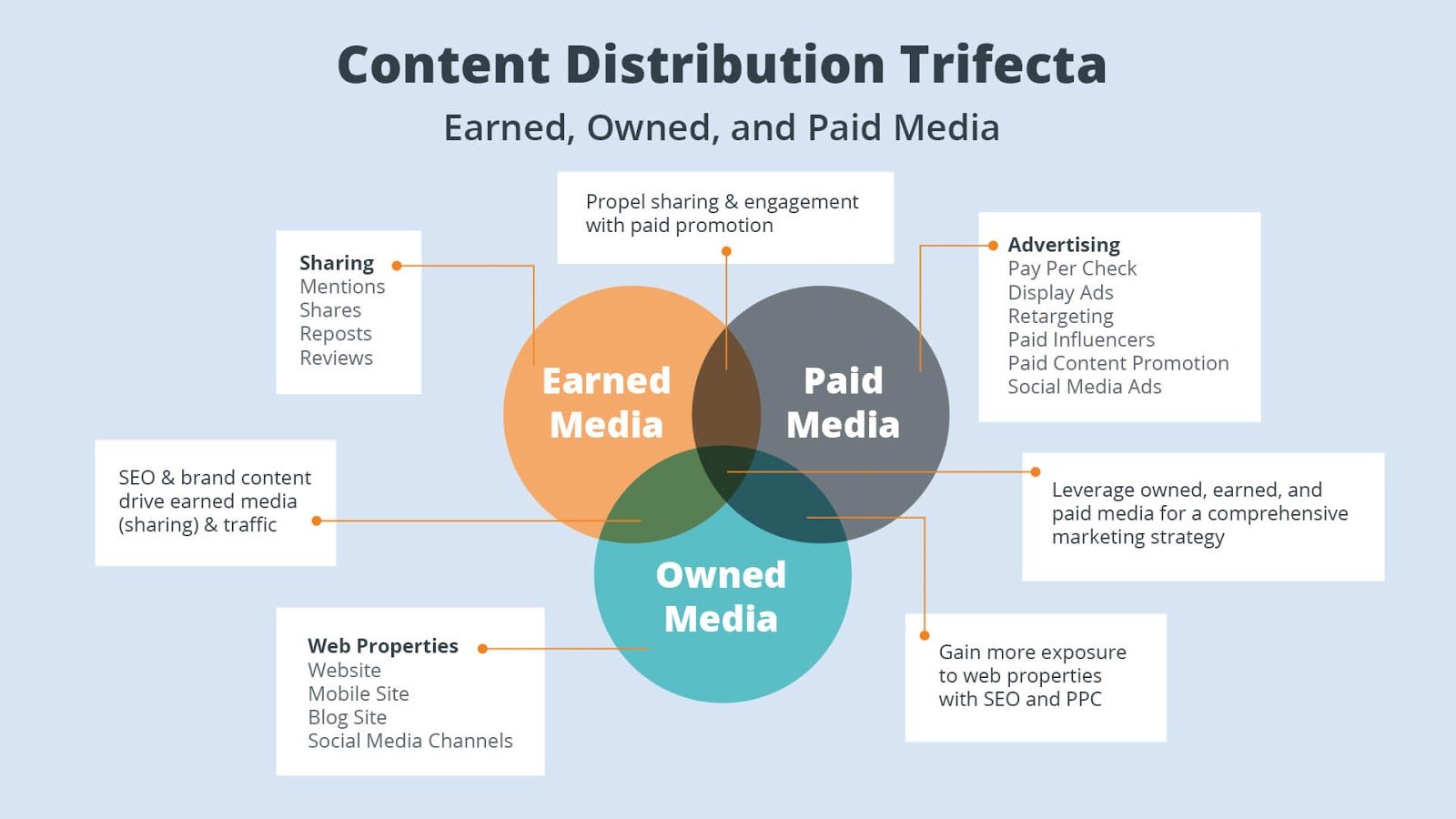 An effective content marketing distribution strategy utilizes all three media types, depending on where the visitor is in the marketing funnel. The upcoming sections of the chapter are going to discuss each distribution channel individually, covering what strategies you should be using for which channel and the platforms that come under them.
Owned Distribution Channel
With owned media channels marketers have the impulse to distribute their content out to as many people as possible, which means they rush to finish more blog posts, more newsletters, more ebooks etc.
While there's no harm in distributing valuable content via multiple consumer touch points, there should be a strategic way of doing so because not everything will work on every platform.
It's best to do some testing.
Dig into your analytics and ask customers valid questions to find out where the greatest potential for your distribution strategy lies. Every platform is different, what works on your blog may not work on your Facebook page, so it's best to find out how your audience likes to view content on different platforms so you can distribute to them exactly what they want.
For example, Facebook allows you to segment your Facebook posts – you can choose to share different content with different audience segments to increase the chances of engagement.
Keep testing the content you distribute on your social media profiles and with time you'll see a trend of what your audience prefers and then you can deliver them exactly that.
The same goes for the content you publish on your blog, website, newsletter and other owned media. Test different content formats, different design elements and different delivery times to find out what your audience wants.
Gaining an insight into your audience's content preferences helps you deliver what they want and when they get what they want they are more likely to perform the required action.
Let's look at how you can use your owned media platforms for better content distribution.
Blog
The content on your blog needs to have consistency – both in tone of voice and publishing schedules. Consistency helps users trust your brand as they know exactly when they can read something new, and whether or not it's going to be valuable.
Write about topics that will have value for your audience, experiment with different content formats to find out which one works best for your audience.
Placing lead magnets at the end of blog posts helps you earn leads and gauge whether or not you were successful at engaging your audience.
post-click landing pages
post-click landing pages are dedicated standalone pages that allow you to generate conversions for your campaigns. post-click landing pages allow you to promote your offer without any distractions to a targeted audience resulting in better conversions.
post-click landing page optimization makes sure that your post-click landing page has the right balance of design, relevance and functionality to persuade visitors to convert.
An optimized post-click landing page makes it easy for visitors to understand the offer presented on the page and click the call to action button. An optimized post-click landing page has the power to convince visitors to perform the page goal.
Social Media Networks
Depending on your industry and audience, your business can have branded pages on multiple social media channels. Social networks such as Twitter, Facebook and LinkedIn help you build brand awareness, do market research, generate leads and build relationship with customers by having conversations with them.
Be consistent across your social media networks, and upload high quality banner images to set the right tone for the content to come: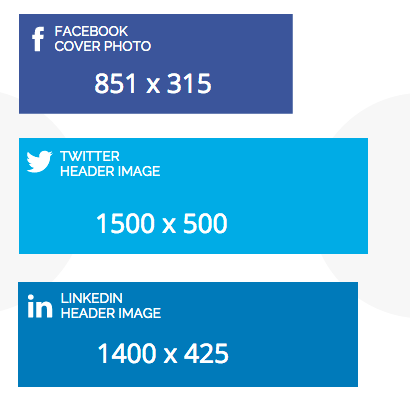 The pages you create on social media channels should abide by your brand guidelines, have good quality posts and should interact with users in your brand voice.
Media Sharing Networks
Media sharing networks such as Instagram, Snapchat, YouTube and Pinterest are primarily used to share photos and videos. Unlike social media networks, media sharing networks aren't very content heavy, engagement done on these networks is mainly done through images, videos and hashtags.
Quality is extremely important on media sharing networks, don't blindly jump into a sharing network because you know it's popular with your target audience segment. Look at your available resources, analyze the media assets you can produce and come up with a proper channel strategy.
Can't produce high quality videos? There's no point in having a YouTube channel then. Develop your presence on media sharing networks when your resources and digital assets allow it.
Discussion Forums
Discussion Forums include platforms such as Reddit and Quora, these platforms allow you to discuss and share information and opinions about topics related to your brand and the products and services you offer.
Discussions held on these platforms give you an insight into how your audience thinks and what their expectations are from your brand, they serve as excellent resources for market research. Users come to these platforms to ask questions and hold discussions, giving you the opportunity to engage with them, answer their queries and build better relationships.
Owned media content assets should be consistent, and strictly abide by your brand voice and guidelines in order to effectively engage with your audience.
Paid Distribution Channel
With paid distribution you pay to get your content in front of your audience through different paid promotion channels, such as pay-per-click, social media ads and native advertising.
Paid content has the most potential for optimization because you're able to control each aspect of your distribution in detail, such as audience demographics details, segmentation and measuring audience engagement.
Search Engine Marketing
Search engine marketing involves using search engines such as Google and Bing to promote your ads to audiences looking to find solutions to their problems. SEM operates on a Pay–per-click (PPC) advertising model, where advertisers pay every time a user clicks on their ad. Google Ads and Bing Ads are both PPC platforms where you can set up your paid advertising campaigns – run ads and promote post-click landing pages to get your visitors to sign up for your service or buy your products.
Here's what a typical Google ad looks like:

This is what a typical Bing ad looks like:

Both Google Ads and Bing Ads give marketers the opportunity to promote their ads to a wide variety of audiences based on keywords that you choose. Both the networks essentially work on the same principles:
Select appropriate keywords for your ad campaigns
Set a budget
Create ads based on those keywords for your target audience
Connect ads to relevant post-click landing pages that give visitors consistent information about your product and services
Search engine marketing is an effective paid distribution channel as it allows you to reach a wider audience that's already looking to find solutions. Optimize your Google Ads campaigns and your Bing ads correctly to get the most out of this channel.
Social Media Ads
Social media networks such as Facebook, Twitter and LinkedIn also give you the opportunity to advertise your offers to your target audience via paid ads.
According to eMarketer, Facebook produces the best ROI in social media platforms: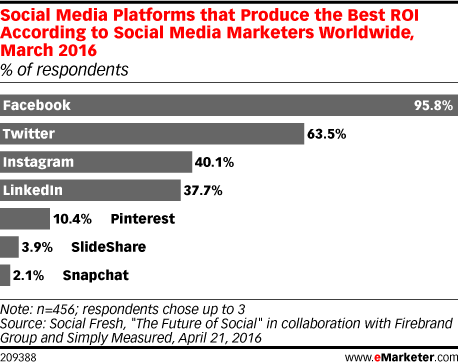 Social media ads are effective at paid promotion because they present you with excellent targeting opportunities based on demographics, interest and behaviors. You also have the option of rotating your ads, collecting useful data and testing different ad copy and images.
To optimize your social media ads you should connect them to relevant and engaging post-click landing pages instead of your homepage. Create Instagram post-click landing pages, Pinterest post-click landing pages and connect them to respective ads to get the best out of your social media ads.
Native Advertising
Smart Insights defines native advertising as:
Online content that it is created for paid promotion of a brand on a media site which doesn't use a traditional ad format such as a banner ad, but includes editorial content such as a blog post or infographic
Essentially, native ads don't look like ads at all i.e. they are non-disruptive to the user's experience on a webpage.
Native ads appear as following on different platforms: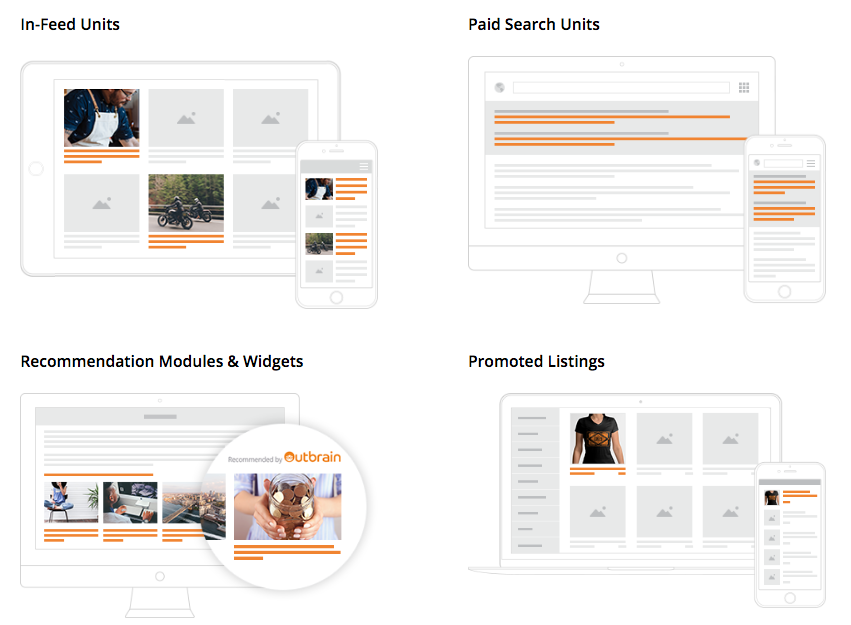 Benefits of native advertising include:
Better brand recall: The average brand recall with native ads is two times higher than traditional banner ads.
Increased engagement: Reading a native ad headline yields 308 times more consumer attention than processing a banner ad image./li
Retargeting opportunities: Once a user engages with your native ad you can retarget them with display ads to increase your chances of engagement.
You can use publishing networks such as Outbrain and Taboola to run your native ads.
Earned Media Channel
Earned media is arguably the hardest distribution channel to achieve and optimize as it largely depends on other's interests and guidelines.
The key to getting other people to write about you, or for you to write on other people's platforms it is important you produce content worth sharing.
Reach out to influential people in your industry and try to establish relationships with them so you can leverage them to better engage with a wider audience. Swapping guest blog posts with notable brands is also an earned media distribution strategy that not only results in good quality backlinks but also better user engagement as you are able to reach out to a wider audience.
Keep a lookout on social media conversations involving your brand, respond to questions and start conversations so users don't hesitate to give you a shout out.
The Content Distribution Matrix by Smart Insights helps marketers review the effectiveness of their distribution channels to see which channel is working out best for them: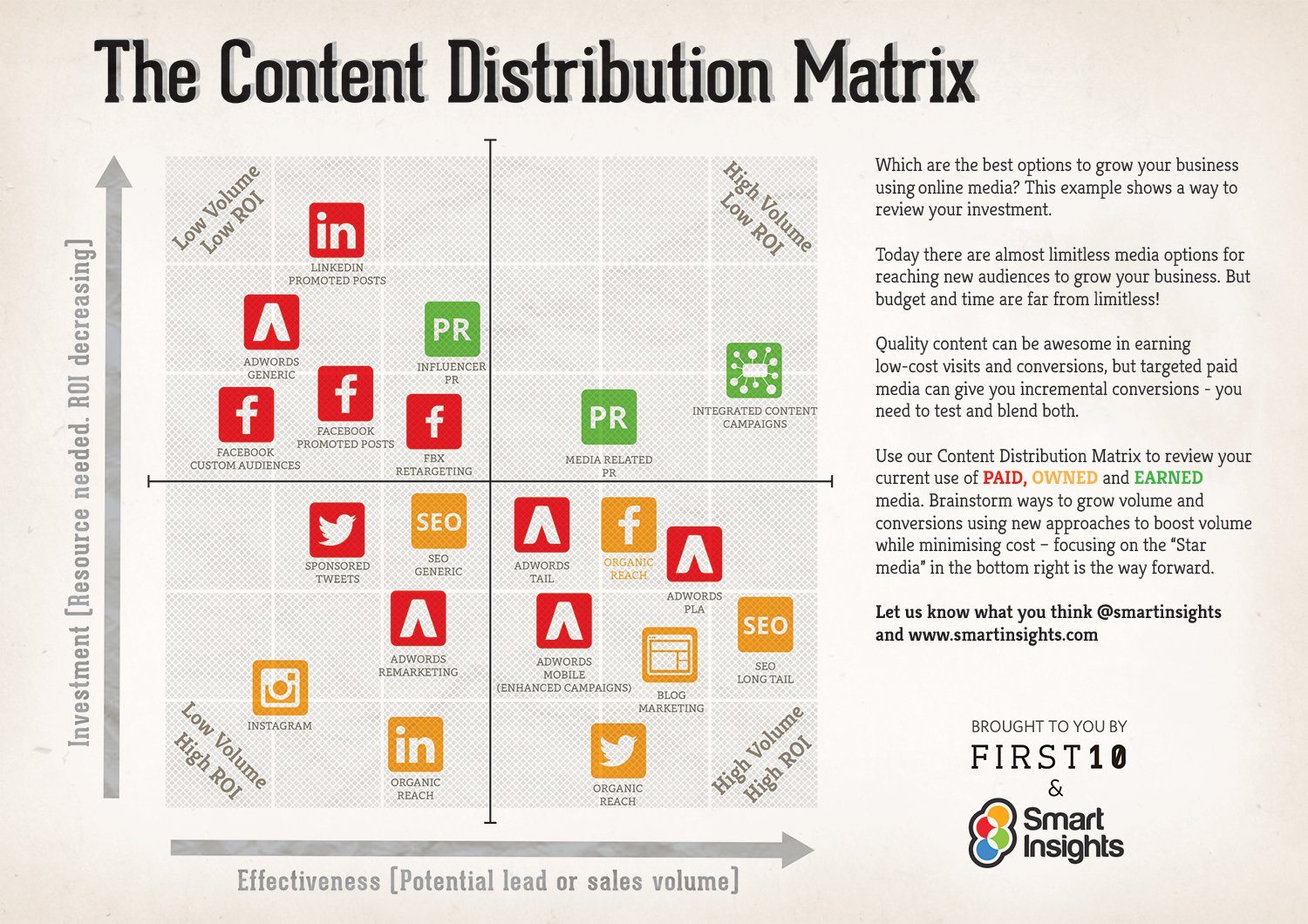 The success of your content marketing campaigns relies on how effectively you're able to distribute the content assets you create, choose distribution channels that work for your brand and audience.
Importance of Design in Content Marketing Campaigns
What comes to mind when you think of the word 'content'?
Words… letters… alphabets?
However, content marketing doesn't only include content that comprises of words placed on a blank document – design and visuals are just as important for content marketing success as words that make up the content. One thing to consider here is that good design has as much to do with how something works on a webpage as it does with how something looks.
Before visitors read even a single word of content they notice the design, this is what they judge your blog, post-click landing page, ebook, newsletter and banner ads on.
Here's how users assess trustworthiness on web pages: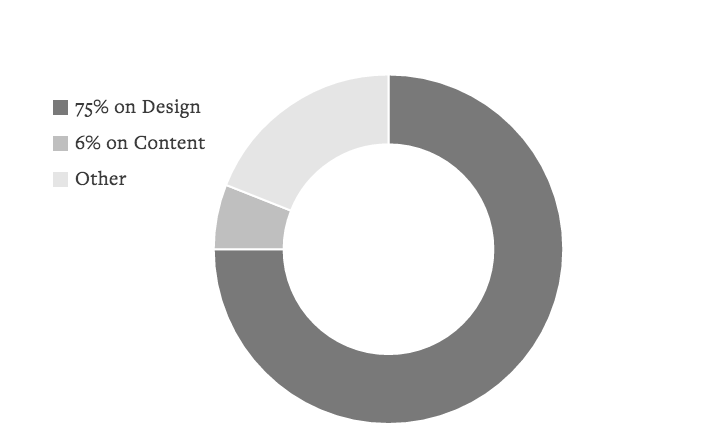 Only if visitors like your content asset visually do they move on to read what you have to say. Which essentially means for your content to attract and engage your target audience you need to ensure that it is designed properly, has good user experience and has the necessary visual elements.
What Makes up Good Web Design?
Good web design is an integral part of content marketing, your post-click landing page won't get as many clicks if you mess up the visual hierarchy, nor will your readers go through your blog post or ebook if they have a hard time reading content because of poor typography choices and color contrast.
There are three basic characteristics that make up good web design i.e. visual simplicity, prototypicality and good UX – all your online content assets should have these three characteristics to make the right impression on your audience.
Visual Simplicity
Visually simple websites are perceived well by visitors because they don't confuse them with too many elements, bad typography choices and non-existent white space.
A simple page design helps the visitor focus on one thing before they move onto the other which creates an optimal environment for them to read the content and perform the desired action.
Prototypicality
Prototypicality is the basic mental image your brain creates to categorize everything you interact with. For example, when you say the word 'apple' to a 4 year old they'll probably think of the fruit while a millennial would think of the company.
Your users have specific mental images when they think of different web pages, for example when they think of a blog they probably think of long form content sprinkled with images with a side bar that has a sign-up form on it.
Something like this: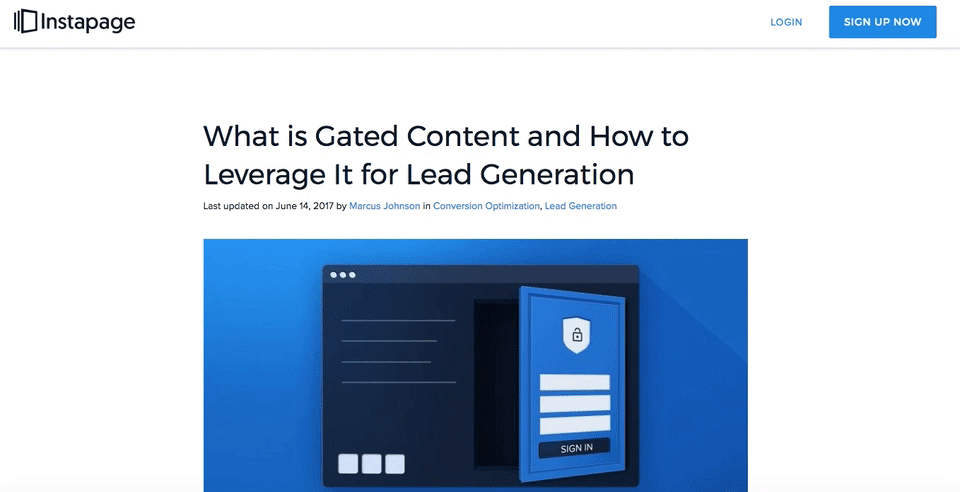 What they don't imagine seeing is something like this: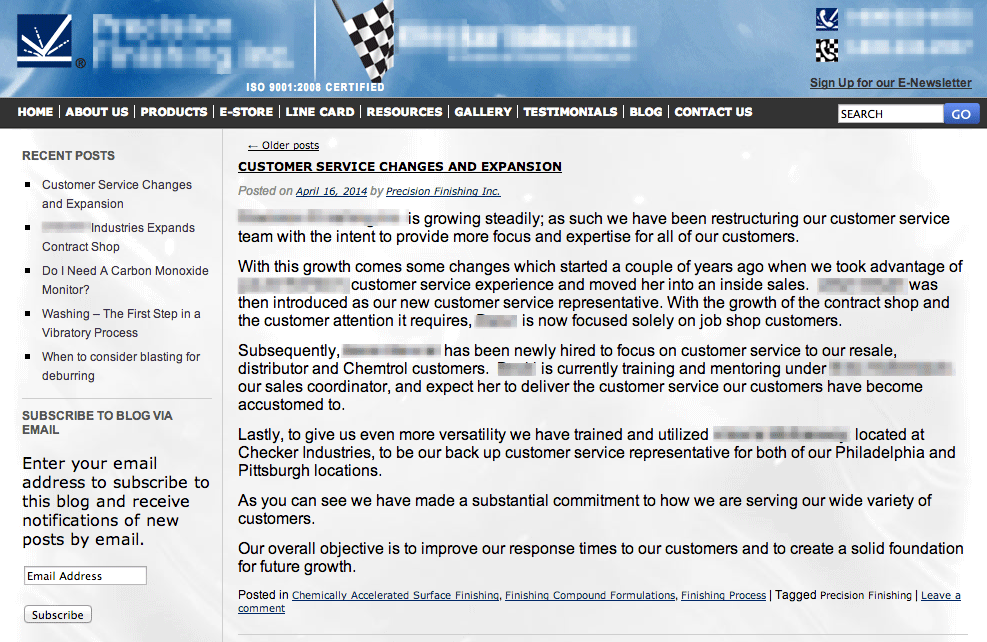 And when they come to a blog that looks like this, their first impression is that of confusion and you can't really expect for things to get any better from there.
Whereas when they think of a post-click landing page they probably think of a content light page with a signup form and a big contrasting CTA button.
When your content asset has prototypicality and it follows users' expectations you achieve cognitive fluency which means you make it easy for visitors to find what they were looking for which in turn encourages them to perform the action on the page.
Good User Experience (UX)
UX deals with how your visitors feel about the interaction they have with a web page. Your content asset page design should include certain UX principles to make it easier for visitors to interact with your content and take an action.
Add whitespace: Add appropriate white space or blank space in between every element on the page, this includes paragraphs of copy, the CTA button, a signup form and the headline.
Contrast: The color contrast on the page should be legible and visually appealing. Don't put yellow text on a green background just because you think it looks good, because this color contrast will cause readability issues for your content.
Follow visual hierarchy: Arrange the elements on the page in such a way that it takes visitors attention from one place to the other in an ordered way. Get help from eye tracking studies to understand where users look when they're viewing different content formats and arrange your assets accordingly.
Creating a proper brand design guide documents your design and branding guidelines, acquaints your team with your design strategy that helps with content design consistency which is essential in content marketing.
Content marketing is a strategic approach that is dedicated to creating and distributing valuable, engaging and consistent content that attracts and retains the attention of your target audience and convinces them to take a desired action.
For your content marketing campaigns to be a success it is essential that you create a content marketing strategy, use the distribution channels that are ideal for your brand and audience and add complementary design and visual elements.