ABOUT BOLL & BRANCH
Boll & Branch is a direct-to-consumer luxury bedding and home goods company established in 2013 by a husband and wife team who noticed a gap in the bedding industry for pure organic, sustainable cotton sheets. They are the first linen company that is Fair Trade, Global Organic Textile Standard (GOTS), and OEKO-TEX certified. Since its founding, the company grew to produce not just bedding but all products associated with the bed. The company prides itself on being the only brand that sells ethically produced, 100% organic cotton sheets made without toxins or chemicals.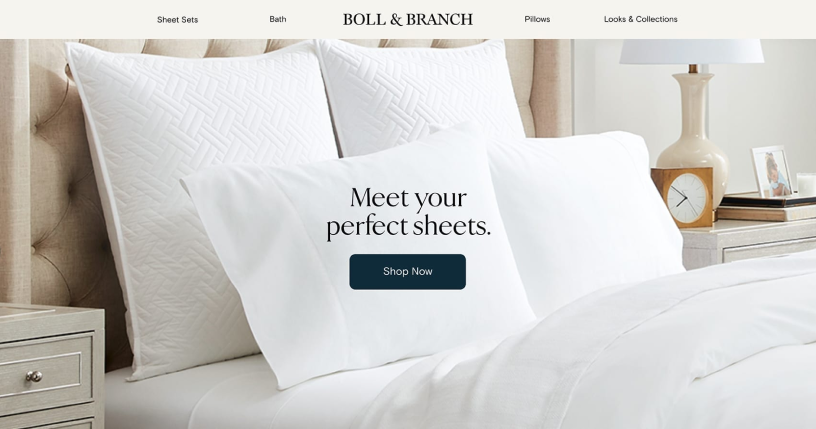 GOALS
According to Michelle Carrara, Manager of Digital Strategy and Acquisition, the company's primary goal was to lower customer acquisition costs. The team was also looking for a solution that allowed them to serve on-brand landing pages swiftly without requiring developers or a creative team.
THE SITUATION AND BUSINESS CHALLENGES
Boll & Branch wanted to quickly take the visitor from the ad to the offer, but it was proving to be difficult. Their website loaded too slowly, resulting in a high bounce rate and low conversion rate.
The team aspired to create fast-loading landing pages that would act as an intermediary between the ad click and the checkout page and guide visitors to complete a purchase.
The team also wanted to utilize personalized landing pages for targeted promotions and influencer marketing. To achieve this, they needed a solution that would allow them to generate landing pages faster and meet the scale required.
INSTAPAGE HELPED LOWER CUSTOMER ACQUISITION COST AND BOUNCE RATE
Before partnering with Instapage, Boll & Branch employed external agencies to create landing pages since creating them in-house proved costly and time-consuming.
To solve this pain point, the Instapage Professional Services team used automated creation technology to produce on-brand content, including custom fonts matching their brand style. This enabled Boll & Branch to serve fast-loading landing page experiences and launch campaigns at scale effortlessly.
Boll & Branch leveraged Instapage for paid search, paid social, and influencer marketing campaigns. According to Carrara, the landing page experiences were connected to ads for both non-branded and branded search terms, operating as a pre-cart click-through page to engage visitors and guide them to the checkout page. "Although it added an extra click, the ability to load faster and convert more efficiently was worth it. We were able to drive efficiency at that first touch and guide people through the funnel to ultimately check out."
For influencer marketing, Boll & Branch served dedicated experiences for each influencer, with tailored content and a unique promotional code offer.
Using Instapage to deliver personalized experiences for different audience segments allowed Boll & Branch to reduce bounce rate, increase conversion rate, and eventually lower the cost of customer acquisition. As Carrara emphasizes:
I was thrilled with the performance. It was great to see improvements across the board on conversion rate, driving down our cost per acquisition, and the ability to create a lot of personalized landing pages at scale. It was a huge home run for us.

INSTAPAGE ACCELERATES THE LAUNCH OF A PERSONALIZED CAMPAIGN
The Instapage Professional Services team worked closely with Boll & Branch to create custom landing page elements to bolster their personalized campaigns, like page layouts, custom blocks, and content modules. Using these custom elements, Boll & Branch was able to generate and activate new leads in a fraction of the time.
Thanks to the Professional Services team's close and effective working relationship with Boll & Branch, they were able to develop these custom elements without extensive rounds of feedback. Carrarra adds:
"The process with the Professional Services team was really great. The experience was super fluid, and the project was completed quickly—within 3 to 4 weeks. Overall, we were very happy with the UX, speed, and interactivity of our pages."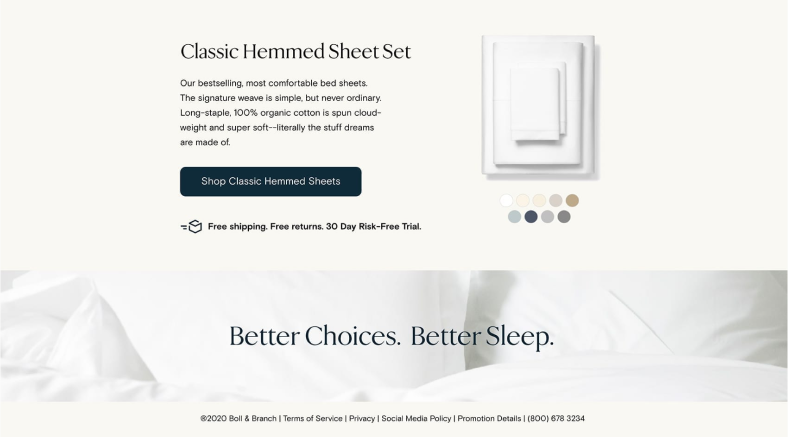 SUCCESS METRICS AFTER PARTNERING WITH INSTAPAGE
Instapage enabled Boll & Branch to achieve their customer acquisition goals, reduce bounce rate, and decrease cost per acquisition on landing pages. By working with the Instapage team, Boll & Branch was able to quickly launch and scale robust customer acquisition and retention campaigns that resulted in:
38% lower CPA because of dedicated pre-cart landing pages
56% increase in paid campaign CVR
21-70% decrease in bounce rate
SUMMARY
After partnering with Instapage, the Boll & Branch marketing team has become more productive and agile. Instapage has enabled the brand to create and A/B test landing pages at scale. The personalized landing pages have helped them drive down the cost per customer acquisition and improve the conversion rate for campaigns.
Working with Instapage has enabled us to achieve all of our goals substantially. It has reduced the bounce rate for our paid media campaigns across paid search, paid social, and influencers. It has also increased our conversion rate and ultimately drove down the cost per acquisition for our campaigns. Finally, their team and technology have allowed us to scale our campaigns easier than ever before.