What do Gray's Papaya hot dogs and the leaning tower of Pisa have in common? No, I'm not just fluking they actually do have something in common.
One has great taste while the other is an architectural mystery; so essentially they are both special in their own way.
There's always one player that outshines the others in a game; whether one is looking at the marketing world or the anchors that do the 9 O' Clock news; a player that stands out and puts the rest to shame.

Instapage is such a player in the squeeze page platform world. You might have seen a lot of other platforms pop into the industry at present (now more than ever) but Instapage has been excelling way longer in this game and is still adding new features to its already outstanding features list.
The new lead capture form builder for instance or the newest real time editing feature that enables marketers to make changes to their landing page while it's online, so that no conversions are wasted, ever!
The squeeze page templates that you get with Instapage take you to newer heights of the conversion ladder because they help you build a squeeze page that has everything included thats needed to succeed.
The Breakdown of Instapage's Squeeze Page Templates
The specialty of Instapage's squeeze page templates lies in the fact that the templates include all that makes squeeze pages great, the wow factor that helps you grab your visitors' attention and squeeze out all the conversions that you can.
The 3 main "squeeze" worthy elements are as following.
1. The Headline
The headline on your squeeze page is basically the bait that helps you catch and then comfortably reel in valuable customers. Without a catchy headline, no visitor gives your squeeze page a second look.
The headline needs to pull in your visitors' focus and that's exactly what Instapage's squeeze page templates do.
2. The Benefits
The copy of your squeeze page essentially consists of a list of all the benefits that your service can provide your potential customers with. The important thing about your squeeze page copy is its arrangement, because the purpose of squeeze pages is to grab instant attention which is why it is important that the copy be given to visitors in such a manner that it's easy for them to scan through, like a list of bullets points etc.
Instapage understands this and arranges the copy of its squeeze page templates in the same manner.
3. The Lead Generation Form
No matter what product or service your squeeze page is promoting, the design and placement of your capture form is extremely crucial.
One wrong turn with your form could easily jeopardize your conversions, which is why Instapage's squeeze page templates takes extra special care of form building. Here's a preview: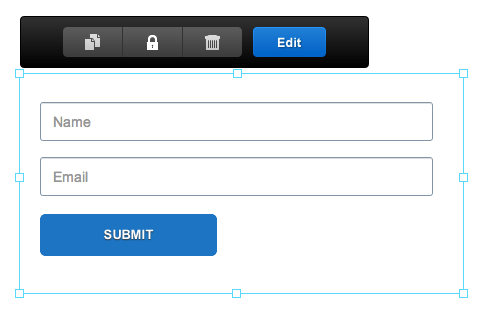 If you want your squeeze pages to soar then Instapage is the best route you can take.