In the online marketing world, you know just how important it is to generate website traffic, build your email list, generate sales qualified leads, and develop relationships with prospects. To that point, there are many ways to generate leads – including traditional landing pages, squeeze pages, lead capture pages, and sales pages.
Maybe the most overlooked tool in capturing emails and starting to build a relationship with visitors is the coming soon landing page.
A coming soon landing page is a tool marketers use to collect email addresses to build a company's contact database. That really isn't a sufficient definition to explain what coming soon pages are, how they're used, when to use them, where to use them, and how to design them.
Let's look at the 5 W's of a coming soon page (and a few other things, too):
What is a coming soon landing page?
It is a very basic type of landing page designed for the specific purpose of capturing a visitor's email address. Once you collect their email address you can begin to develop a relationship with the person.
Think of coming soon pages as movie trailers before the main attraction – they preview "what is coming?" During these previews, the trailer usually shows the release date for the movie. When it doesn't have an official release date, the trailer shows "coming soon."
Let's look at Healertree's coming soon page:
The page has a very descriptive image, but the page itself is still very basic. The "form" only has one field for email, the call-to-action has personalized copy, and Healertree has the option for you to follow them (and any development news they provide) on Facebook and Twitter. Their page also tells the visitor exactly who they target and who will benefit from the service when it's made available – healers and clients. Finally, they ask for the user's input on building their product as they continue to develop it. This way they can implement any helpful feedback before the product is launched. Brilliant!
Why do I need one?
Marketers need a coming soon landing page because it gives them another way to build a larger audience of prospective customers in order to make a bigger announcement for the offering when it's released.
Coming soon pages help you create intrigue, urgency, and demand. Therefore, when your offer is ready to release, you have that much more momentum and exposure than if you didn't have a coming soon page.
When do I need one?
These pages are best used in three main instances: new product announcements, "once a year" type promotions, and granting exclusive or early access to your product or service. All three of these instances create intrigue, urgency, and increased demand.
Another great example is Doorluck. They understand that people love to win stuff – whether it's cash, coupons, or contests: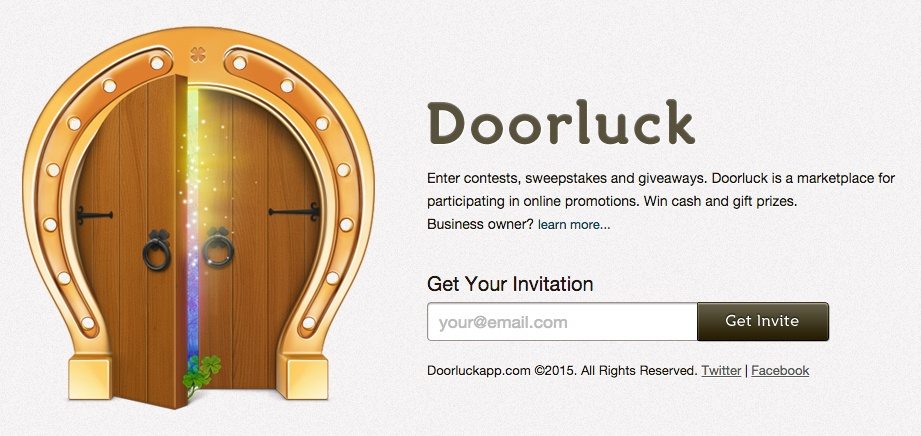 What magical coupon or sweepstakes is behind the door? You won't know or be eligible until you enter your email address and added to their list!
Who uses them?
This type of page can be used by any company from start-ups to well-known established companies. However, lesser-known businesses take advantage of coming soon pages to generate brand awareness and increase curiosity in their product or service.
There may be no better example of this than Hipster as they generated 10,000 signups in just two days without even telling people what they did. They eventually created a coming soon page for other major cities such as Chicago and New York City. The consistent theme across each of these pages was that "something cool was coming."
Where do you use it?
This may seem a little confusing as to where you should use a coming soon landing page because the page itself is the "where." It can be a standalone page, or part of your complete website. If it's part of your website, you can include signup and login links in the header.
The most important "where" for coming soon pages is that it is responsive to all devices – mobile and tablet included. This is especially important because mobile usage has continued its steady increase in the past decade, surpassing desktop usage last year.
How to design your coming soon landing page
When creating your page, make sure you include:
Relevant image
Headline
Sub-headline
Email field (only)
CTA button
Some businesses opt to include additional elements such as a countdown timer, blog link, or privacy policy. One important thing to keep in mind is to make the page visually appealing to encourage conversions. Make the image relevant to your company and the offer itself (whatever that may be). As SeedProd states, the image should contribute to your branding by including your logo, colors, and fonts so people feel more comfortable when visiting your site again in the future.
Make the copy fun, hip, and engaging if that's more your company's style. Don't design it with specific dimensions in mind (reminder: Make it responsive to all devices). If applicable, tell visitors your app will be available on specific devices ("Available in the App Store" only). Doing this can help establish exclusivity because other services like Google Play will not have access to the app.
We wrote an article about specific examples, but if you do a quick Google image search for "coming soon page," there's a great selection of of pages that should get your creative juices flowing. There's also 20 great examples here that generated interest, signups, and future conversions.
Your coming soon landing page's thank you message
Don't get us wrong, using a coming soon landing page is great for your marketing strategy – but it's recommended you also have an optimized thank you message attached to your page. The thank you page presents a great opportunity for you to start developing a relationship with the people that convert.
Offer relevant content on your thank you page. Include a CTA for them to subscribe to your blog. Provide social sharing options that can help expand your page's reach online. All of these tactics help you build a closer relationship with visitors.
For example, Doorluck's thank you screen is very well constructed because it encourages you to share on Facebook, Twitter, and your own blog or website. Not only has their email list grown by one, but Doorluck's job is made easier if people share the page on social media:
Skip the coming soon landing page and create a traditional landing page?
Buffer's CEO Joel Gascoigne argues against coming soon landing pages and instead prefers to use a traditional landing page. This way, you can make it look like the product exists, but when people sign up, you then tell them it's not quite ready yet.
He continues:
"By skipping the coming soon page, you gain validated learning about the emails you collect: they are people who thought your product existed and showed a real interest by trying to sign up … the benefit of this method is also that you can work on your product in parallel with learning about your customers …"
Be careful with this strategy though as it may anger visitors and cause them to distrust your company in the future. In this scenario, you can always perform an A/B test comparing a coming soon page and Gascoigne's landing page variation to see what works best for conversions.
To wrap up …
Coming soon landing pages are all about creating intrigue, urgency, and demand for your yet-to-be-released product or service. When built and designed properly, these pages are a great tool to help you build your email list.
Have you created a coming soon landing page before? Are you thinking of creating one? What are your thoughts about skipping it altogether and tricking visitors to think your product or service is already available?
Please let us know your comments below or go here to create your first page for free!