So, you've created an awesome landing page and enticed your clients/members to sign up. What's next? Naturally, your next step is creating an equally awesome welcome email to (1) thank them for becoming part of the family and (2) impart some valuable info.
Qualities of a Great Welcome Email
A welcome is defined as "a kind greeting or reception, as to one whose arrival gives pleasure." It might seem difficult to apply this definition to the virtual world.
What makes a real-world welcome feel great? I think it can be broken down into the following:
▪ It's personal
▪ It's genuine
▪ You're shown around
▪ Welcomers are excited to have you on board/visiting
▪ You're offered comforts
These aspects of a welcome are intuitive in person; we all know how good a genuine welcome can feel and also how to present one. It's important to apply these elements to your welcome email, too!
Make it Personal
Hey you, welcome to ___________. That doesn't put across a very personal vibe. If possible, make sure you personalize your promotions. Using someone's name is not just good manners but can also give the contact a boost and make them more likely to engage. Personalizing subject lines can also increase open rates by 22%!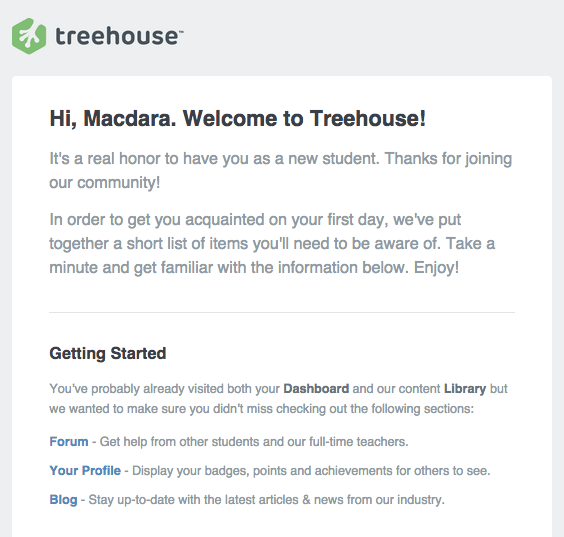 Make it Genuine
Tone and language are key. It's always best to keep your welcome emails conversational and let them flow naturally. Using cold and robotic language will not convey any warmth or sincerity. Similarly, neither will superfluous language, as it will seem like you're trying too hard. Keep it simple and honest.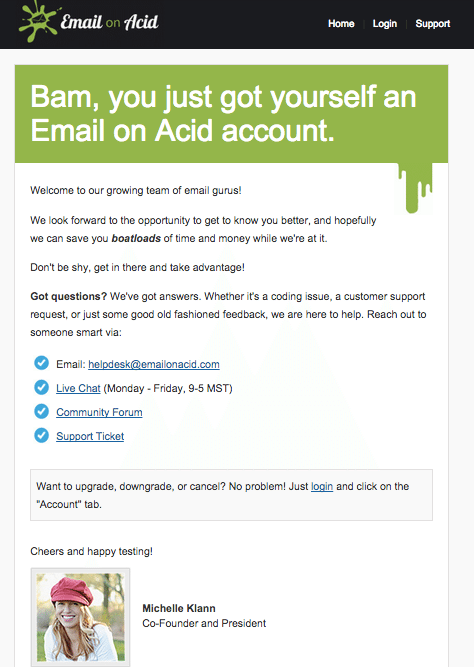 I love this engaging and high-energy language from Email on Acid. The image and personal sign-off was a big win. Images of people always draw the eye and nothing says "welcome" more than a smiling face.
Show Them Around
Welcoming others into a home (or wherever) includes showing your guests (or new subscribers) around. Opening up your space to them helps instill a sense of trust. Giving them your contact info and emphasizing that you're around if they need anything lets them know their presence is wanted. Give them links to useful information on your site so they'll have them to reference later if needed.
Express Excitement
New subscribers are clearly interested in what you offer. They likely share the same passion for the club/hobby/products you provide. They are the reason your organization is growing, and their addition is something to be excited about. Make sure you convey this simply by letting them know how "thrilled we are to have you on board."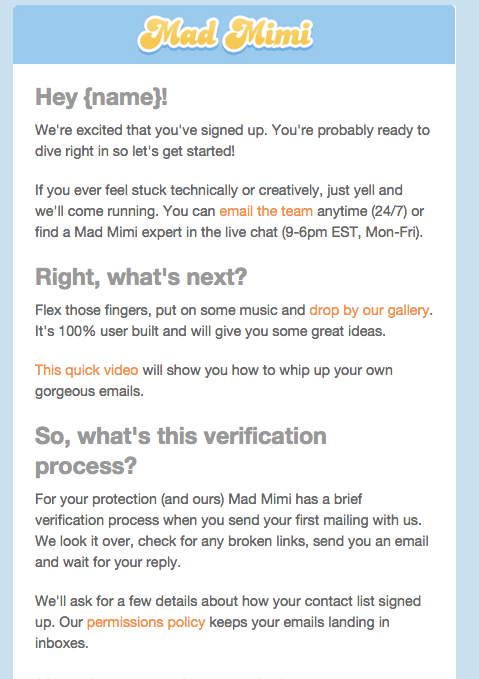 Offer Something
Sadly, technology hasn't developed quite well enough for beer and sandwiches to arrive via email (yet), but you can send them that ebook (or whatever) they signed up for. Welcome emails tend to have awesome open rates, so be sure to put your best foot forward. Offer a discount code for their next purchase or a free gift. This is awesome for a few reasons:
▪ Everyone loves a freebie.
▪ Shoppers look out for coupons; 72% of all online shoppers say that they have signed up to receive a discount.
▪ If they've already bought something and use this code to get more, you can help instill a habit and connect a strong association between your brand and product/service.
▪ It can add a sense of exclusivity and make them feel special.
▪ Welcome emails get 3 times the transactions and revenue over standard promotions.
All of these feel-good welcomes will also help to alleviate buyer's guilt.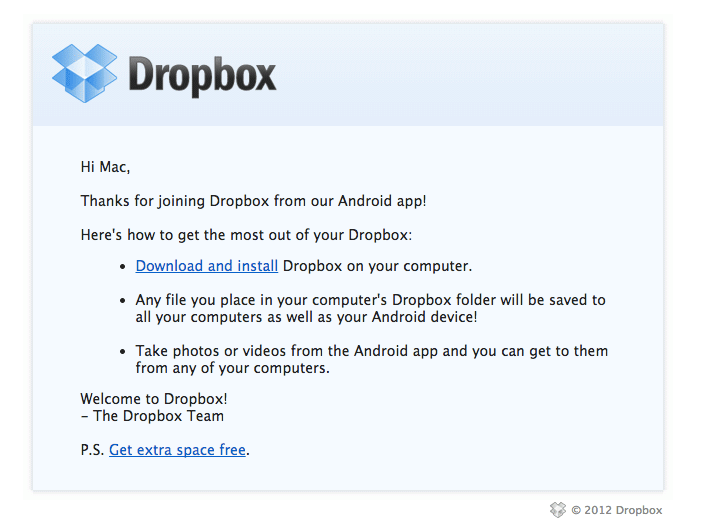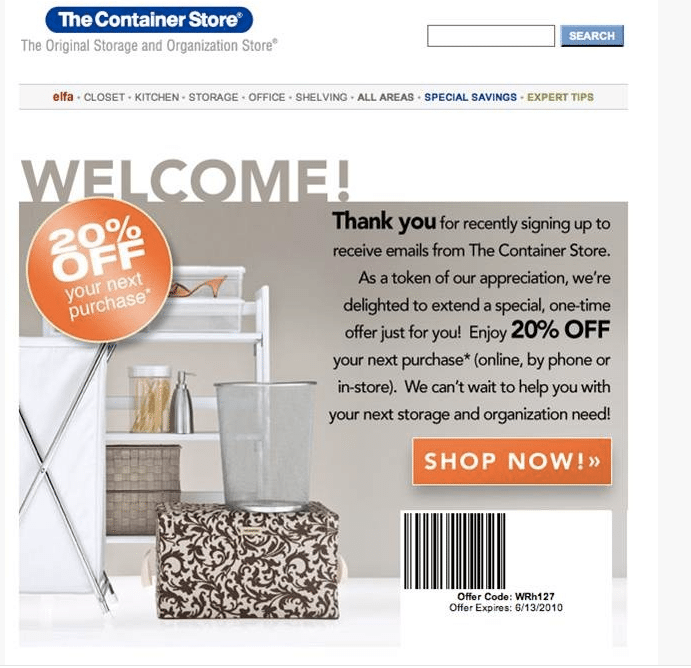 Top Tips For a Great Welcome Email
Keep it Simple
Since welcome emails have a very high engagement rate, it's tempting to load them up with promotional material. On average, emails are read/scanned for about 20 seconds, so excess content is often just noise (and can get your important info ignored). Focus on the welcome aspect and just add one or two coupons/products along with a link to your site so they can get further info.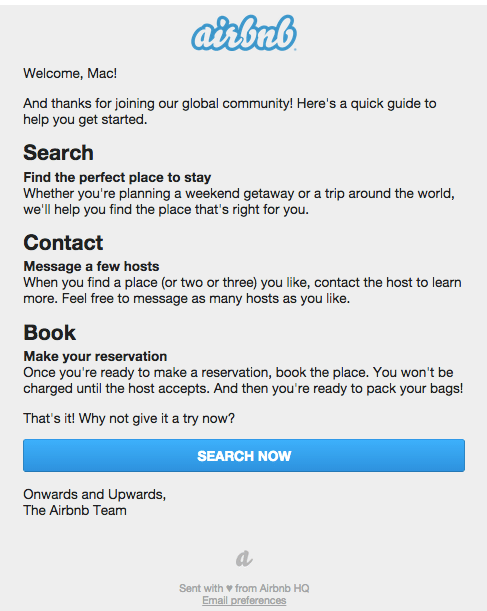 Include Social Icons
Make sure you add your social icons to the email. When new subscribers like or follow you, it can drive more signups via social networking.
Use a Personal Address
Again, authenticity is always best, so it's great to reach out with a personal address. An address like "noreply@address.com" doesn't come across as very human.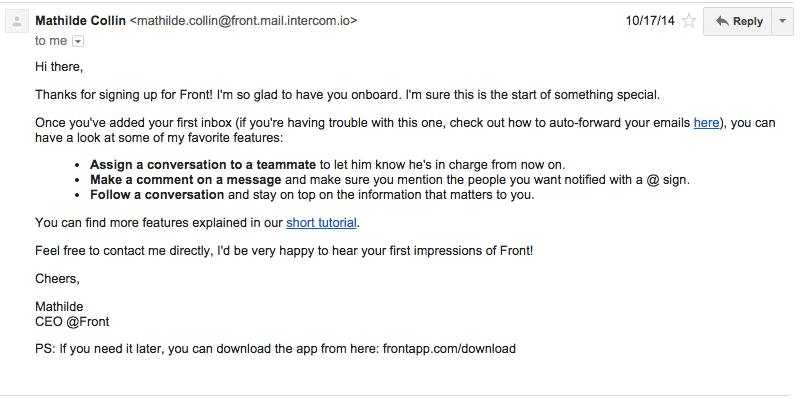 Ask Subscribers to Whitelist You
Add a reminder to your subscribers to whitelist you by adding your email address to the safe senders list. You can also recommend these tips to make sure that Gmail users will receive your mail in the "Primary" tab, as bulk mail will tend to land under the "Promotions" tab.
Macdara Bracken is a Mad Mimi​ Community Therapist based in Galway, Ireland. A former rower, he now fills that void by eating Mexican food and chilling with his son, Cillian. He also digs travel, new people, and forensic psychology. He has a background in microbiology and stem cell research and loves his current work at Mad Mimi.