It's hard not to love Square.
"We're going to revolutionize the way business owners accept credit cards by making it more affordable – maybe even fun. Oh, btw, we're also going flip the banking industry the bird by coming in with a better, more modern idea."
That kind of audacity makes my heart go pitter patter. Well, Square has done it again, and I'm falling in love with them again like it's the first time.
One of the company's products, Square Cash, got a landing page facelift as part of Square launching new services for small businesses. In the process, Square has provided us with an amazing study in how exactly to lead a potential new user through a mobile and desktop experience, something the vast majority of companies fail to accomplish.
Today, we'll walk through the entire landing page sequence, discuss the elements that make it so effective, and get you a list of great ideas you can steal from this case study.
Step 1. Nail the Email
This is what the first email in the sequence looks like on a desktop in Gmail.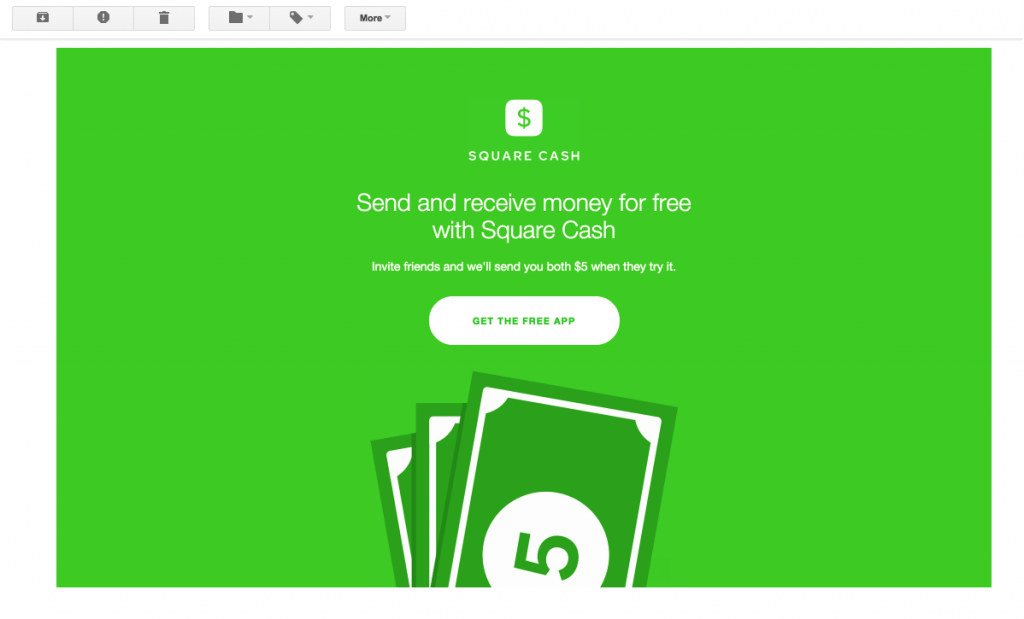 What makes it great:
1. One Clear Button
There is no confusion about what to do here. Click the button, get the free app. They make it incredibly simple to move to the next phase of this sequence.
2. The Offer
What Square Cash does is featured prominently in the email. There's no question of the value they are providing.
3. The Incentive
Who says no to free money? No one. Who says no to giving their friends free money? Jerks. That's who.
From the instant you see this email, you want to share it because you get $5, and so does your friend, all from sending one little email and a signup. It's perfect.
2. The Landing Page Sequence
This is the sequence the CTA button in the email sends you to.
We start simply with something everyone wants: Cash. From that eye-catching word, you can either enter your number, click into the next slide or learn more from the video.
In case you don't dig video, the next slide gives you the gist. Send cash for free. Hard to argue with.
The final slide here is the call to action – sign up for the app.
What makes it great:
1. The Visual Cue
The phone is facing the spot where you enter your phone number is no accident. This kind of leading visual cue is proven to get you to enter your number.
2. The Simplicity
It's just so unmistakably clear what the value is.
Step 3. The First Text
The landing page will send you an SMS message that will either open up the app if it's already been installed or redirect you to the app store for download.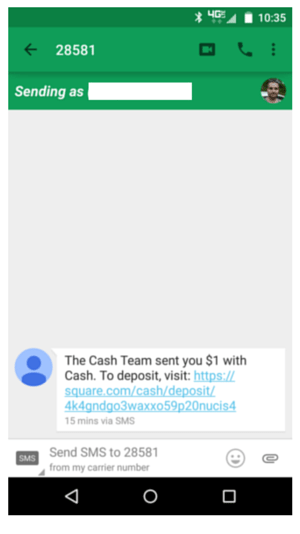 What makes it great:
1. Smart Instructions
Literally anyone can deposit this $1 they just received because all they have to do is click the link. It's explicit and clear.
Step 4. The App Store
What makes it great:
1. The Super Short Video
Could you define an entire offer in less than 60 seconds? Square Cash just did. And they rocked it with great, simple animation, clear scripting, and a consistent overall experience.
2. Tell 'Em What You're Gonna Tell Them
Then tell them again. Repetition is key to converting visitors, and Square reiterates their value proposition in a slightly different way to avoid being too overbearing.
5. The App
From the link, we are taken into the Square Cash app to finish the registration process.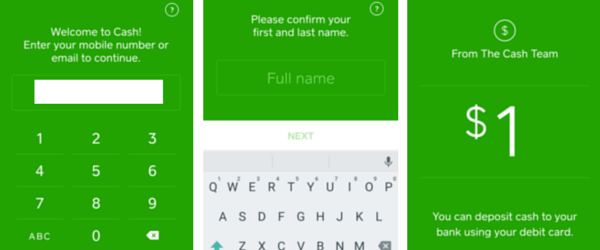 What makes it great:
1. Brevity
This cannot be overstated. Keeping things quick, clean, and to the point makes your customers oh-so-happy – especially when it comes to filling out forms.
2. Asking For Just Enough
It's a fine line to walk so you get enough information from your customers without making them feel like you own them. Square Cash gets the basics at the beginning, gives you your dollar, and then you're done. So simple. So smart.
The Second Text
Square Cash wraps up the signup process here with the required ToS.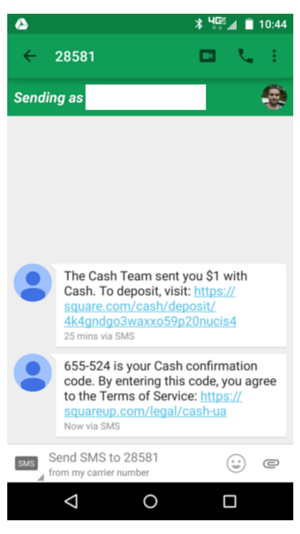 Let's all give Square Cash a collective round of applause. We could all learn a thing or two from this kind of smooth landing page sequence.