If you've considered buying a home, chances are you've looked online to see what was available. And if you've looked online, you've had to suffer through some god-awful real estate websites.
Oh. That awful website is yours? Then we need to have a talk.
Don't get me wrong – I know real estate professionals have it rough. It's not easy doing what you do in a competitive field, especially when you're getting started. You know having a website gives you an advantage, but you don't have time to learn how to do it all yourself. So you went with a free website generator, slapped it up on the web, and never touched it again.
It's almost Valentine's Day, and real love isn't easy. Real love means telling someone you care about when they are doing something that's hurting them. And in this case, your bad landing page is killing your conversion rate.
Let's go through some real estate websites and discuss exactly what isn't working and why – and most importantly, let's talk about how you can fix it.
Below are some actual real estate landing page examples you can learn from and improve your own pages in the process.
Andrew Green Real Estate Homes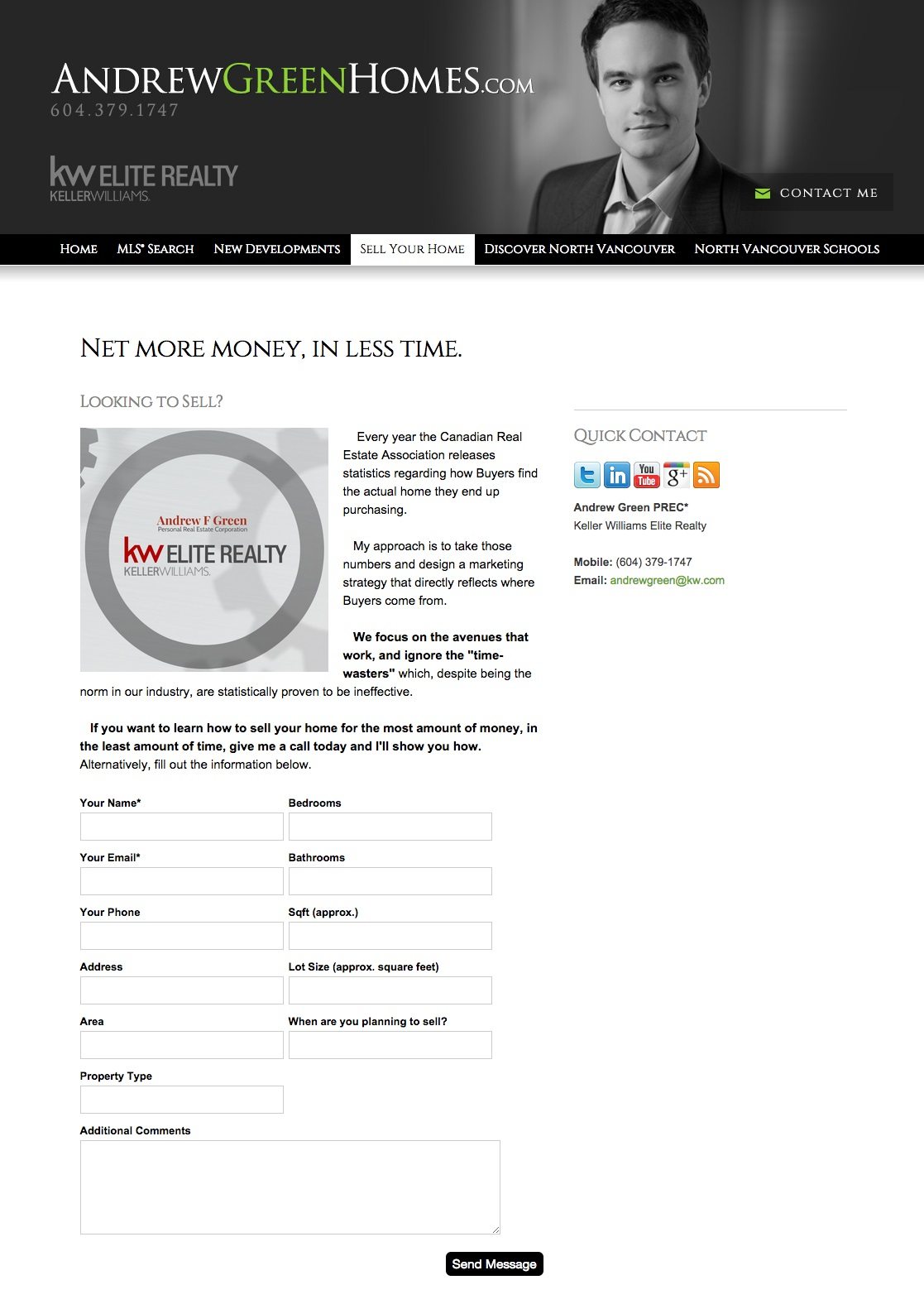 What is working:
1. The banner image is fantastic. Studies show landing pages with human appeal convert better, and Mr. Green has that down.
2. The picture looks professional, and it helps the site feel trustworthy.
What's not working:
1. The website address to be splattered across the banner.
Start your page with your headline, not with your web address. There are navigation links placed above the copy and the form, giving visitors a chance to leave even before they have read any of the information.
2. The headline is irrelevant.
"Net More Money, In Less Time" means nothing. The headline should be a clear introduction of what your page is about. The landing page is focused on contacting Andrew Green for information on how to sell your home for a great value fast. The headline needs to reflect this.
3. The gray image at the left side of the copy serves no purpose.
Including images is a great way to break up text and draw attention to specific concepts. This one, however, just distracts the visitors while they are trying to go through bland copy.
4. The form is ugly.
Plus, it has too many fields. Why should the visitor fill out so much of their information at first contact with no real incentive?
5. The call to action button is neither big nor contrasting.
This is landing page 101 stuff. If you want them to clickthrough, it helps to understand why and how to do that.
Matt Morris (Windermere Stellar Real Estate)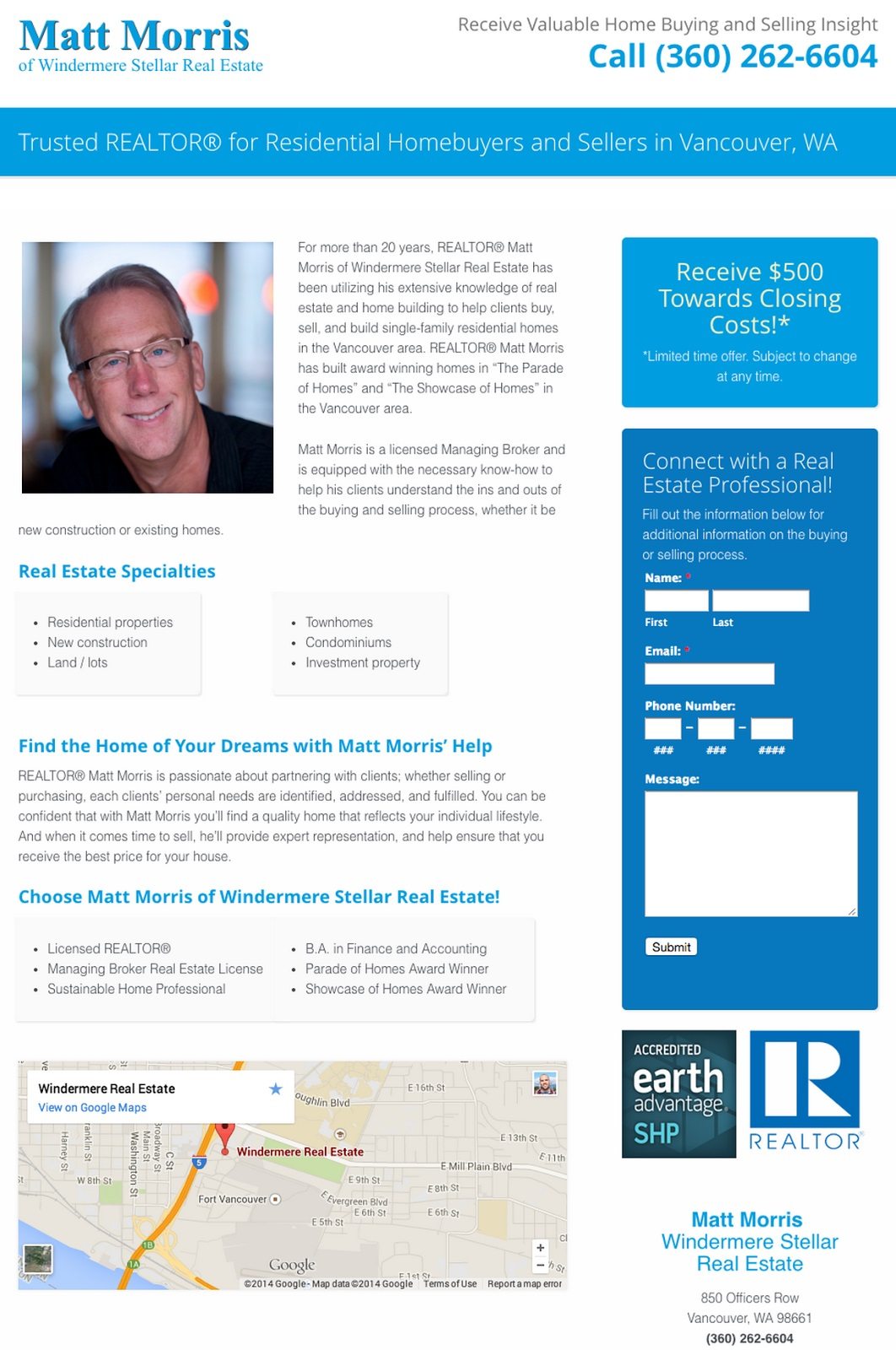 What is working:
1. The limited time offer box.
The offer creates urgency which increases conversions. However, there's no CTA button on the offer, which leaves me confused as to where this information is going to take me.
What's not working:
1. The headline is weak.
Just stating the fact that you are a trusted realtor doesn't make an effective headline. Your competitors must also have headlines like these. What makes you unique?
2. The copy of the page is not user-centric.
It's too long, and it is all about Matt Morris. Look closely – there isn't a single mention of the customer. The copy begins with praises of the realtor and ends with a list of his qualifications. What is actually offering customers doesn't even come up.
3. The call to action button is tiny.
Again, landing page 101. Tiny is not a word you want associated with your button. The copy on the button is also generic.
A Real Estate Landing Page That Works
Top Agents Ranked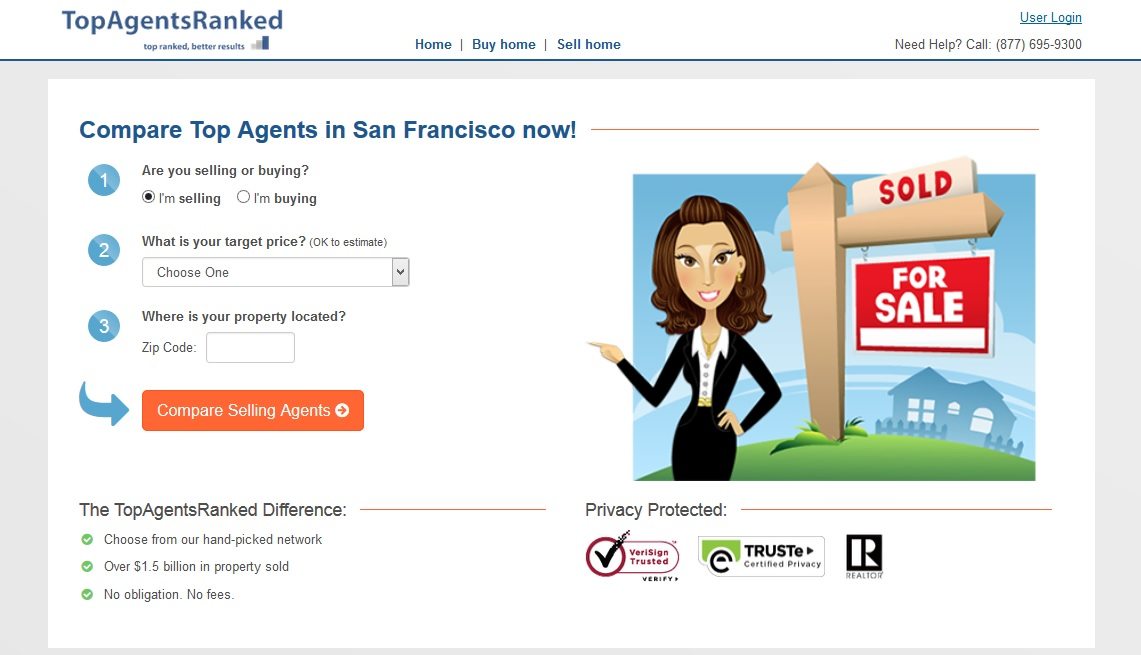 We found one example of a real estate site we loved with TopAgentsRanked.
What first caught our attention was how different it was from most other real estate landing pages floating around the internet. There's no long paragraph about how great the agents are, no long lead capture form, and no invisible call to action button.
This page has a good headline, so a visitor knows what they are getting from the page. The form is broken down into a numbered list, and there's a visual cue pointing to the contrasting and personalized CTA button.
The graphic of the animated realtor pointing to the form is relevant and eye catching, plus it serves as another directional cue. For the copy, the page has a list of benefits of the service, a recommendation for high converting pages.
And finally, the trust seals on the page indicate to the visitors they can trust the service.
You Can Do Better
Does your page look similar to the first two landing pages?
Even though bad real estate landing pages are common, this is great news for you. If you create optimized real estate landing pages, then you are able to stand out in a crowded niche.
Need some inspiration? Browse through 100+ Instapage templates and see how easy it can be to take control of your real estate website (with no technical knowledge).