Ever wonder how long it takes to create an optimized landing page?
With Instapage it takes just 3 minutes.
You see Instapage was built to simplify marketing. This is why our fully customizable builder lets you customize your pages in any way you like without having to write a single line of code. It's also why we made it easy to A/B test your landing pages. And finally, (now, here comes the three minute part) it's why we created 166 optimized landing page templates just for you.
We understand that most marketers who use Instapage are tired of running to their IT guys for help every time they need to design a landing page. This is why we provide marketers with pre-optimized completely customizable landing page templates. With the help of a template, even the most technically challenged marketer can create a professional landing page in three minutes.
This is where our 166 optimized landing page templates come in. You get 95 templates free with your Instapage account, and you can purchase the remaining 71 from Themeforest.
Categorizing Instapage Templates
We categorize Instapage templates by industry. The main inspiration at Instapage design headquarters is always – and will always be – You!
We understand that you have different landing page needs for varying campaigns. That's why we ask which templates you want. We currently have templates for lead gen, click-through, webinar, mobile app and thank you pages.
We design each component of the templates with meticulous love and care. Every template gets designed after going over conversion principles, optimization frameworks, industry standards and the latest trends. We make sure every landing page template we create is an asset to you.
This is the optimization checklist we go through before we publish a template, a benchmark for template success of sorts.
Does the template have all the necessary elements (headline, image, copy, form, CTA)?
Do the elements have ample whitespace around them?
Are there social elements on the template? (these do vary with some industries)
Does the template follow the natural eye path order?
Does the image in the template add emotional appeal or have another clear purpose?
Is the CTA button big and contrasting?
Does the template work toward one page goal?
This is what this post is all about. It's not only going to tell you what our most successful landing page templates are, but we're also going to go over ways that you can personalize these templates to skyrocket your conversion rates.
Let's begin.
Our Top 4 Templates
1. Lead Gen Template for Real Estate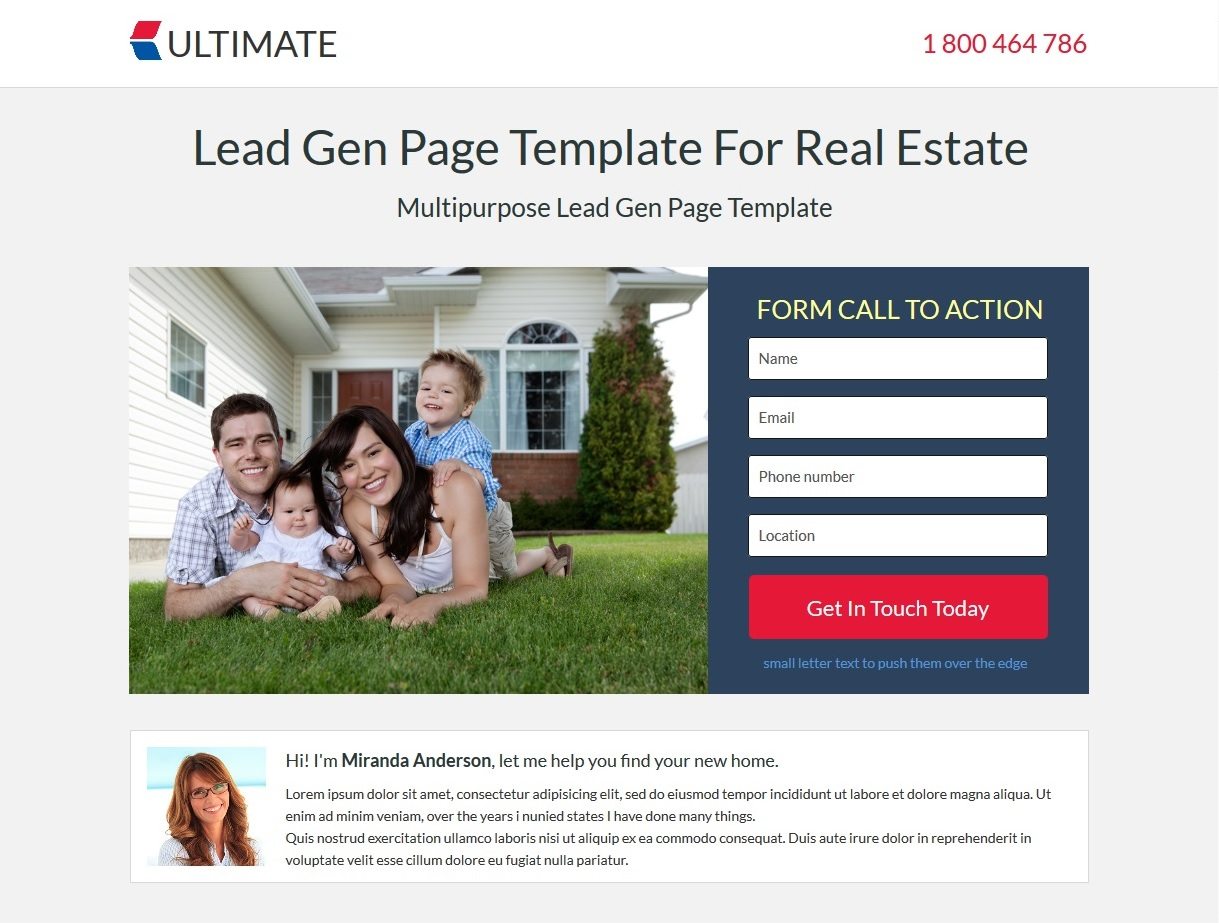 This is a standard lead generation landing page template for the real estate niche.
Personalization Tips
Add the logo of your company in the top left corner along with your phone number. Both of these things are necessary for brand recognition and credibility.
Add a headline that has your UVP in it along with a sub-head.
As the template is designed for the real estate niche go with an image that is relevant to your business. If you mostly cater to families, a nice wholesome image of a family enjoying a house would be perfect for you.
Add an intro of yourself along with a hero shot. Explain how long you've been in the game for and let your visitors know how many houses you have sold successfully. Also, add something personal about yourself that helps your visitors identify with you and trust you because the more they trust you, the more likely it becomes that they'll buy from you.
Showcase some of the open houses you're currently managing. Do this alongside pictures and full details. These details help convert a wandering visitor into a prospective buyer.
Explain a bit more about how you do business and what your clients should expect they'll get when they choose you as their dealer.
Add testimonials from previous clients along with their pictures.
Change the color of your CTA button to match the aesthetics of the rest of your landing page. You can also change the button copy, make it more personal.
You can add more fields to the lead capture form if you want.
You can also delete any section you want from the template that you think is not relevant to your campaign. Just click on the section and hit delete, it's that simple.
2. Notifer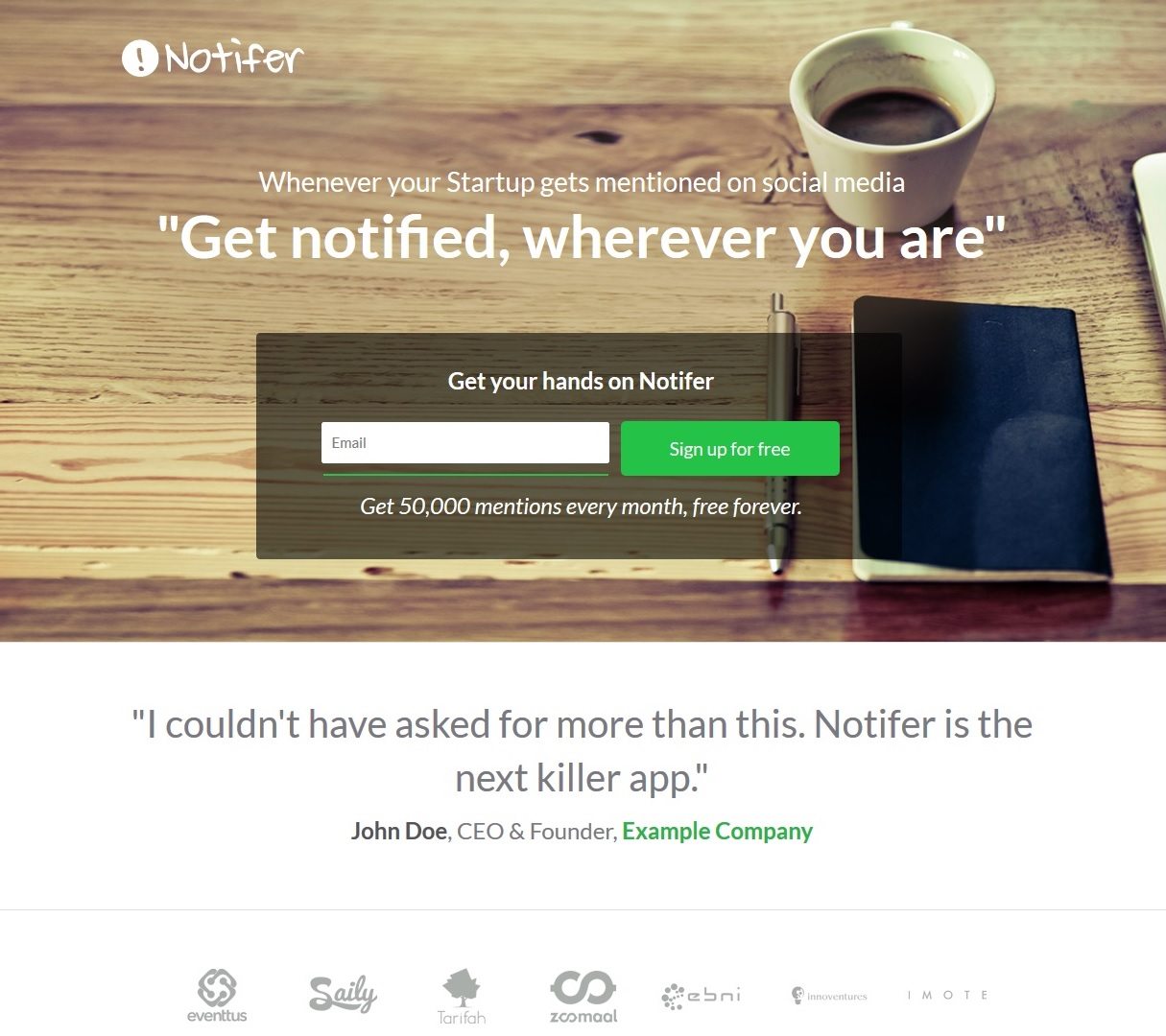 This is another lead gen template. Let's personalize it keeping in mind a SaaS company.
Personalization Tips:
Start off by adding a persuasive headline and sub-head. Something that helps you stand apart from your competition.
You can add an image of your product being used as a background. Or you can go with an image of your team members sitting together working on the product.
The lead capture form is pretty simple. You can add more fields to it if you see best.
Change the copy of the CTA button to suit your needs, also do this with the color of the button. You have the option of having a glossy or flat button. You can also change the button style from round corners to text shadow or 3D effect.
Add a testimonial from a client and include their image too.
Add customer badges on your landing page to increase trust.
Add the benefits of your product in points alongside helpful images.
3. Sky Theme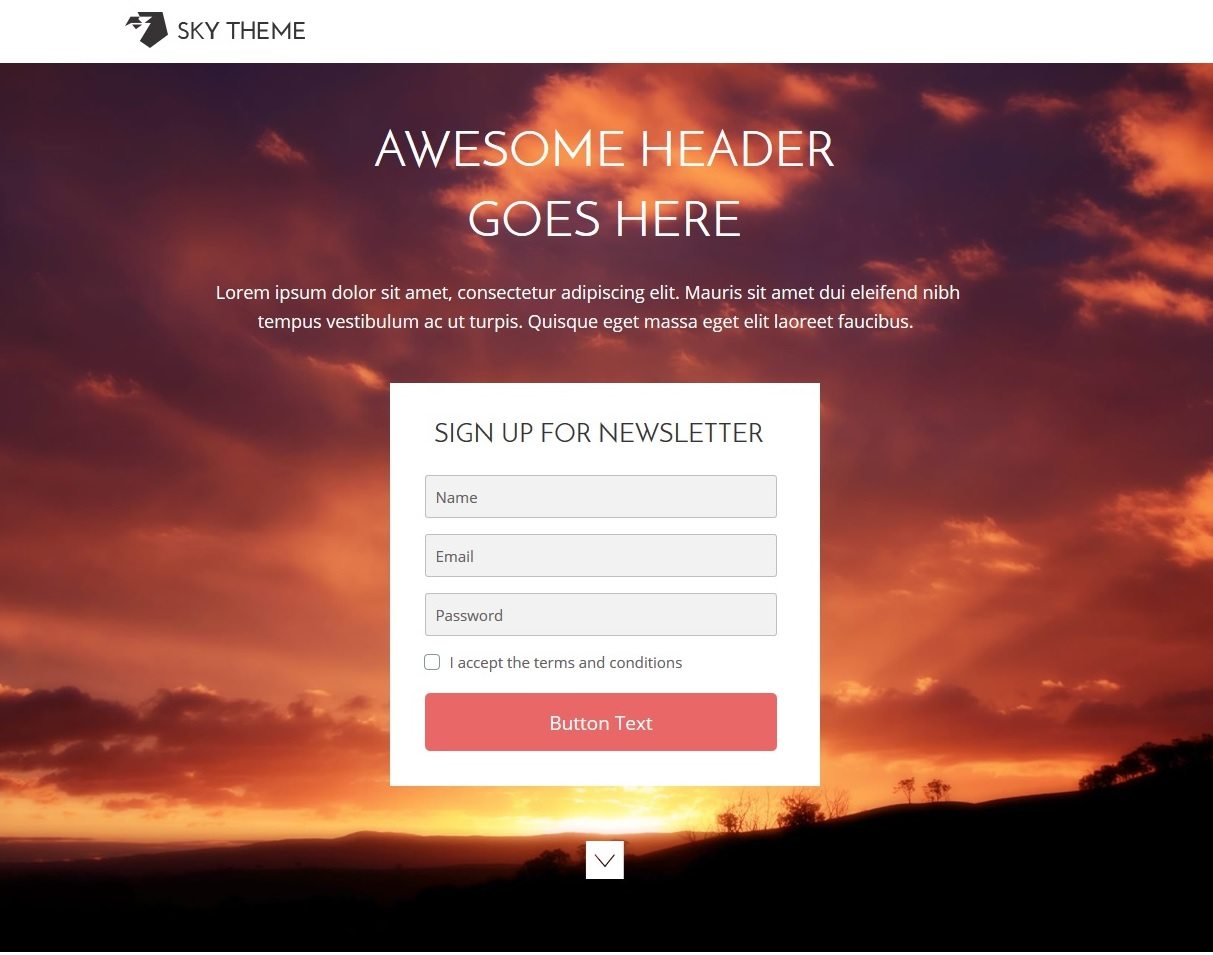 This is another lead gen template. Since we've already covered personalization tips for the real estate and SaaS niche, let's personalize this template keeping in mind an agency.
Personalization Tips:
Add a logo of your company, alongside your tagline.
Put up a headline that gets your visitors to take notice and persuades them to go through the rest of the landing page.
Collect leads with your lead capture form and integrate it easily with AWeber, Constant Contact, Mail Chimp, Active Campaign or the rest of the Instapage integrations. You can also go for a two-step opt-in form in just a few clicks.
Add a video of your agency at work.
Change the color and copy of the CTA button.
Introduce your agency below the fold. Explain why your visitors should choose you over the competition and what benefits they'll get when they use your agency.
Showcase honest customer testimonials.
Showcase the logos of notable companies who have used your agency to get good results.
4. Thank You Template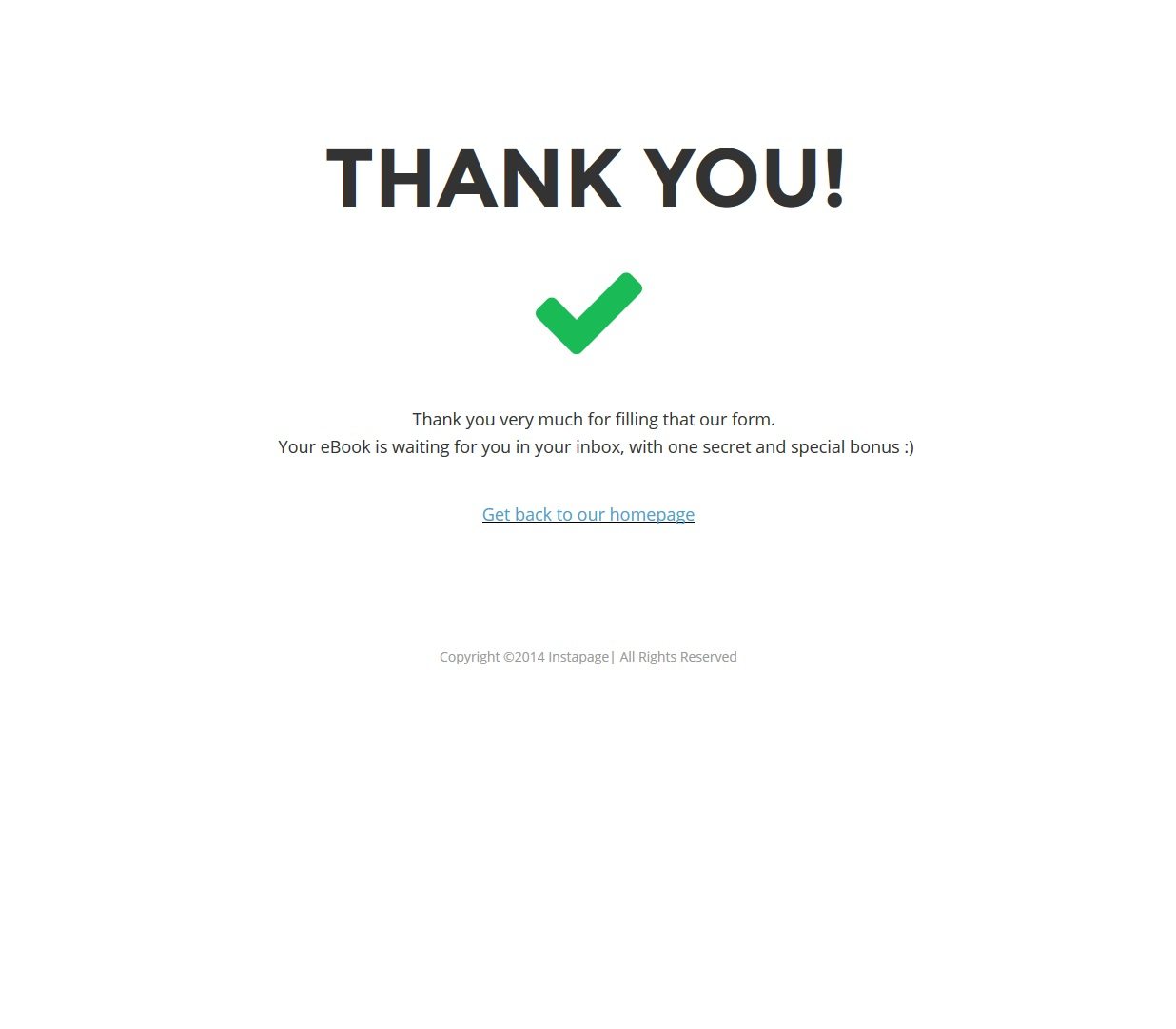 This is a Thank You page template. A typical Thank You page consists of you saying thank you to your new customer for subscribing to your service or buying your software or whatever your landing page was about.
Personalization Tips:
Change the headline from just "Thank You" to something more personal. For example if you're saying thank you to your users for downloading your ebook about recipes, your headline can say, "Yay! You've successfully Downloaded the French Recipe eBook".
You can use your Thank You page to get your users to promote your product on social media or to offer something more to them.
You can also add a smiling picture of yourself on the Thank You page to make it more personal.
Your thank you page is full of conversion opportunities, read more about this here.
We believe every promotion needs a page this is why we provide you with 166 pre-optimized canvases and more than a dozen ways to personalize them so that you can build your very own page with ease.