Every element that goes on your landing page performs a unique function for your visitor. For example:
The headline captures their attention and entices them to stay on the page
The copy acquaints them with your offer
The testimonial reassures them of the success of your product or service
The lead capture form collects visitor information
The call-to-action button gets you the conversion
Collecting a lead and getting a conversion seem like the most important functions on this list, don't they?
Actually, none of these functions are possible without convincing the visitor to stay on your page in the first place — i.e. your landing page headline's purpose.
Why are landing page headlines so important?
The great David Ogilvy said this about headlines.
"On the average, five times as many people read the headline as read the body copy. When you have written your headline, you have spent eighty cents out of your dollar."
Eighty cents!
Your headline is the first thing your visitors sees when he or she lands on the page. Make a great first impression with your headline and the visitor stays, make a bad one and they bounce. It's as simple as that.
So, what types of headlines make great impressions?
This is the million dollar question we sought to answer and why we analyzed countless landing page headlines.
Our analysis shows that all effective headlines share a few basic characteristics and that some headlines perform better than others.
Here's the game plan for today: First we'll discuss the common characteristics all great headlines share. Then, we're going to show examples of the types of headlines that will help your landing pages convert.
3 characteristics of effective landing page headlines
There are many other things to consider when writing effective headlines. But, regardless of whether your landing page is promoting a free trial for your SaaS, or a discount coupon for your nail salon, the headline will only be effective if it possesses the following three characteristics:
Clarity

A headline should never be ambiguous, vague, or beat around the bush with metaphors. It gets right to the point and connects with the visitor as soon as he or she lands on the page.

Relevance

How did your visitor come to your landing page? Was it a display ad they clicked or a Google search ad? Your headline and the ad connected to it must have message match and be relevant to each other. If your ad says "free trial" and your landing page headline doesn't mention a trial, then you can bet your visitors will bounce.

Empathy

All great headlines empathize with the visitor's problem. Headlines demonstrate benefits of the product and reassures visitors that their problem can be solved.
When you craft great headlines, your visitors are more likely to stay on the page and convert on your offer. If your headline fails to impress, your visitors will abandon the page.
The best headlines don't rely on clickbait. They shouldn't purposefully withhold information. Rather they offer visitors something promising that they go through the rest of the landing page and eventually click the call to action button.
This is what Disruptive Advertising does with its PPC services landing page. Technically, it's a service page but the agency uses the page for many of its Google Ads and PPC campaigns. Although we don't agree with having so many distractions (links) on the page, the headline includes the right mix of emotions and statistical proof.
First, they entice the visitor with this display ad headline:

"68% of AdWords budgets are wasted." This statistic is something anyone investing in pay-per-click campaigns will want to know so that they don't make the same mistake. Therefore, they click the ad, just like we did.
The landing page connected with the ad offers visitors another horrifying statistic:

"61% of PPC ad spend fails to produce a single conversion" shows prospects that Disruptive Advertising has done the research and implies they know what they're doing with PPC account management.
Furthermore, the subheadline perfectly complements the headline here.
The main headline was pretty clear by itself. However, saying "you deserve better" Disruptive Advertising establishes empathy with the visitor. Plus, both the ad and landing page headline both mention failed PPC stats. That's the headline trifecta: a clear headline, message matching, and numerical proof.
This is exactly what you should be aiming to do with your landing page headlines.
Effective headlines must also have a clear link between the ad and the page. They shouldn't make the mistake Clever Zebo makes with their landing page.
This is a Clever Zebo ad we came across while doing research: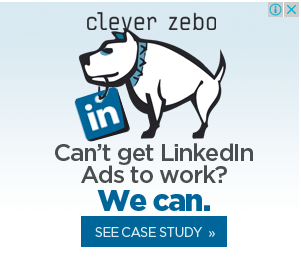 The ad headline is enticing because Clever Zebo promises that they can solve your LinkedIn advertising problem.
However, when you click the ad this is where you land: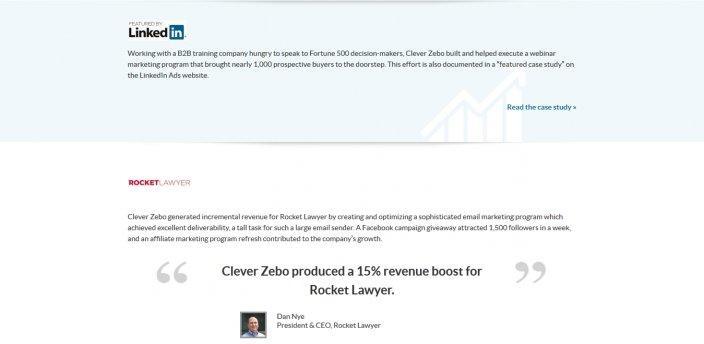 This is not a dedicated landing page. Instead, it's a testimonial page that links to different user case studies. This is not what we expected, and I'm sure neither did other visitors who clicked the ad.
You can achieve the headline trifecta with different types of headlines, some of which are listed below and explained with the help headline examples.
The "to the point" headline
This type of headline is direct and comes right out and says what it's all about without being clever.
To the point headlines work great if your target audience doesn't have the time to appreciate humorous headlines. In this case, analyze your buyer personas and craft your headlines accordingly.
Having this type of headline on your webinar landing page is a good idea, because it easily conveys your subject matter to your target audience.
Uberflip's webinar landing page headline is a good example: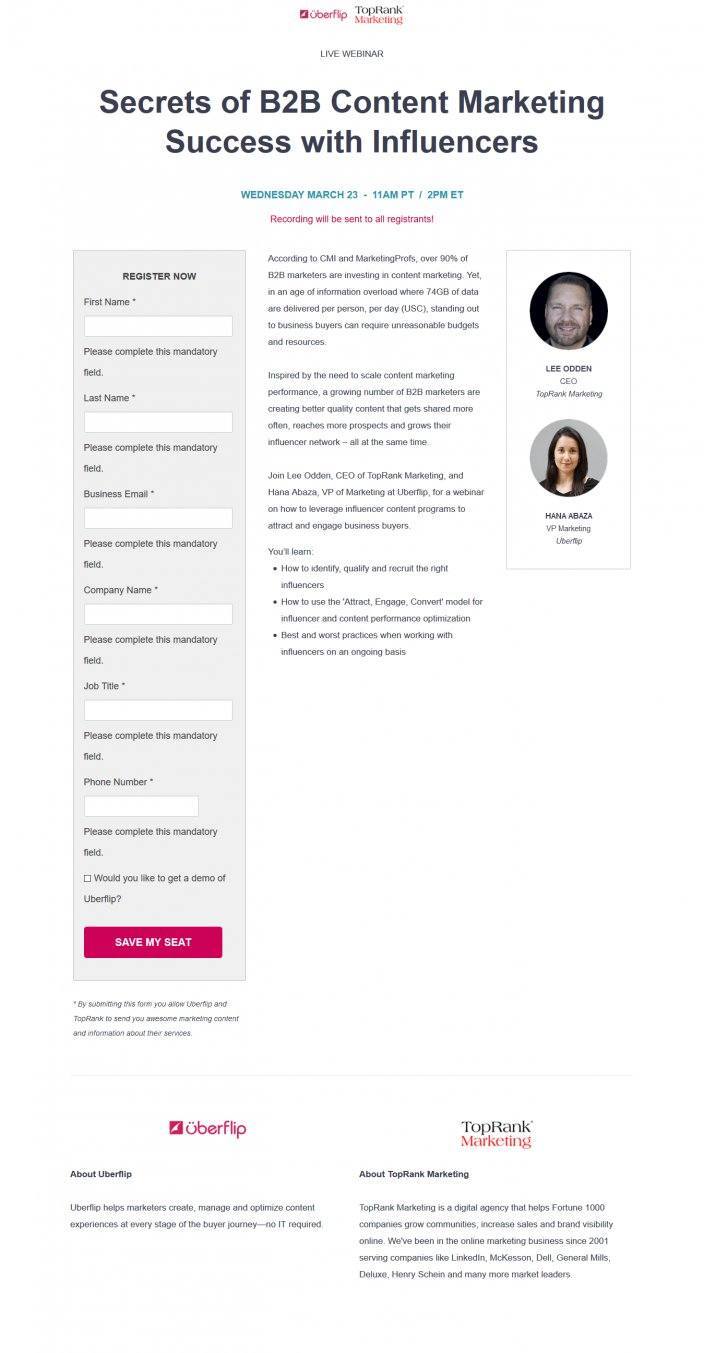 "Secrets of B2B Content Marketing Success with Influencers", is a crystal clear headline. It explains everything the webinar has to offer in a single line. Even if you don't read the rest of the copy you'll still know what the webinar is about. So, you can essentially decide whether or not you want to click the call-to-action button simply by reading the headline.
Your headline should also address your visitor and not commit the cardinal sin of talking about your company.
This is the mistake TopRank Marketing makes with their page headline: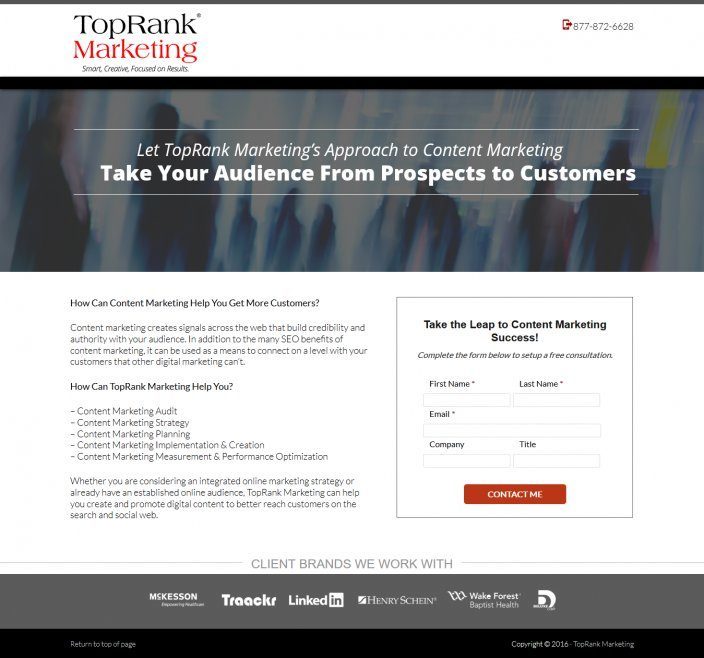 "Let TopRank Marketing's Approach to Content Marketing Take Your Audience From Prospects to Customers" is not going to do this landing page any favors.
Don't forget your landing page is where you talk about your customers. There is no "our and we" in the headline, that's what your website is for. Your landing page headline should only talk about your customers.
The headline could be written better if it just read "Learn how to take your audience from prospects to customers," because then it would be talking about the customer and not boasting about the company.
Our weekly webinar landing page employs this technique in the page headline: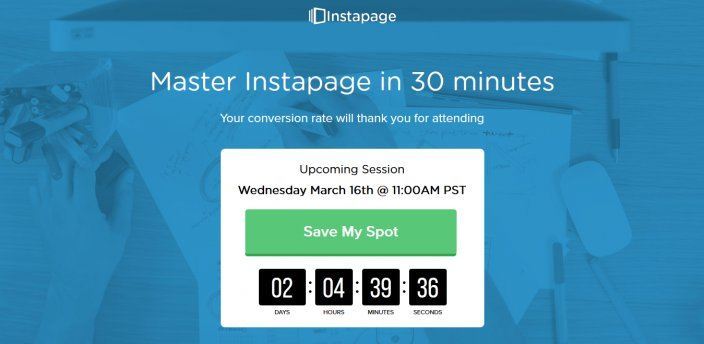 Instead of talking about Instapage, the page headline and subheadline talks about how you, the visitor will benefit from this 30 minute webinar, engaging in a conversation with the visitor.
The "how to" headline
This type of headline provides an answer to a very specific problem that your visitors are experiencing. It establishes empathy with your visitors because it tells them how to get rid of something that pains them.
The "how to" headline doesn't necessarily have to include this phrase in the headline, however, it should provide a workable solution to the visitors problem.
For example, when someone doing a Google search for "how to set up a secure shopping cart" sees a Shopify ad and clicks it, they will be directed to the landing page below. Once on the page, they're instantly provided with an answer to their "how to" question: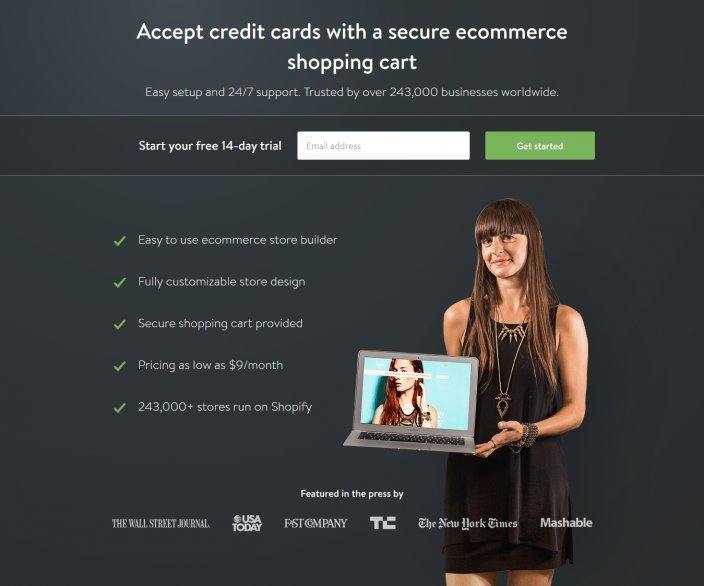 The "number" headline
A "number or statistical" headline attaches a number value to your value proposition. Sure, narrative headlines work, but numbered headlines get your prospects to visualize exactly what they'll be getting from your product or service.
Salesforce showcases the success of their service with this number headline: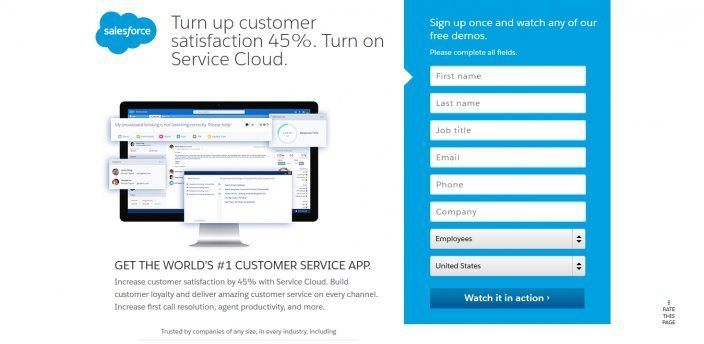 Instapage also includes a numbered headline on its PPC landing page: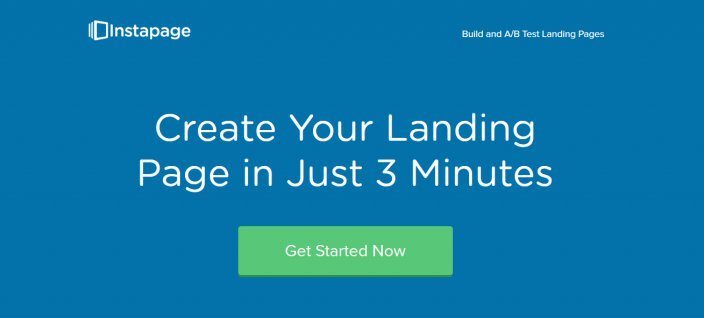 This headline is effective for two main reasons. First, visitors get the answer to the question how long it would take them to create a landing page, and second they learn just how easy creating an Instapage landing page can be.
The "action" headline
An "action" headline commands your visitors to do a specific action, a deed that's going to bring some benefit to them or prevent them from some loss. This authoritative approach has been known to work wonders for conversions.
The SumoMe headline does this: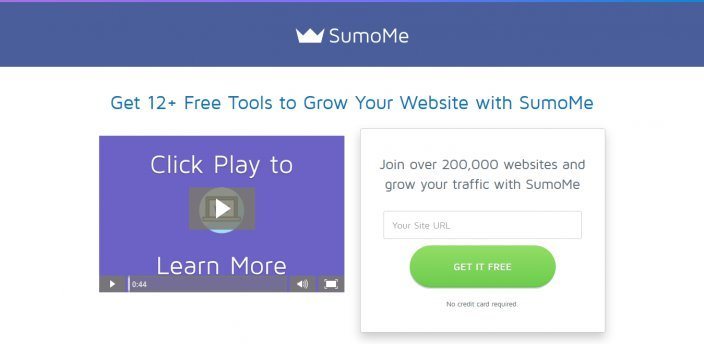 So does the Moz headline: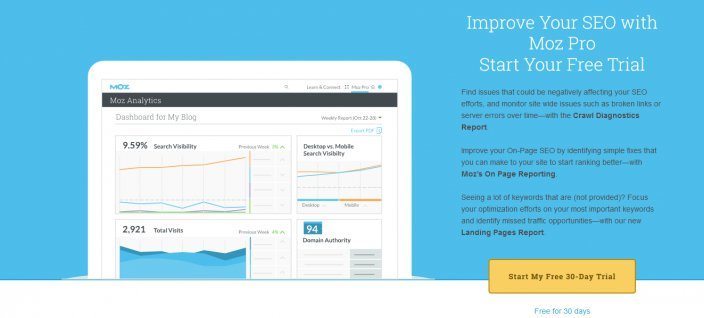 Both headlines are action-packed because they tell the visitor to perform a specific task by telling them to click the call to action button.
Don't forget to A/B test your headlines
The only sure-fire way to write the best landing page headline is to A/B test headline variations and see which one your visitors respond to the most. Each type of headline examined above has its perks, so it's important to find out which type drives the most action from your visitors.
When eMove tested their landing page headline, they found that their visitors weren't responding well to a question-based headline.
This was the original headline: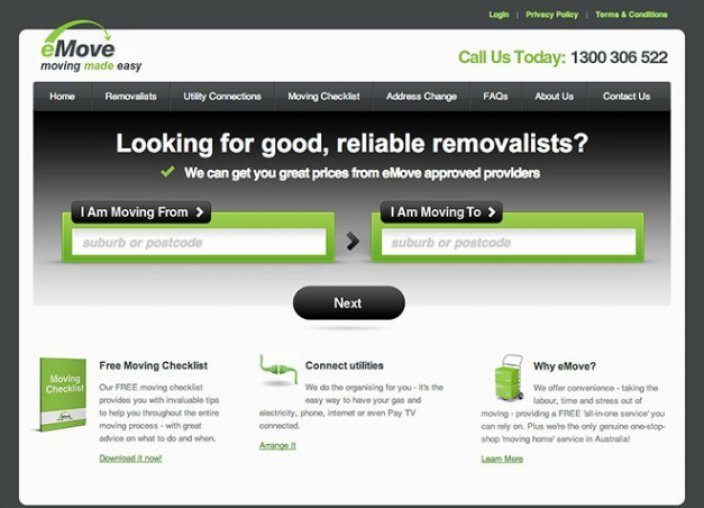 This was the variation created: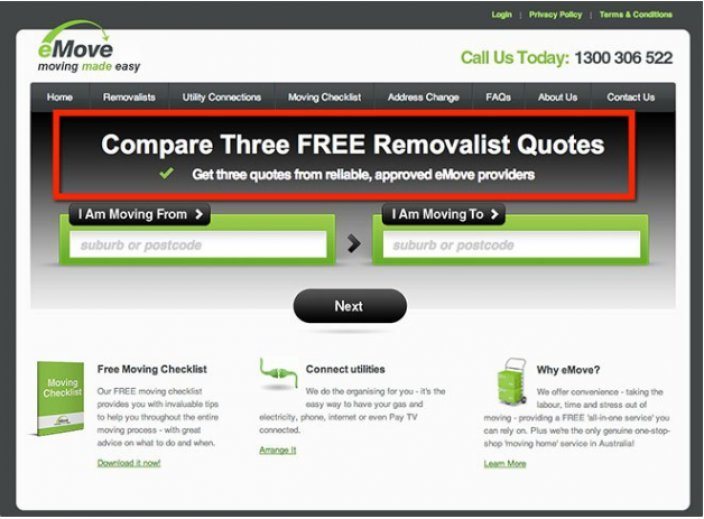 By changing the headline and subheadline, eMove increased their conversion rate by 67.8% at a 98.7% confidence rate.
eMove removed the "we" from the subheadline, and talked to the visitor about "getting them" three free quotes which in return got them something — more conversions.
VenueSphere is an online third party referral business, and when they tested their subheadline for something more action oriented, it resulted in a 69% increase in leads.
This was the original subheadline:

This was the variation:

Write better headlines for better conversion rates
Want your landing page headline to get your visitors to stay? Make sure your headlines are relevant, clear, and empathetic (and don't forget to test different headlines to see which one performs better).
Headlines shouldn't come as an afterthought to you, so don't leave them until last. Remember, they are your only chance at making a good first impression on future customers.
If you're worried about A/B testing your headlines, don't be. Instapage's new analytics dashboard offers you the chance of viewing your conversion data easily and get valuable insights that help you with your campaigns.
Sign up for an Instapage 14-day free trial today.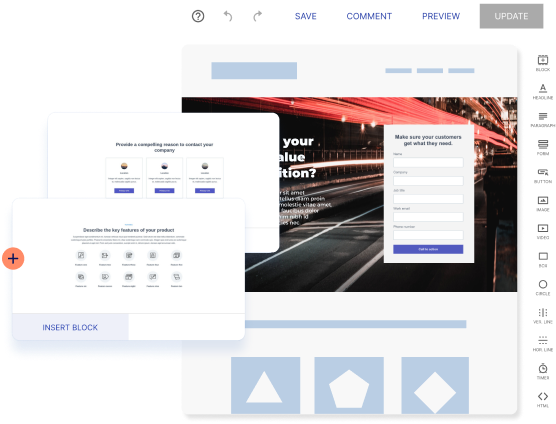 Try the world's most advanced landing page platform with a risk-free trial.