The process of customer engagement has gone far beyond inserting keywords in your copy for search engine bots to find. With countless businesses competing for customer attention in a single space, it has become more important than ever to possess the right tools for not only customer acquisition but customer engagement and retention.
What's the one tool that takes care of all three things simultaneously? Webinars.
According to Content Marketing Institute, "Over 60% of B2B marketers are using webinars as part of their content marketing programs."
Why?
Webinars are the only content medium that utilize audio, video, and interaction at the same time.
This Google Trends graph is a clear indication that webinars have been trending upwards for a decade and are likely here to stay:
The question then becomes, how can you use webinars to ensure they will be successful, profitable, and worth your time? That's exactly what this post will focus on. We're going to discuss how you can use webinars throughout your marketing funnel.
We'll even share Instapage webinar statistics with you that prove just how effective hosting webinars can be.
Before we begin, let's do a quick recap of why webinars work.
Why are webinars effective?
They possess the content marketing trifecta:

webinars are an immersive content marketing medium. Not only can they keep your audience engaged for the duration of the time, but they often include an interactive Q & A session — which many attendees find useful.

They happen in real time:

As opposed to other content types such as whitepapers and blog posts, webinars happen in real time. This gives your audience a great sense of inclusion and engagement. However, many webinars are recorded and available for later viewing. (See end of blog for more on this).

Great alternative to a live event:

Don't have the budget to host a live event for your audience? Not to worry, just host a webinar and get your prospects and customers together in one place.
Webinars can be used to educate your prospective customers on a topic that's relevant to them (customer acquisition) and as a means of demonstrating your product in front of them (customer engagement and retention).
At Instapage, we successfully use webinars for customer acquisition, customer engagement, and retention.
1. How to use webinars for customer acquisition
Webinars help with customer acquisition because they make the lead generation process easier, all thanks to the optimized lead capture form on your webinar landing page.
This is the form Kissmetrics has on their webinar landing page:
The form asks for a lot of personal information and also asks visitors if they would like to demo the product — moving the prospect further down the marketing funnel.
Although the webinar page form is the gateway for you to collect leads, the rest of your landing page elements play a huge role in your customer acquisition process.
To that point, make sure your webinar landing page includes:
Headline with your UVP:

The headline of your landing page should include your webinar's

UVP

. What will visitors receive from investing their time watching your webinar? Be straightforward with them, there's a greater chance you'll increase the number of registrants.

Host and guest speaker images:

Webinar landing pages are a great place for you to showcase photography because the page requires some human appeal. Place a headshot of your webinar host and guests so that your customers know who they're going to be watching before they register for the webinar.

List of benefits for the webinar:

The main copy should list the benefits your visitors will get when they show up to watch. This way visitors can quickly scan the page and determine if they will register.

Testimonials from guest speakers or customers:

Include a few quotes from past registrants to demonstrate your webinar's value for new prospects. You can even include quotes from the guest speakers on how much they enjoyed hosting the webinar or what they learned from their experience.

Contrasting CTA button:

Make your CTA big, designed using a contrasting color, and written with personalized copy to increase your conversion chances.

Relevant lead capture form:

Avoid requesting too much information on your lead capture form. Only ask information that is essential for you to know.
Want more detail on how to build a high converting webinar landing page? Go here.
Instapage's webinar landing page
Every Wednesday at 11 am PST, our CEO Tyson Quick hosts a weekly webinar, "Mastering Instapage," to demonstrate how powerful and easy it is to build and customize landing pages using our software. This is how Instapage's webinar landing page is designed:
The page consistently performs very well for us. We believe it enjoys a high conversion rate because:
The headline has our webinar UVP (mastering Instapage in 30 minutes)

The sub-headline ("your conversion rate will thank you for attending") implies our attendees have also enjoyed high conversion rates based on the information provided in the webinar

The page has a two-step opt-in process that reduces page friction

Our CEO's headshot showing prospects who will be presenting

The benefits and talking points listed in bullet points

Contrasting-color CTA button

The date and time are visible above the CTA
With the help of this landing page, particularly the two-step form below, we get approximately 200 weekly registrants for the webinar: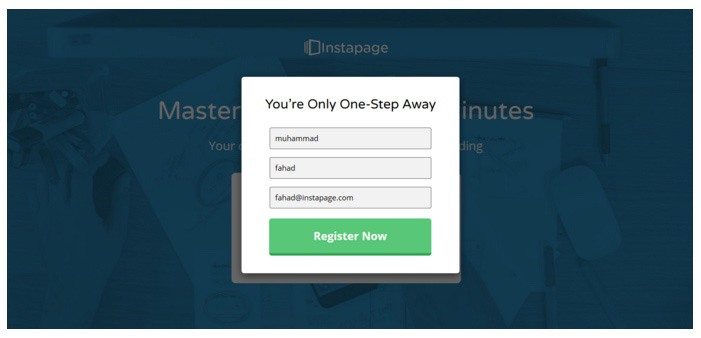 Approximately 80% of our 200 weekly registrants are users who signed up for the Instapage trial. Moreover, because these registrants see how easy the software is and get answers to their questions, close to a 100% of registrants end up as paying customers of Instapage. And our landing page conversions continue to increase because we never stop A/B testing our webinar landing page.
2. How to use webinars for customer engagement
Here's a trick that'll make things simpler for you: You can use the same webinar for customer acquisition and engagement. All you need to do is make a few tweaks. The Instapage webinar is mainly a product demo webinar, meant for customer engagement.
Every week we teach our existing customers awesome things they can do with the Instapage software. At the webinar's conclusion, a Q & A session allows registrants to ask a variety of questions, which helps with engagement and retention. Not all these questions are purely related to Instapage or landing pages, but marketing in general — helping us demonstrate our thought leadership and online advertising experience.
The registrants are not only Instapage users. In fact, every week non-users also sign up to watch the webinar and become paying customers after seeing how important landing pages are, and what the service can do for their marketing campaigns.
The Kissmetrics webinar also does something similar with their landing page by asking, "Would you like a demo of Kissmetrics?" This form field acts as a means of engaging people who've signed up for Kissmetrics while the overall landing page appeals to the non-users and works for customer acquisition.
Webinars also present you with a post-conversion opportunity, to say "thank you," and follow up with users who watched your webinar but didn't sign-up. This is where your lead nurturing emails kick-in to further educate them on your topic, your brand, and your expertise.
3. How to use webinars for customer retention
Our webinar is titled, "Mastering Instapage." When we execute it correctly and teach (current customers watching the webinar) how to customize their landing pages with the software, they are less likely to cancel their subscription — helping our retention rate in the process! This is crucial because many marketers believe it costs 4 to 10 times more to acquire a new customer than it does to keep an existing customer.
Recording webinars for later use and emailing a link to registrants is an effective way to increase the ROI of the webinar. Plus, it shows your audience that you are flexible and care enough about them to still provide the content, even if the audience couldn't be present for the live showing.
Another trick to implement is to embed the recorded video link onto your website or slide deck and insert a form to view the webinar. This way you can capture additional leads for those that missed the initial showing.
Tie it all together
Webinars present you with a perfect marketing opportunity (audio, visual, interactivity). It's up to you to harness this power and use it to your advantage throughout your marketing funnel — in all three phases with customers: acquisition, engagement, and retention.
P.S.: Instapage integrates with GoToWebinar, the easiest to use webinar software on the market. It makes it easy and fast to get your audience signed up, on the call, and for you to follow up with them afterward.
Create an Instapage account here and start creating awesome webinar landing pages now.