Content has been king since the start of marketing. It didn't matter what you had to sell, content was the voice you needed to reach out to your customers. And as soon as all the Toms, Dicks and Harrys came to know of this fact they started churning out content to help land their customers.
Everyone who was anyone was producing content, and everyone out there had something to say. No matter how incoherent they were, everyone deemed themselves a writer and just started producing content. This really wouldn't have been such an issue if what everybody was saying was of use to someone other than themselves.
But, it was an issue.
This trend continued for a long time and soon there was enough crap content on the web to fill an entire ocean, real, relevant content was getting choked up and suffocated by company pleasing inconsistent content.
And then enough was enough.
The demand for relevant and useful content rose and this gave birth to what we now call content marketing.
Customers didn't have time to sift through all the crap content to find something they could use, something that would help them – they wanted such high quality content to be the first thing they saw – not something they found but something that found them.
The birth of content marketing
In came content marketing like a knight on his noble steed with the aim to stop crap content from polluting customers' browser tabs and search engine result histories. Content marketing was created with one main goal; to please the customers.
Content marketing doesn't just entail creating content and publishing and marketing it on all the platforms you can muster, content marketing is about creating engaging, useful and relevant content that speaks to your particular customer.
Not some generic paragraph of words that you can randomly post anywhere but, coherent and targeted content that helps better your customers' lives.
Sadly, this is not what followed.
Stop content marketing pollution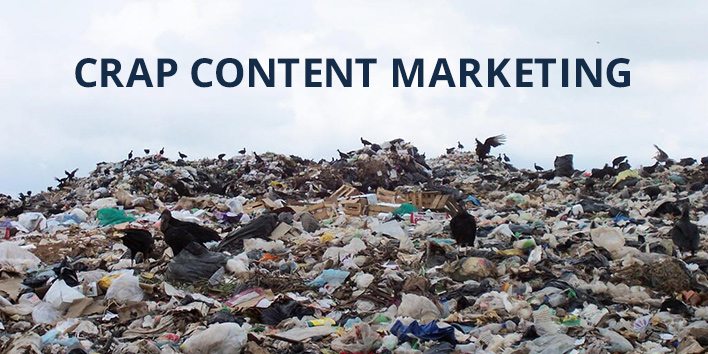 Majority of marketers took the term content marketing too literally, they just started producing boatloads of content and marketing it to everyone they could reach. They made shiny banner ads, annoying pop ups, 300 word posts riddled with keywords, videos that really have no purpose, webinars with 50% radio silence in them, landing pages with ghost town CTAs because who would coming knocking on your CTA if they don't understand the purpose of your page.
Marketers steered away from the real definition of content marketing and created content on their own perception of what content marketing meant. This gave rise to not just crap content but crap content marketing.
Yes, the savior of content strategies had become the target of the greed and brand selfishness of many a marketing brands causing a tsunami of content marketing pollution that's going on even today.
I say we put an end to this crap content marketing creation once and for all. Produce and share real time relevant content, content that tells a story not just serves a company purpose.
It's time to go back to the roots, rediscover content marketing and refresh our faulty content marketing strategies.
Stick with me till the end, this is exactly what I'm about to show you.
Let's rediscover content marketing
Some argue that content marketing is not a new term at all, but has been an indispensable part of the marketing conversation since a long time. Gartner's Digital Media Hype Cycle 2013 shows the rise of content marketing alongside Social TV and Digital Marketing Hubs.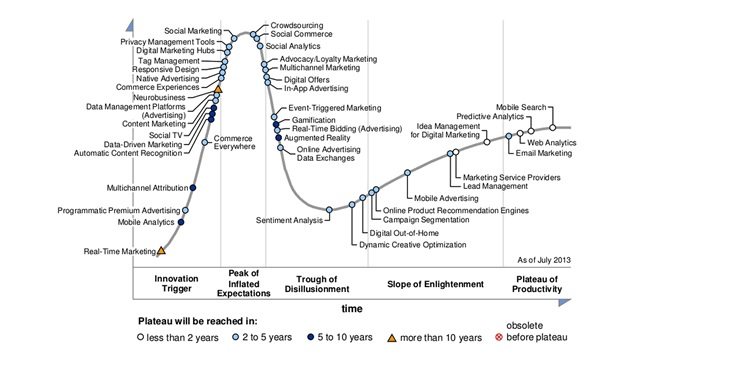 I'm by no means implying that content marketing is a new concept, it definitely is not. But the term has meant different things at different times, maybe in a couple of years it will mean something else.
That's the beauty of human creation, it transitions, because we find things that are wrong with it and fix it for the future and repeat this cycle all over again.
Content Marketing Institute defines content marketing in a very apt way:
"Content marketing is a marketing technique of creating and distributing valuable, relevant and consistent content to attract and acquire a clearly defined audience – with the objective of driving profitable customer action."
This definition is really all you need to perfect the flaws with your content marketing strategies, focus on the power words, valuable, relevant and consistent.
Review your content marketing efforts, do you think they stay true to the aforementioned trio, no?
Then you need to change your strategy.
Say no to crap content marketing
Don't want to be included in the crap content marketing creators list then you better start investing in good quality content marketing, content that helps people better their lives, that entertains while informing, content that sells a car to a used cars salesman himself.
Content is an experience good, you only know what you've invested your time into after you're done reading everything. Don't make your customers regret reading what you've written for them, put your best content marketing foot forward.
Establish yourself as an authority on content marketing; always produce intelligent, informational content, content that's worth consumption.
And here's how you do this.
Think like your customers
The first thing you need to do is start thinking like your customer. Don't just do massive amounts of research on them and their buying habits, try to put yourself in their shoes and look at the world from their eyes.
Look at what challenges them, think about their needs and desires and then shape all your content in a way that helps them overcome their problems and live their dreams.
Strategy takes you a long way
Instead of just vomiting pieces of content after content, develop a plan of action. Go to the drawing board, there are many virtual ones available if that's what you want, write down ideas for content that you have and how best to share them.
Seek out the best sources to help you with the inspiration and information process, remember always give credit where credit is due.
I'm sure you mother taught you that.
Be passionate about what you write, master the art of storytelling and start weaving magical stories for your customers.
Establish credibility
Don't start writing about anything that you want, you need to stick to what you know best, this is the way you establish authority in your niche. Make use of stats and data to help quantify what you propose.
Stats not only help back up your claims but adding these visuals help you market your content.
Share it consistently
Consistency and relevancy is the key for content marketing, if you don't have these under your belt you don't have anything.
Be consistent throughout your content marketing efforts, from writing up the content to sharing it, this will help you build up your content marketing brand.
The Altimeter group has a great visual of where you can share your content marketing pieces.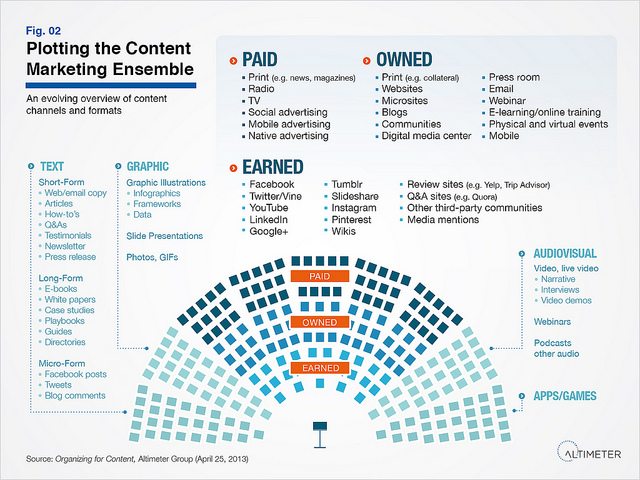 Say no to content marketing pollution today – fix what isn't working in your content marketing strategies.