Apps are new, the latest ones just make everyone drool. No, I'm not trying to rap or anything (nor would I be any good if I tried!).
I'm just trying to point out the fact that everyone nowadays is launching their new app; from weather apps to weight watching apps, everything goes.
And as the number of apps is increasing in the market, so are the numbers of app landing pages, which is why you really need your app landing page to be noticeable in the vast crowd of all the other landing pages!
Make Your App Landing Page Stand Out
Of course you need to add all the necessary landing page ingredients into your app landing page; such as an image, CTA button, copy and headline, however, you need to spice up your app landing page further if you want your visitors take notice.
Get it all ready to roll and then tie a big pretty ribbon around it for the right effect. And how would you go about doing that?
Simple, by doing the following.
1. Go All Out with The Design of Your App Landing Page
The crazier you go with you app landing page design the better, if you make the design pop you'll be successful in making your visitors' eyes pop too. Go with the dramatic flair because mobile apps are sexy and so should be your app landing page.
Choose a color and theme that can brighten up anyone's mood and put a skip in their step.
2. Put an Image of a Phone on Your App Landing Page
You wouldn't *scratch that* you couldn't really sell a sweater without showing your customers what you sweaters look like, right? Well, the same principle applies to your app landing page; you need to put up a nice and clean image of your app displayed on a phone because that's exactly how your visitors are going to see it.
Make your app landing page image inviting enough and your visitors are sure to take a bite.
3. List the Benefits of your app on your App Landing Page
It is always good to give your visitors fewer things to read on your app landing page so that they don't get bored and simply run away.
Make bullet points of all the advantages that your app is going to give to your visitors, so that they know everything that they're going to get without reading a lot of lines of text.
4. Integrate a Video on Your App Landing Page
A video always makes a good impression on your visitors, because visual proof of how something works is always better than writing about how something works.
So, show a demo of how your app is going to work and make your visitors' life better on your app landing page.
5. Integrate Social Media on Your App Landing Page
Social media and apps go hand in hand, so be sure to integrate social media on your app landing page. Encourage your visitors to hit the "like" or "tweet" button on your app landing page, because if they will do so, so will the others.
Hopefully, now you've gotten the gist on how you need to set up your app landing page. What if I were to tell you that you could get everything that I've mentioned above on your app landing page within minutes with just a few clicks of your mouse?
Wipe that look of disbelief from your face because this is exactly what Instapage does.
What does Instapage do for your App Landing Page?
With the help of Instapage's revolutionary features setting up your app landing page becomes so easy that it's done within minutes even if you've never built a landing page in your life.
Instapage provides you with pre-made app landing page templates that already have the perfect design structure built into them. Plus, all the landing page elements are placed in just the right place.
You can even select a pre-made template with video integrated into it, if you want to dazzle your visitors with a video on your app landing page. And as far as social media integration goes, you can get any widget that you want on your app landing page, as Instapage provides you with thousands of them.
So, you basically get everything that you need for your app landing page with Instapage.
If you want to see what good app landing pages look like, I have three examples for you below:
INVY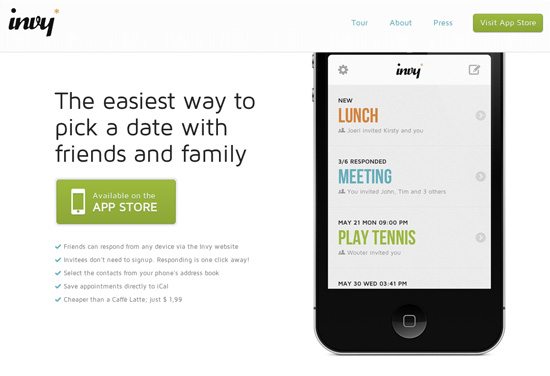 ANA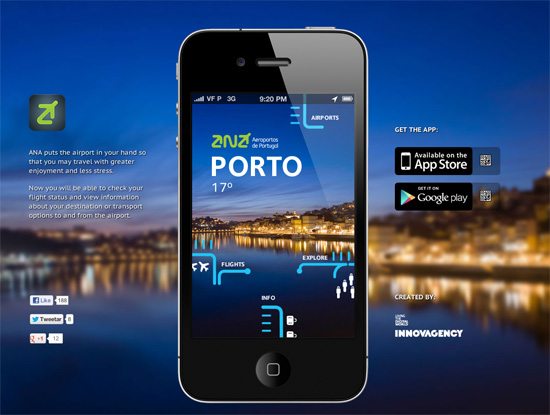 CIRCLE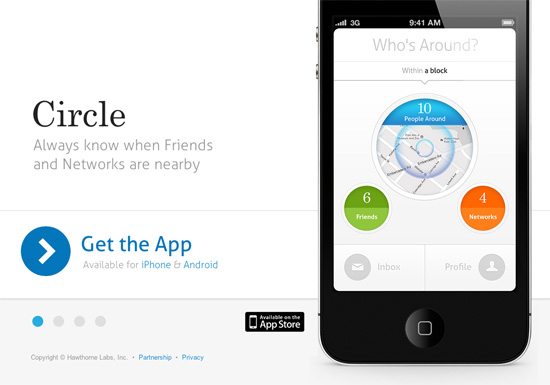 Did you like this article? Please share!