Auditing your landing pages is an essential part of maximizing your return on ad spend (ROAS). While all businesses should monitor performance data of all web pages, it's especially true for gated landing pages. After all, there's an advertising cost associated with every user who visits, so you want to make sure you're making full use of every ad dollar.
The good news is, an audit is a great way to identify areas of improvement and maintain a high ROAS. Your analytics data will inform the audit, to give you a clear picture of what landing pages are not performing well. Next, adhere to 7 auditing best practices.
1. Is your offer in good shape?
For a landing page to perform well, there has to be a market for what you're offering. Here are several things to examine to make sure that your offer has value:
Your target audience wants what you're offering. Your research should verify that the people you're trying to reach find your offer valuable.
Your competition is manageable. Once you establish demand, make sure there's not an overabundance of supply. It's okay if you're not the only company offering that free ebook or the latest gym equipment, but if the market is flooded with others making the same offer, it's time to rethink it.
Don't dismiss "soft" offers. It's tempting to try to make a sale quickly, but many prospective customers aren't ready to buy until they've first put their toe in the ecommerce pool to get familiar with a company's brand and products. So start things off by offering complementary stuff, such as a white paper, webinar, or free trial.
Know the stage of the marketing funnel your visitor is in. Even the best designed landing pages won't resonate if what's being offered is appropriate for prospects who are at a different place in the sales funnel. You're going to be making a different kind of pitch to someone who's just learning about your product compared to someone who's aleady signed up for a demo. Understanding your audience's mindset based on past behavior is key to developing high-converting landing pages.
This graphic shows the three stages of a marketing funnel and what offers are appropriate for each one:

2. Is the page too long or too short?
Landing page length — which is determined by how much copy you're including — is a tricky business. If you publish too much verbiage, you run the risk of overwhelming a first-time visitor or annoying someone who's ready to click your call-to-action (CTA) button. If you provide too little copy, you can lose people who are needing more information before they're ready to convert.
Pages that offer nice-to-have assets, such as ebooks and webinars and free-trial subscriptions, won't need much convincing to convert, while high-commitment buyers, such as those looking to purchase expensive software or household goods, will likely spend more time on a landing page to make sure they're making the right decision.
The key to unlocking this puzzle is audience segmentation. By reviewing metrics that tell you about your audience's demographics and lifestyle choices, you can gauge how much copy you need to convince a visitor to convert or move further down the funnel.
3. Have you added enough trust indicators?
Here's a hard truth: Advertisers are among the least trusted professionals. Given that, your landing pages have to build trust with your visitors or else they'll bounce. Think of an offer as a kind of promise. What can you do to ensure visitors that you can be trusted to deliver on that promise?
Anyone who comes to your landing pages needs to be assured that your product actually will solve their problem, that your payment portal will keep their private information secure, and that you will use their email address only for the purpose you have stated.
Given the critical importance of building trust with your visitors, let's take a look at two trust indicators you should incorporate in all your landing pages: social proof and security.
The social proof trust indicator is founded on the idea that people make decisions after receiving cues from others. When someone sees that a product has been claimed by millions, people have expressed satisfaction with it, or celebrities or experts have endorsed it, the perceived value of that product increases.
Here's an example of how Fender Play uses social proof to sell subscriptions of its online guitar-learning platform:

Security trust indicators make visitors feel comfortable submitting their personal information through forms that ask for an email address, credit card number, social security number, or other types of data that are prone to hacking and identity theft. These indicators can be badges or lock images that appear on forms that reflect that the seller has been certified by such data privacy and security companies like Norton Security or TRUSTe. Companies can also make statements to garner trust, such as offering a money-back guarantee or ensuring that the user will be notified before a free trial has elapsed or no credit card information will be taken until it's time to buy. At a minimum, every page should include these three security indicators: "https" in the URL, a privacy policy that's easy to locate, and message matching. (We'll cover this in the next section.)
4. Is your content up to snuff?
The copy you've written for your landing pages can greatly impact conversion rates. Here are some common mistakes people make in creating landing page content:
Unclear benefit. A headline should clearly answer this question as posed by your visitors: "What's in it for me?" As they scroll down, your copy should explain in more detail just how them taking you up on the offer will make their lives better.
The content doesn't match the message of its referring ad. This is a powerful trust indicator that lets visitors know that they have been directed to a page where they can evaluate what was promised in the ad and have not been misled.
Body copy is too long. Your content should contain only what's necessary for visitors to make a decision about the offer. Overcome your visitors' objections but don't waste their time with fluff.
Copy isn't skimmable. People rarely read landing pages for pleasure. Write your copy so it's easy to skim. That means organizing sections with headings, using bullets to list features, and bolding words for emphasis.
Copy isn't personalized. Personalized landing pages tell each of your visitors you "get" them and that you understand their needs. A great way to achieve this is to create a separate landing page for each segmented audience group.
CTAs don't highlight a benefit. Most CTAs are boring. Buttons that say "Submit," "Download," or "Buy" are accurate but uninspiring. Without going overboard, use CTAs to restate the benefit the user will experience by clicking. Examples include "Start free trial," "Save 25% on my subscription," or "Learn more about internet privacy."
5. How are your forms looking?
Strangely enough, some people love filling out forms while others can't stand the process. Either way, the forms on your landing pages need to be well structured and well written. Ask for too much information or the wrong kind, and you could scare off your visitors. Ask for too little, and you won't learn enough about them to bolster your marketing efforts.
Here are some tips on creating high quality landing page forms:
Ask for only the information you need. Be respectful of your users' time and keep your forms as brief as you can. Also, be conscientious about asking for sensitive information. If it's necessary to receive someone's bank information, make sure you have built in sufficient security indicators. Don't include optional fields—only ask for information that your marketing or sales teams say they need to qualify users.
Make the fields easy to understand. Field labels should be clear and placed close to the where the visitor will input data. Also, avoid inline labels that disappear when clicked. They may give a clean look but many people find them aggravating.
Write helpful error messages. When your visitor incorrectly fills out a form field, your error messages should explain just what went wrong by making it clear which field has the issue and why.
Don't get fancy with CTA buttons. You may be tempted to design CTA buttons so they have a unique look. Don't. This is the very last action your visitors will take to complete a conversion. It's not a time to risk confusing them or making them go on a search for your CTA button. CTAs should look good and familiar.
6. Is your media adding value?
For certain offers, the right images, graphics, photos, and videos can take your landing page from good to great. Your media can help visitors better understand your product or service and visualize how it can improve their lives. But this artform needs to be done right. Make sure your media satisfies these requirements:
Your media should add value. Images should be judiciously placed on the page to help visitors visualize the benefits of your offer. Remove images that aren't moving your message forward.
An image's messaging should align with copy. Like your copy, your media's text and the meaning and emotion derived from imagery should also reflect your ad's messaging.
Use the right type of media to go with your offer. Different media help to communicate messages in different ways. If you're offering something that's brand new to your visitors, an explainer video can quickly help them grasp the concepts. Screen shots assist in getting across how apps are easy to navigate. Photos and illustrations can also connect positive emotions with your offer, and infographics help explain how your product compares to what else is on the market.
7. Make sure your page speed isn't dragging
A slowly loading landing page is a nightmare for visitors, and by extension, for you, too. As you can see in the image below, even just a few second's difference in load speed can mean a significant increase in bounce rate.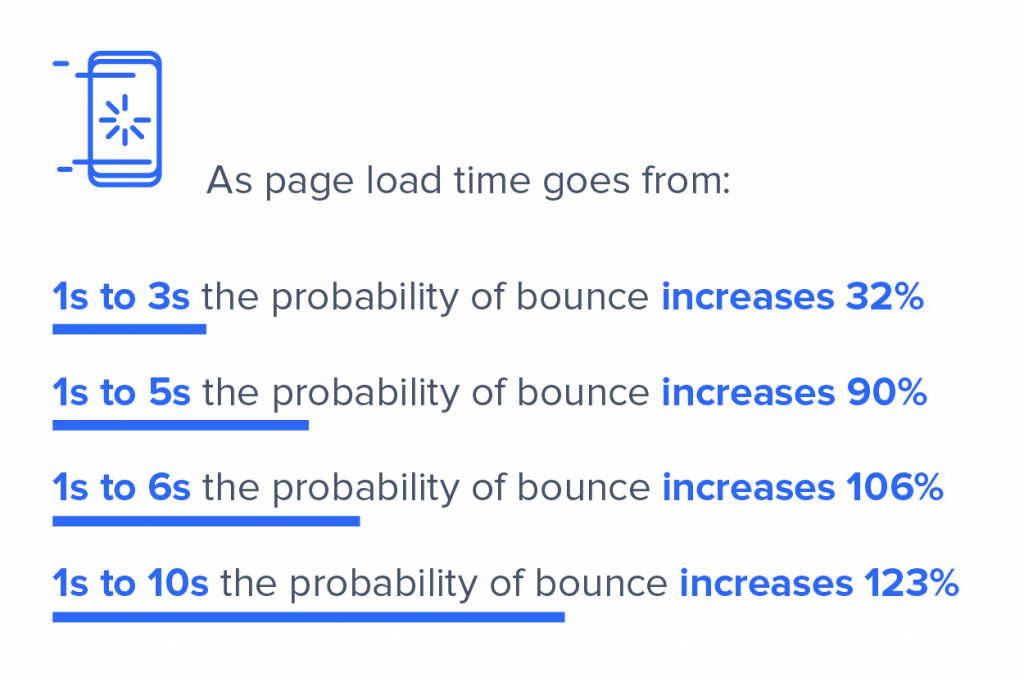 You don't have to wait for angry reviews to determine that you have a load speed problem. Run your page through Google's PageSpeed Insights and see how it scores. If your page needs a boost in load speed, there are a number of techniques you can try. For example, you can resize, compress, or delete images; use accelerated mobile pages (AMP) to build your landing page; enable browser caching; or try a content delivery network (CDN) for lazy loading.
Create fully optimized landing pages
Auditing your landing pages and optimizing them or creating them from scratch can be overwhelming. Instapage is here to help. We offer three different plans to help take the stress out of building, optimizing, and converting—helping you to create better landing pages and see better results. Learn more about Instapage here.