Before Sumo launched in 2010, I started a company called AppSumo, a deal site for great products that help you kick ass at work. AppSumo eventually became a million dollar business, but early on we struggled. Hard.
I spent a crazy amount of time sourcing insanely great deals. Then, I would create a landing page for that deal and try to get as many people as possible to visit my landing page. After the deal expired and sold, I'd have to do all of that over again.
It was exhausting, and I was on the verge of burnout. The business was growing, but not proportionally to the amount of effort that I was putting in.
That's when marketer and entrepreneur Hiten Shah slapped me across the face with a question that gave me a total epiphany. He asked:
"Why aren't you collecting my email? Just email me when you have the next amazing deal!"
Then it hit me — that's why I was losing so many customers.
Imagine organizing a party and getting a ton of people to come, but not getting their contact information. When the next party comes around, you have to find completely new people to show up.
I always thought landing pages were built to get immediate conversions and sales. I never thought of the importance of using my landing pages to get my customer's email addresses.
A huge number of landing page visitors might not have been ready to buy, but they did want to know about more deals.
So I added some email collection code to my AppSumo landing pages which allowed me to notify people when we get new deals. That totally changed my business, and that's when we started taking off to becoming a million dollar business.
It took us from a small site with only a couple hundred customers to a business with 730,000+ email subscribers and thousands of customers.
That's what inspired me to create Sumo, which turns the tactics we used into tools that you can use to build your email list – using your landing pages exactly like we did.
Here are 3 extremely powerful ways to capture email addresses on your landing page to build your own million dollar business.
Show a Full Page Call-to-Action Before Anything
According to Mattan Griffel, founder and CEO of One Month, the highest ROI method to drive signups is to make a minimal homepage. That means displaying a full-screen call-to-action before showing anything else.
That's why Uber, Spotify, and most of the best startups you know do it. It works … insanely well.
They often won't let you see any content or do anything on the site unless you give them your email address.
At AppSumo, we tried this strategy and quickly noticed it was three times more effective than any other page we've ever built in getting conversions to our email list.
Instapage provides gorgeous landing pages to make this happen. If you have multiple landing pages for which you'd like to add a full page email capture call-to-action, Sumo's Welcome Mat plus Instapage is a killer option.
We built Welcome Mat to provide everyone the tool that proved to be very successful for us at AppSumo. Drop it in and it will provide a full page call-to-action for any page. Voilà!
Have a Persistent Email Address Call-to-Action
When you have something a user really wants, there's a better chance of them exchanging their email address for it. That's where the full page call-to-action really shines.
On other landing pages you have, you may not want to be as aggressive with a full page call-to-action. In those cases, you should map the content to the user, but keep a persistent call-to-action on the page that makes it incredibly easy for the user to provide you their email address. Such as this:
At social media startup Buffer, they have an email list of 40,000+ emails, and of recent signups, 33% came from their persistent email list call-to-action bar at the top of the screen. This tactic alone helped them double their email list signups within 30 days.
At AppSumo, we use Smart Bar for email capture. Using Smart Bar we saw the conversion rates on our landing pages to collecting email addresses grow more than 2x after we set up a persistent top bar (Hello Bar is another great tool to do this).
Get Their Email Address Before They Leave
When a customer previously visited an AppSumo landing page, browsed around, and left without buying, we knew the user probably didn't want the deal. But, a key piece we didn't know was whether they might be interested in future deals.
That inspired List Builder, which asks a visitor as he or she is leaving your site whether they would be interested in getting notified of future deals in exchange for their email address.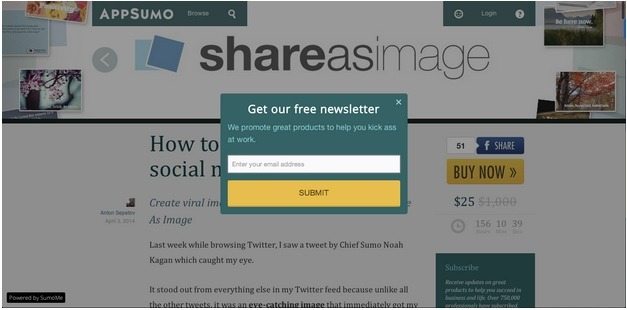 The idea was incredibly simple, but it worked. We grew our email list massively with this technique.
In the past, if a visitor didn't buy, then we didn't get their email address and they were gone forever. With List Builder, even if they didn't buy, we got one more chance to collect their email address so that we could notify them of future deals when they are announced.
Ultimately, we built a bigger list than I ever could've imagined – 730,000+ emails. This means whenever we have a new deal, we can easily send a single email out to our list and chances are high thousands of people will buy.
These 3 tactics helped develop the engine for our multi-million dollar business. And they can work for your business, too.
Please let me know in the comments below how you maximize your landing pages by ensuring you capture email addresses.
Noah Kagan is the Chief Sumo at Sumo.com. Free online tools to grow your business.