According to Plunkett Research, global consulting industry revenues (including HR, IT, strategy, operations, management and business advisory services) totaled nearly $449 billion in 2015.
That number is predicted to increase in 2016, which means consultants have their work cut out to acquire and retain customers.
Landing pages like this will get consulting agencies nowhere: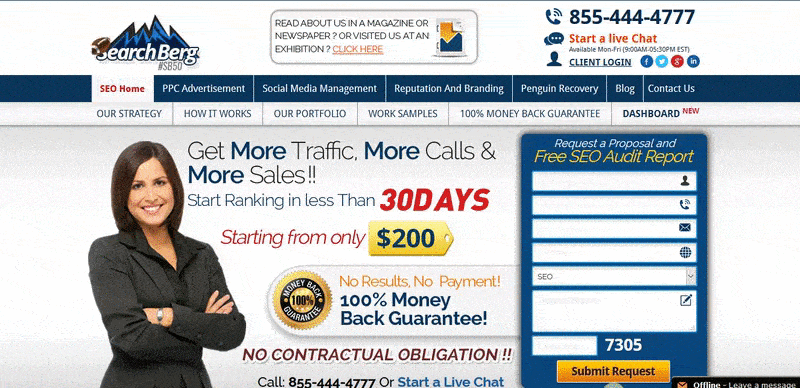 People searching for SEO consultants will get lost on a page that's nothing but clutter. The "landing page" above includes an annoying animation (the football flashing across the "Searchberg" logo), navigation links, cheesy stock photography and banners.
To be honest this is not a landing page at all. The only reason I'm treating the page as a landing page is because I landed on it when I performed this search:
Most marketing consultants are still using their website pages as their landing pages. See Yael Consulting's homepage masquerading as a landing page: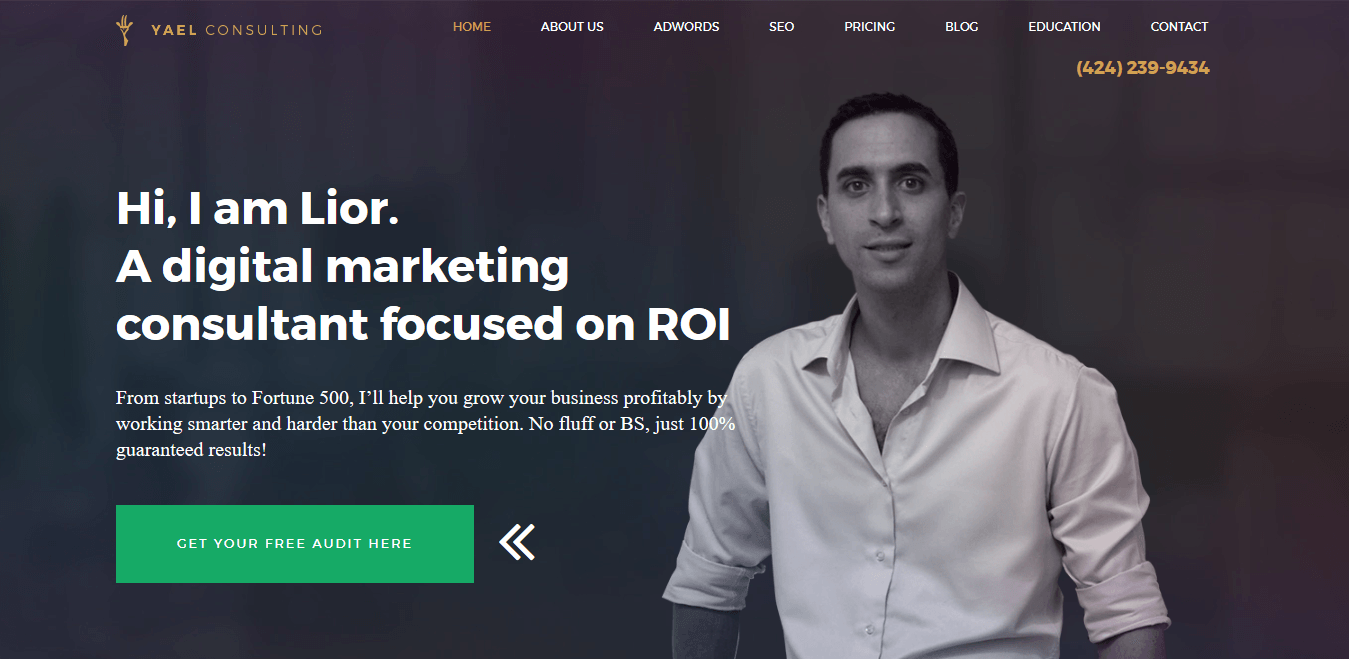 This kind of page behavior isn't going to fly in 2016. To acquire customers and take them through your marketing funnel, you should be creating landing pages.
Today's post will:
Explain how marketing consultants should design their landing pages
Present an analysis of real consultant landing pages to help you create your pages
Shed light on the different ways consultants can use landing pages
How to design marketing consultant landing pages
The primary difference between a consultant landing page and any other kind of landing page is the service. A SaaS landing page, for example, promotes a SaaS product, and a webinar landing page promotes a webinar.
A consultant landing page promotes the consultant. You are the product, and the whole page must be centered on you.
Apart from the core landing page elements, a marketing consultant landing page must have:
Your picture. The image you decide should exude competence and likability.
A contact number visible on the page to add credibility.
Customer testimonials from previous clients that were satisfied with your work.
Portfolio items that showcase your marketing experience.
A list of reasons why visitors should hire you over your competition.
Preferably a numerical digit or percentage that shows your success rate.
Remember: You are the product. Design your page around yourself. Explain to your visitors why they would be better off investing in you and not your competition.
Consultant landing page examples
Now that we've covered the elements for an optimized consulting landing page, let's do a quick analysis of a few pages (P.S: three of these pages were created with Instapage):
SEO Consultant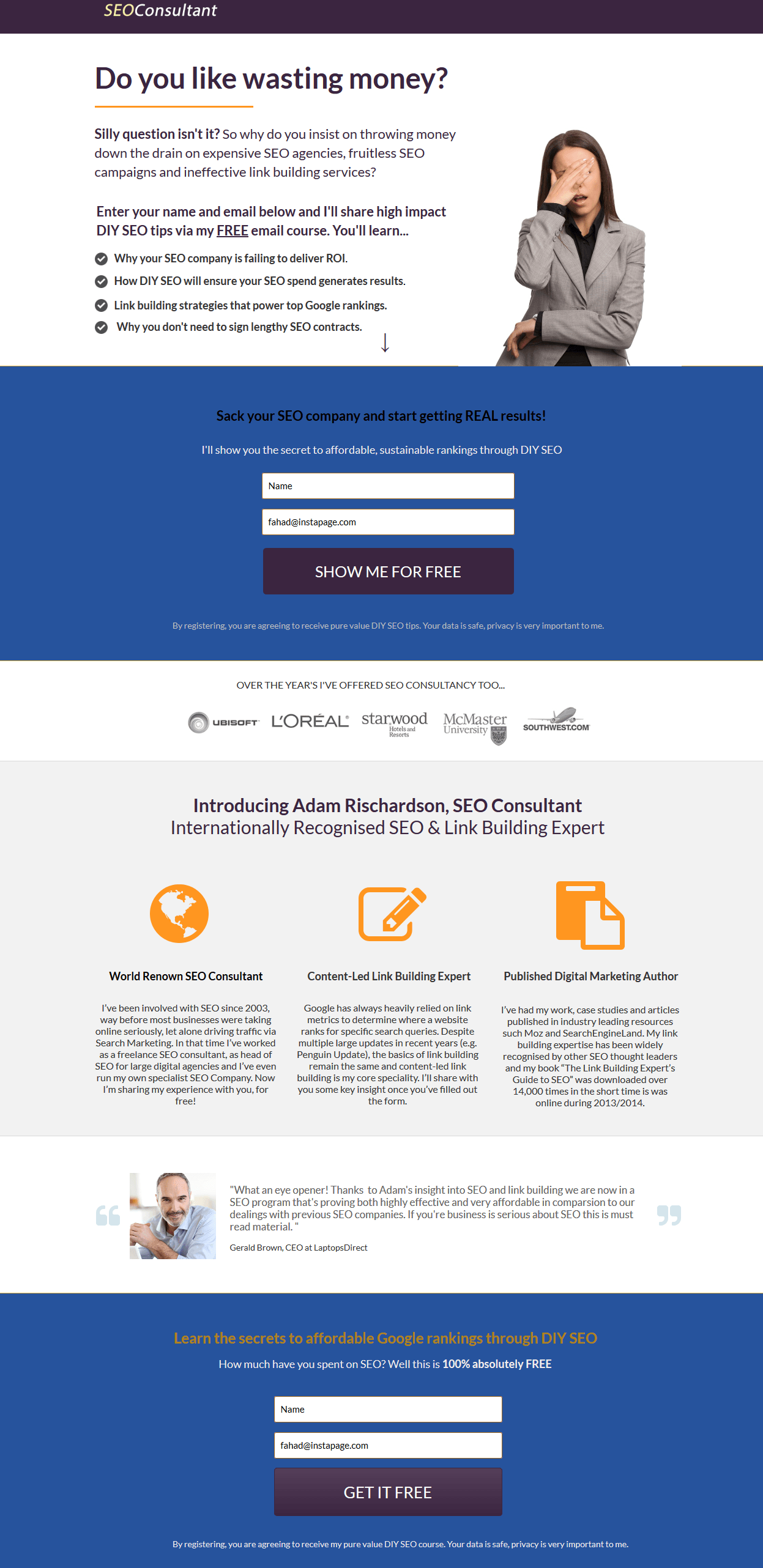 The SEO Consultant landing page is promoting a free email course centered on DIY SEO tips.
Here's the page analysis:
Where is the hero shot? The consultant I would be doing business with? Is he playing hide and seek with the facepalm lady?
The headline is too obvious… Who likes wasting money? A headline that says "Say Goodbye to Fruitless SEO Campaigns" would most likely perform better here.
There are customer badges from notable companies, which establishes credibility.
The form is short and easy to complete, but the CTA button could use a little contrast.
The word "free" is a main theme for this page. The word is also mentioned on the call-to-action copy, which maintains consistency.
When you scroll to the bottom and see the testimonial, it compares Adam's service to other SEO companies, which is highly recommended.
Consulting Adviser

The Consulting Adviser landing page is for a consulting agency that sets you up with thousands of consultants having a range of expertise to do your projects for you.
Here's the page analysis:
The headline needs a lot of work. "Looking for Keyword" is not an effective headline. Are the visitors supposed to fill out the keyword part on their own?
The sub-headline is clear.
The form at the bottom is optimized with a red arrow, drawing your attention to it.
The benefits of the service are mentioned in a highly readable manner.
The most glaring element missing is humanization and personalization. Including consultant's photos available for hire would be a great addition.
There are no testimonials on the page, which hurts their credibility.
Search 2 Sale$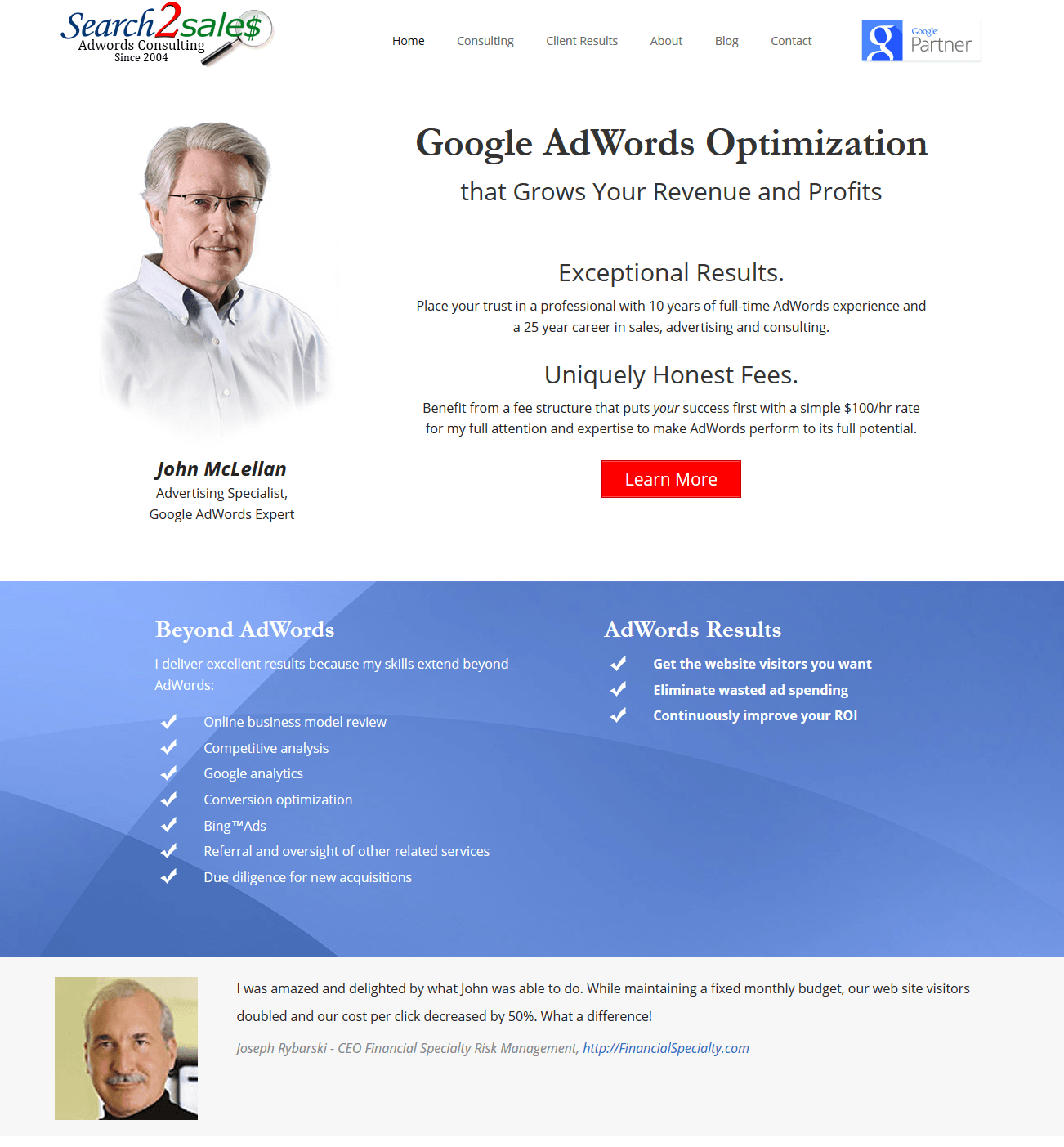 Search 2 Sale$ is a click-through landing page that takes the visitor from the landing page to John's contact page.
Here's the page analysis:
John's hero shot shows exactly who he is.
John's expertise are laid out in easily readable bullet points.
There's a testimonial with numerical proof as to why prospects should hire John.
The CTA button copy needs work. "I want to hire John" would be better.
The sentence "10 years of full-time AdWords experience and a 25 year career in sales, advertising and consulting" clarifies why he would be a great fit for your AdWords campaign.
Just a Lead

The Just a Lead landing page is promoting a free 2 day trial for the consulting service.
Here's the page analysis:
The headline is not super clear. The image helps clarify what the service is about because if it were solely up to the headline, the visitor would be confused.
The process through which the service operates is mentioned in paragraphs with personalized icons.
The image of the smiling guy reassures me that I'll be satisfied with the service.
The four customer testimonials add to the service's credibility.
The pricing plan makes it easy for interested prospects to select a suitable plan. However, the CTA buttons could be redesigned.
How marketing consultants can use landing pages
Landing pages provide you the opportunity to target your consulting service at the right people through the right medium. As a consultant, you can use landing pages for:
Paid campaigns
Your paid ads shouldn't take your visitors to your cluttered homepage. Instead, they should direct your visitors to a dedicated landing page that is free of clutter and unnecessary navigation links.
Make sure you have a proper keyword strategy, and message matching in place before you connect your landing page to your Google or Yahoo Bing ad. Run a marketing consulting service? Make sure you add the keyword "marketing consultant" in your Google AdWords keyword list.
Lead generation
You can generate leads for your consulting business by offering a piece of content behind a form. Why not offer prospects a free report or ebook in exchange for their email address?
Livefyre does exactly this on their lead generation landing page: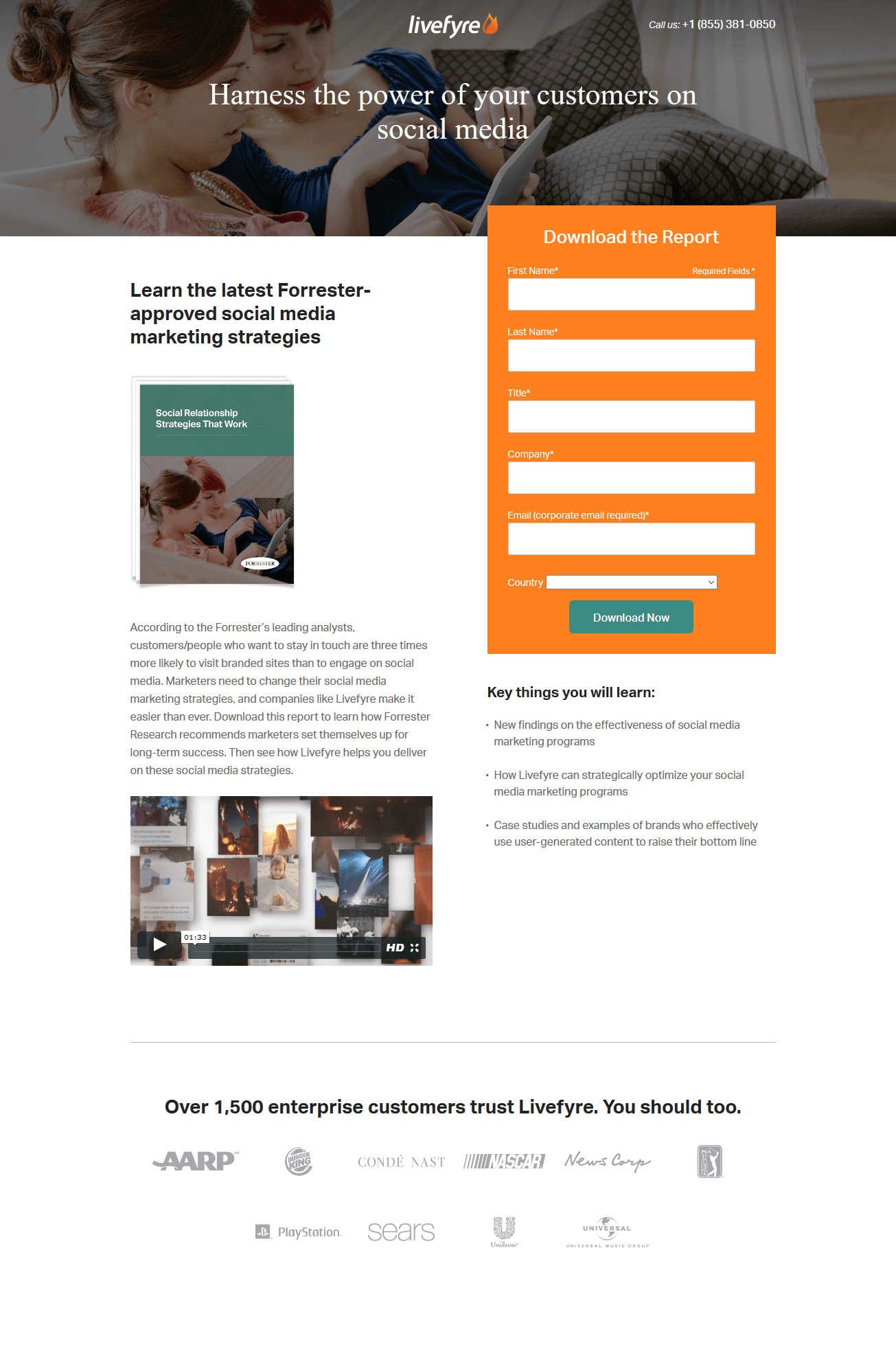 Email marketing
Create landing pages to entice your subscribers to buy some promotional offer from you. Why not offer a price discount for filling out a survey before a deadline? Or how about keeping your subscribers updated with client case studies to establish your authority and getting them excited to work with you?
Creating a landing page for your consulting business will convert at a higher rate than your homepage. Take some tips from the above examples and start generating more leads, today!