Did you just subconsciously roll your eyes after reading the title?
I expected as much.
In fact, I can almost hear your monologue, "squeeze pages, really? Are we back in 2013? Did my time machine work?"
Squeeze pages continue to be effective in capturing leads like crazy. Today's post will be a refresher course of sorts. It will review what squeeze pages are and why they're important for collecting leads while showing you examples that are dominating their respective industries.
What are squeeze pages again?
Squeeze pages are designed to encourage visitors to opt-in to an email or subscriber list in exchange for something valuable in return. A squeeze page is a super-focused page with one conversion goal: get the visitor to enter their email address.
Because the pages are single-mindedly focused on collecting emails, there are no exit links (unless your page is displayed as a pop-up) on the page and no other distracting elements.
Squeeze pages offer a perfect give-and-take relationship between you and your visitor: Visitors receive something from you (ebook, video, webinar, etc.), you collect their email address.
Sounds simple enough right? Then why do squeeze pages get such a bad rap and were almost on the verge of extinction?
Visitors ran away from websites that designed squeeze pages that looked something like this: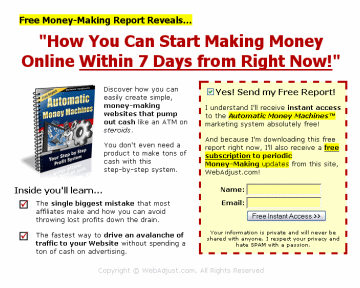 Notice the overuse of the highlighter and red font – it's enough to make your visitors run (and stay away) from your website for an indefinite period.
Sticky squeeze pages don't look like this, though. They don' t shock visitors with the overuse of big bold fonts, and they generally don't oversell anything just to get the user's contact information.
What makes a high converting squeeze page?
There are many types of landing pages that can help you collect email addresses and generate leads. But only a high converting squeeze page has the following elements in place:
A relevant and catchy headline
Brief copy that explains the offer
A graphic of the product being offered, or a background image that's eye-catching and relevant
A form that only asks for name and email
A contrasting CTA button with personal copy
No exit links
Ramit Sethi's squeeze page is a perfect example of these elements in action: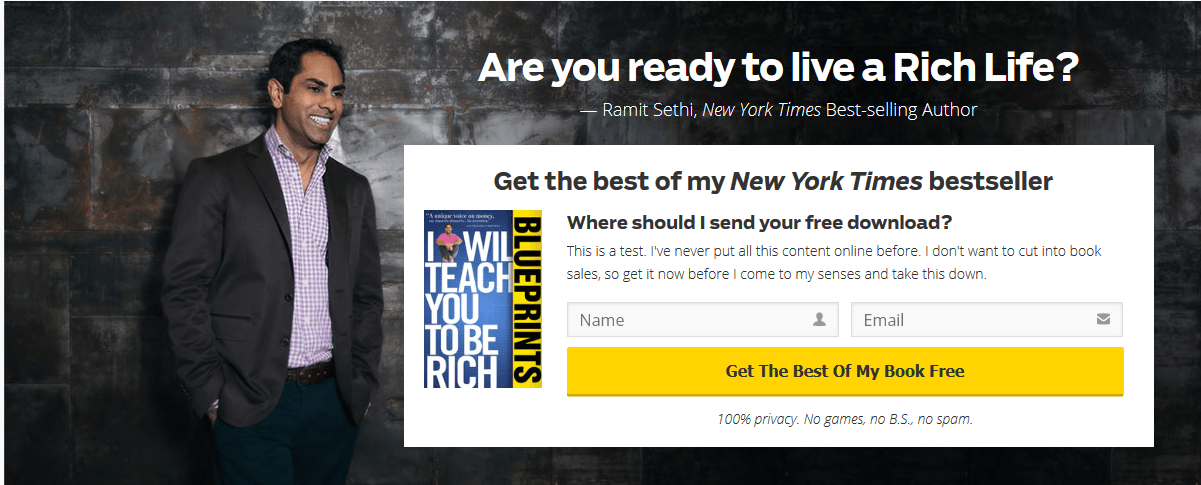 The headline hooks you immediately – who doesn't want to live a rich life?
Copy that's short and to the point
The form has only two fields
The ebook's image is featured
The CTA button is a contrasting yellow and includes personalized copy
There's a privacy policy – ensuring visitor's their information is safe
Wouldn't you consider converting on the form? I would, and I did.
Ramit Sethi's squeeze page isn't the only squeeze page of its kind.
The online marketing world is seeing a revival of squeeze pages. It doesn't matter which industry you look at – marketers are utilizing squeeze pages because they help them collect email addresses. And once you have an email address, you can begin developing a relationship with users that you hope will eventually lead them to buy from you.
Pro Tip: Just getting traffic to your website isn't enough. Want to turn cold traffic into red hot leads? Start creating hyper-focused squeeze pages that are visually appealing and offer something valuable to your visitors. Try offering them an exclusive ebook, webinar, podcast, or slide deck and watch your list grow.
Let's do a breakdown of sticky squeeze pages by industry to see what you need to do with your page by looking at examples from each industry.
SaaS squeeze pages
For SaaS companies, here is a list of potential giveaways you can offer on your squeeze pages. Just make sure whatever resource you're offering is not available elsewhere so that it remains exclusive.
Try offering your visitors:
An ebook written on a trending topic
A monthly email course
A podcast featuring highly credible experts in your industry
A webinar that teaches them something new
Let's look at the Sumo Me squeeze page as an example: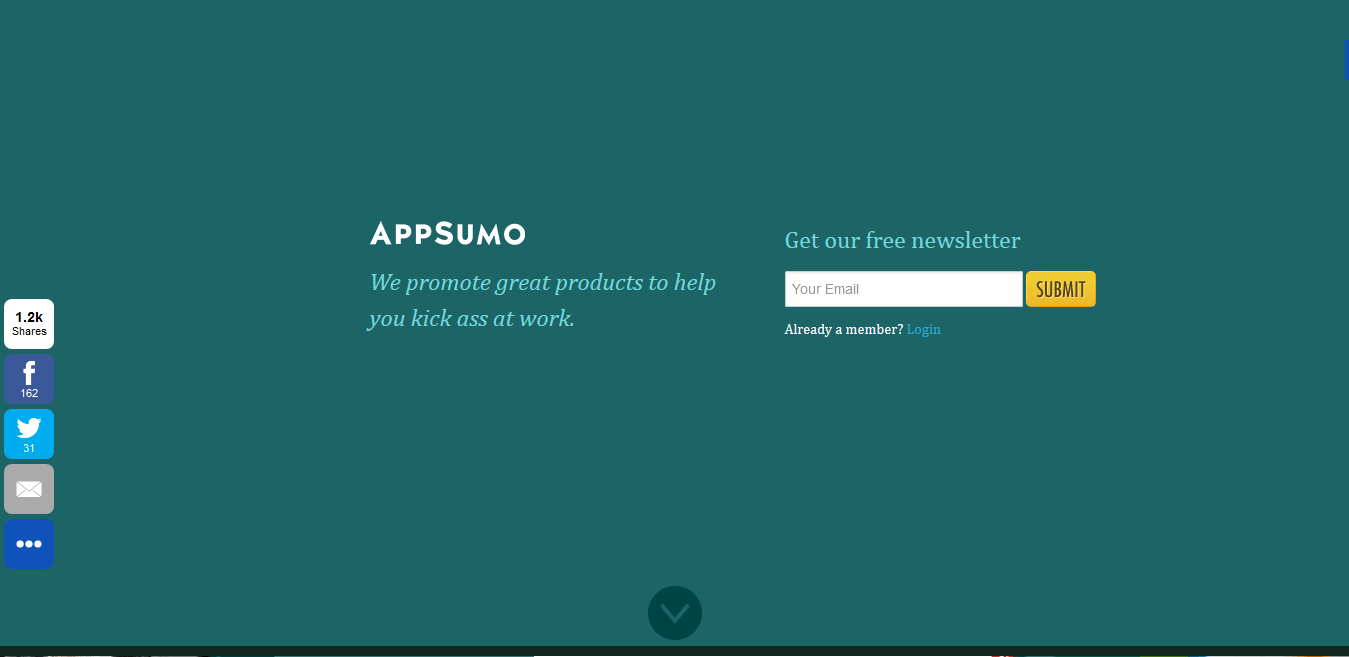 You can also showcase your squeeze page as a pop-up on your homepage. Just remember that when your squeeze page appears as a pop-up it should have an exit link that can take visitors back to the website if they choose not to enter their information.
Take the Optin Monster squeeze page as an example: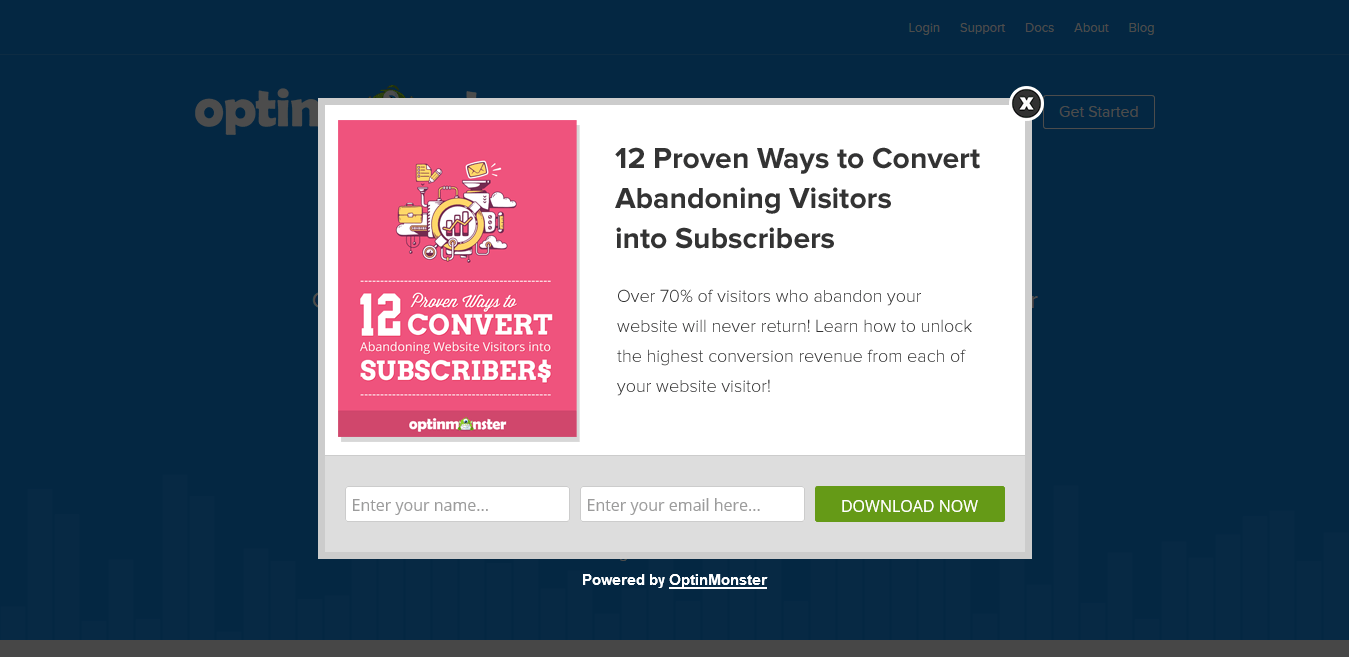 The page's headline explains the offer
The copy is short and to the point
The form is the appropriate length
The CTA button is contrasting
There's also an easy to find exit link that takes the visitor back to the website
Pro Tip: Display your squeeze pages as pop-ups with exit intent on your blog. This will ensure that your visitors get to see your page. Keep your pages short and your offers current if you want to collect leads. As far as the image goes, showcase the product you're offering as a graphic on your squeeze page.
Consulting industry squeeze pages
As a coach or consultant your main goal is to teach someone how to become better at what you already do. In these situations, offer them a worksheet of your 100 rules of success, or maybe create a podcast for them that explains the inner secrets of your business. Both examples would be enticing for the visitor to convert on your form.
You can also give visitors a price discount on a popular item that's already available on your website, essentially guaranteeing yourself a larger number of leads. This is what Joanna Wiebe does on Copy Hackers: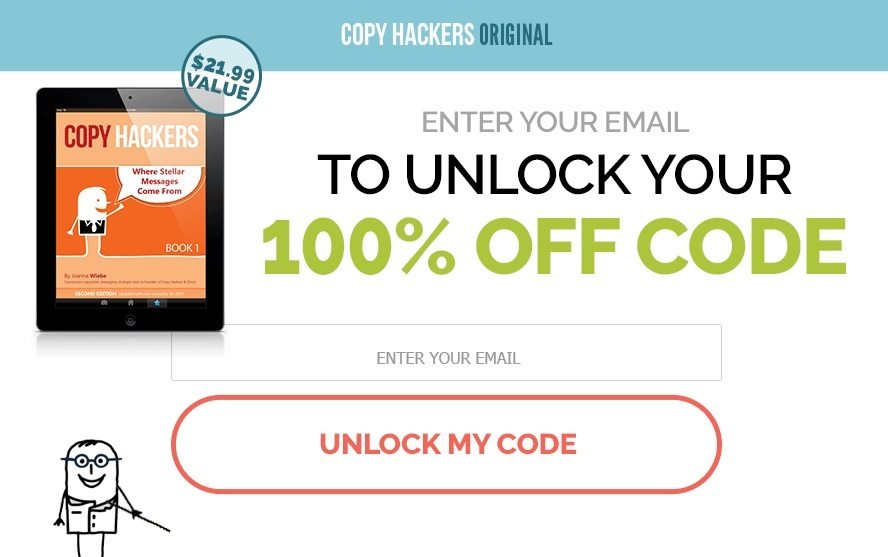 Ramit Sethi's page discussed earlier is also a perfect example of a consulting sticky squeeze page.
Pro Tip: Display a link to your squeeze page in the side bar of your main website page or your "About" page (essentially any page that gets the most amount of visitors). To ensure that your squeeze page looks credible, try adding a snapshot of yourself on the page along with some compelling copy.
Creating them for the beauty industry
Your squeeze pages need to be designed very well to encourage people to submit their name and email. Promise them something they can't resist, like a free beauty basket or an exclusive one-on-one video exercise session with yourself.
The FabFitFun squeeze page lets you join the club for free in exchange for your email address: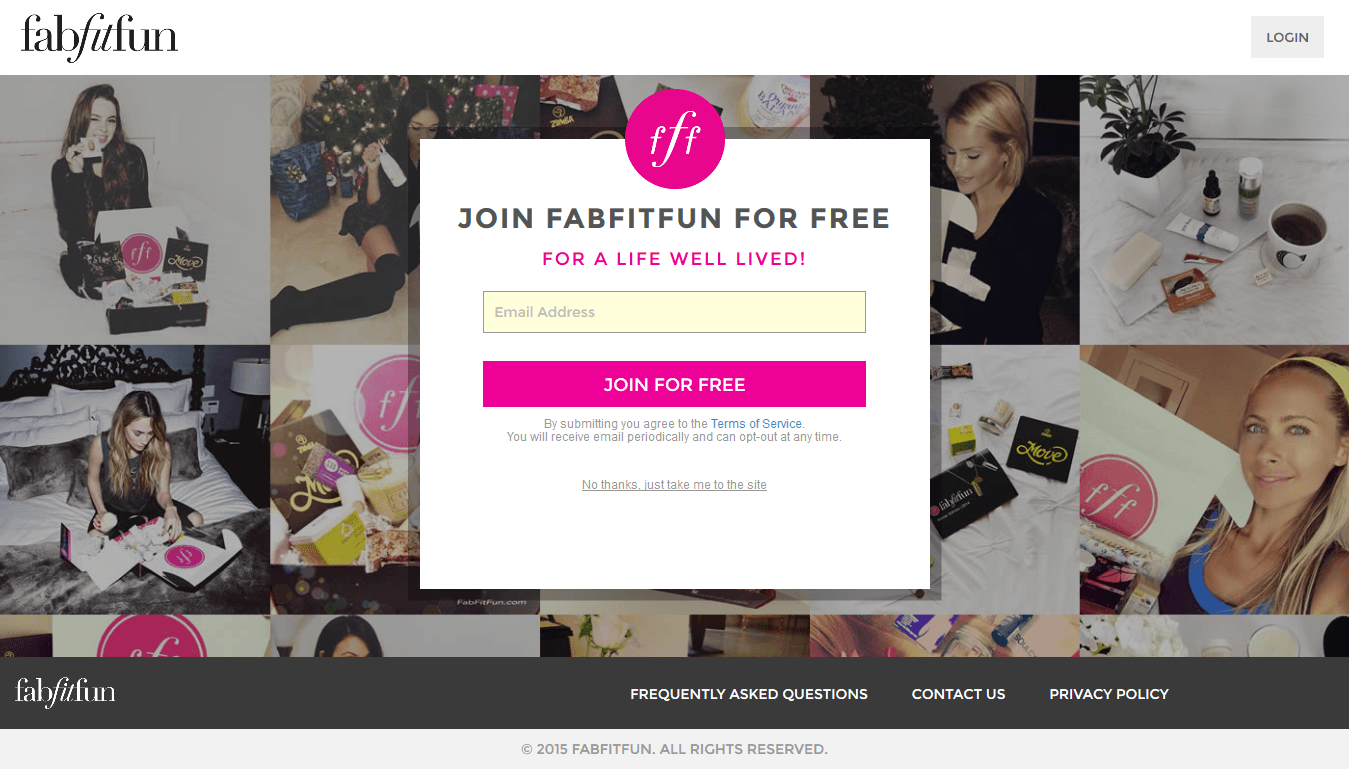 The page has many photographs of happy clients, which encourages new visitors to sign-up and be just as happy as the women featured on the page.
Pro Tip: Your page needs to be visually appealing. Showcasing your previous clients on the page is a great idea as it will enforce the right amount of social proof on the page.
Each of the examples above are all high converting squeeze pages because they are all brand-centric and utilize the necessary elements. Virtually any kind of business has a use for a squeeze page and they are quick and easy to make!
Whether you decide to have your squeeze page as a pop-up or a side bar notification, start optimizing them using the tips above and watch your email list grow faster than you can imagine.
Bonus: Want to take a shortcut? Browse through the 100+ Instapage templates and select one that best fits your brand and create your first squeeze page today… for free!