Do you host webinars?
No? You're letting a huge marketing opportunity pass you by.
Webinars are taking over the internet.
This Google trends graph is all the proof you need.
At Instapage, we know how important webinars are, not just for acquiring new customers but for keeping the ones we already have happy and satisfied. This is why we host weekly webinars to help people understand what Instapage does and how we do it.
(P.S. You don't have to be an Instapage user to attend the webinar either. Anyone who's interested in creating landing pages and making their customer acquisition process seamless is welcome to attend).

Webinars are not just a great way to explain to viewers how they can use your product, but they also serve as a fruitful way for you to gather leads and eventually convert those leads into customers.
And because we've known the awesome power of webinars for quite some time now, Instapage has a variety of optimized, customizable, and free webinar landing page templates ready to help you market your webinars.
We don't just preach webinar marketing. We practice it, too. Today, we are going to discuss how you can harness more power into your webinar landing pages, and then give you a full walkthrough of our integration with GoToWebinar, a tool that allows you to host webinars easily.
Why Webinars?
Webinars are effective because they combine both the visual and verbal aspects of your product promotion. But, getting a webinar together is hard work. There are slide decks to make, guests to feature, and finally visitors to invite. However, if you screw up that last step of getting people through your virtual door, your first two steps go to waste.
Want to create webinar landing pages that are true lead magnets? Here's what you need to do.
According to on24's report the conversion rate of a webinar's registrants turning into live attendees is just 42.9%.
Why is this important? Because the purpose of doing webinars is to get the maximum number of attendees to see your webinar – and then hopefully you can convert those attendees into your customers. And if only 42.9% of registrants show up for your webinar, it means you need to get as many registrants possible so that you have an increased chance of getting more customers.
The only way for you to increase the number of registrants for your webinar is to create an optimized webinar landing page, and here's how you do that.
The Anatomy Of A Perfect Webinar Landing Page
A unique headline: The headline of your landing page should include your webinar's USP. This is what makes it unique and helps you stand out from your competition. Why should your visitors spend an hour of their day listening to what you have to say? The reason should be in your headline.
Mug shots: When creating a landing page for your webinar, the most important and relevant images that you can use are that of your host and speakers. Don't include pictures on your page that make no sense. Just add individual images of your host and guest speakers, and that should be enough.
Benefit-filled copy: The main copy of your page should comprise of the benefits that your visitors will get when they show up to watch your webinar. Arranging these benefits in bullet points increases readability and makes your page look clean and clutter-free. Another thing that you must do on your webinar landing page is mention the date and time of your webinar prominently. Make this very obvious.
Testimonials from past attendees: Include a few lines of what past registrants of your webinars have said about them.
A lead capture form: The lead capture form on your landing page should have minimum friction. As the chances of a visitor running away simply by looking at the length of your form are quite high. Don't make it intimidating.
A call to action button: Make your CTA contrasting and big, yes, but also think long and hard about the text you're going to put on your button. A simple "Register" button would do, but something personalized will be much better.
Now you know what your webinar landing page needs to get leads. All that's left to show you is how you can use Instapage's integration with GoTowebinar to create high converting webinar landing pages.
What is GoToWebinar?
GoToWebinar is a DIY webinar tool. It is the most simple, cost-effective tool for hosting real-time online events that draw people in. You can easily invite up to 1,000 attendees and engage them with high-definition video, screen sharing, interactive tools, and more.
Pro tip: you can sign up for a free trial with GoToWebinar in just a few easy clicks if you haven't tried it yet.

The Walkthrough
Have a webinar scheduled in GoToWebinar? This is all you need to do to create a landing page for it and then integrate it with your GoToWebinar account.
Log into your Instapage account or sign up here if you've yet to do so.
Click "Create new page" and choose the 'Pick a Template' option to load up the Instapage templates.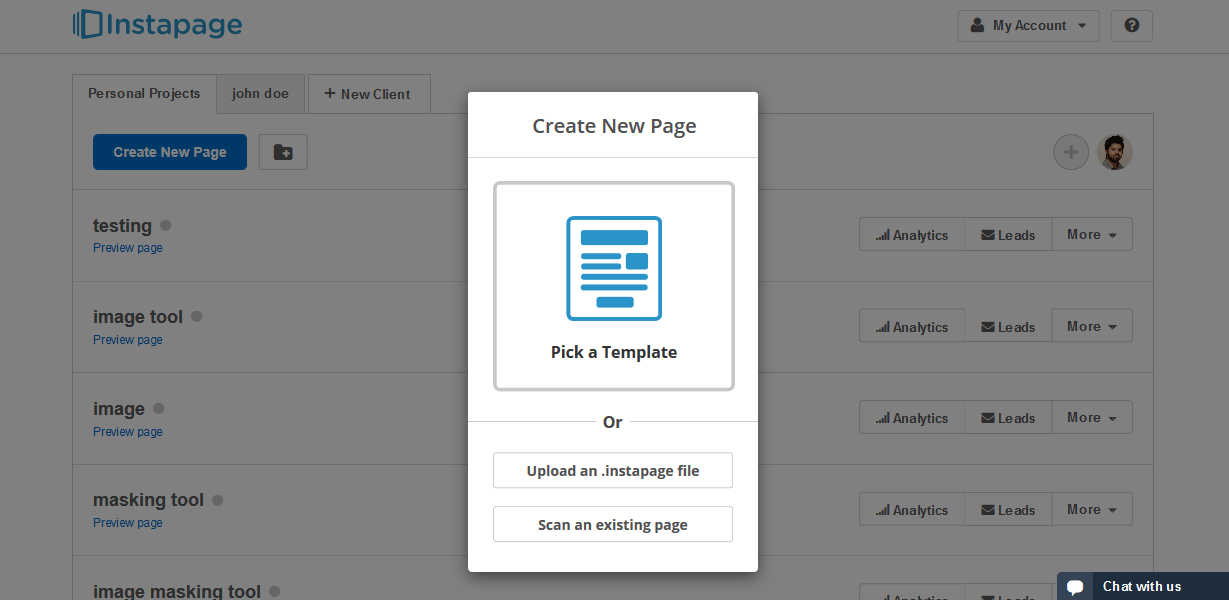 Select the option for webinar landing pages and then simply select the template that you like best. You can also go for our ThemeForest templates if you want to.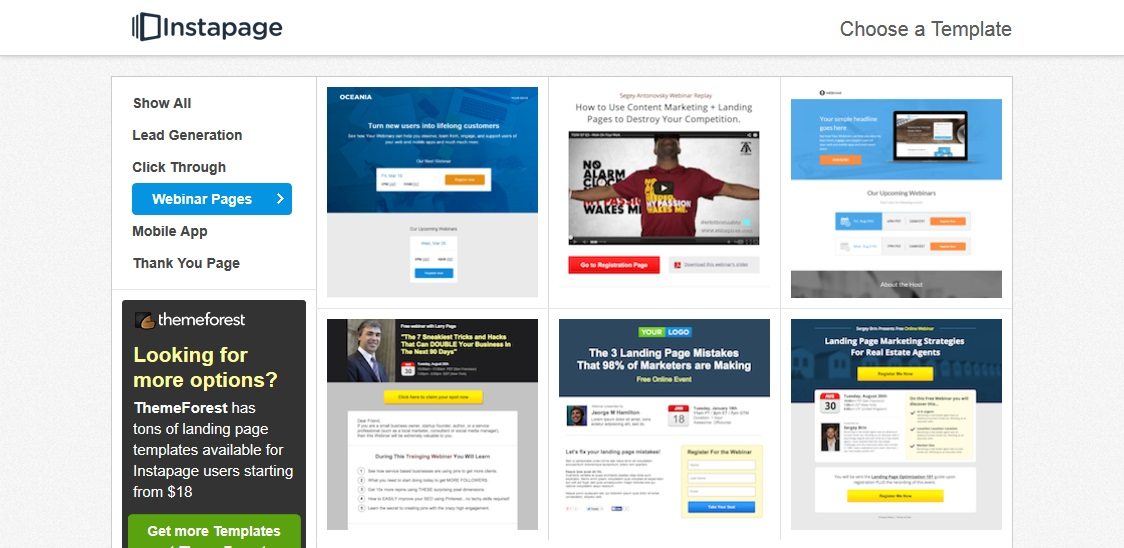 Click edit and name your landing page and then begin personalizing the template to suit your needs. After you're done, click on the lead capture form and edit it.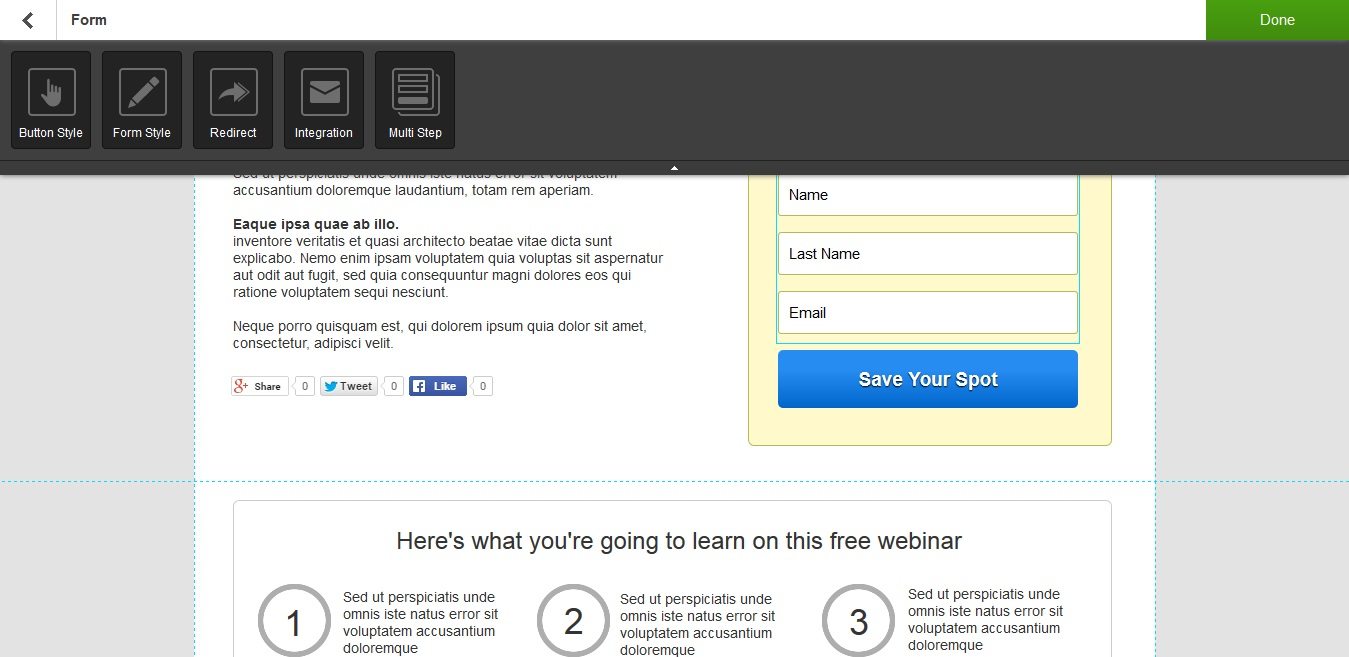 Select the GoToWebinar integration. This will allow you to continue to your GoToWebinar account and link up your Instapage landing page with your scheduled webinar.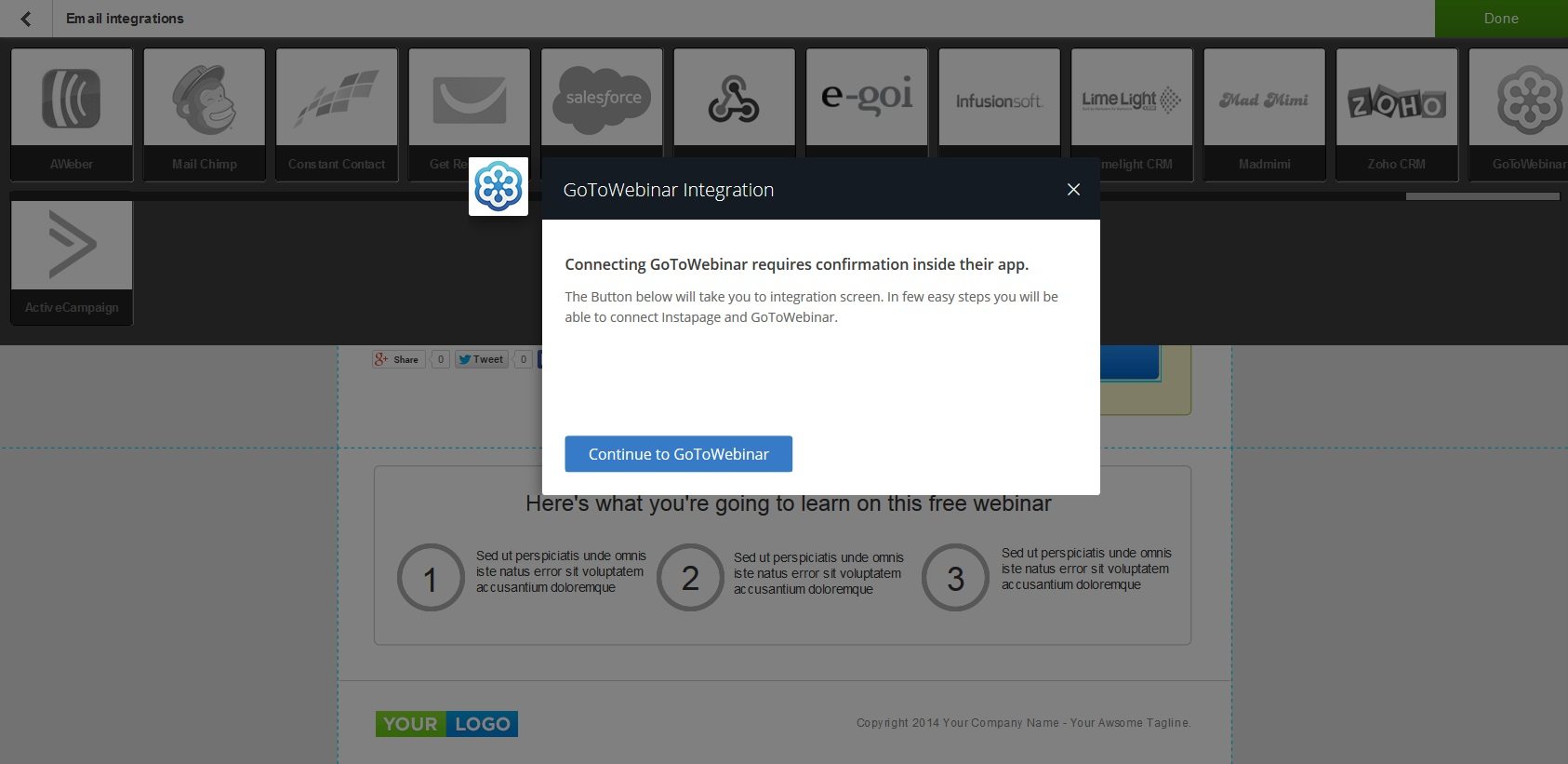 When you've clicked the CTA button, you'll be taken to the GoToWebinar login page. Simply enter your details.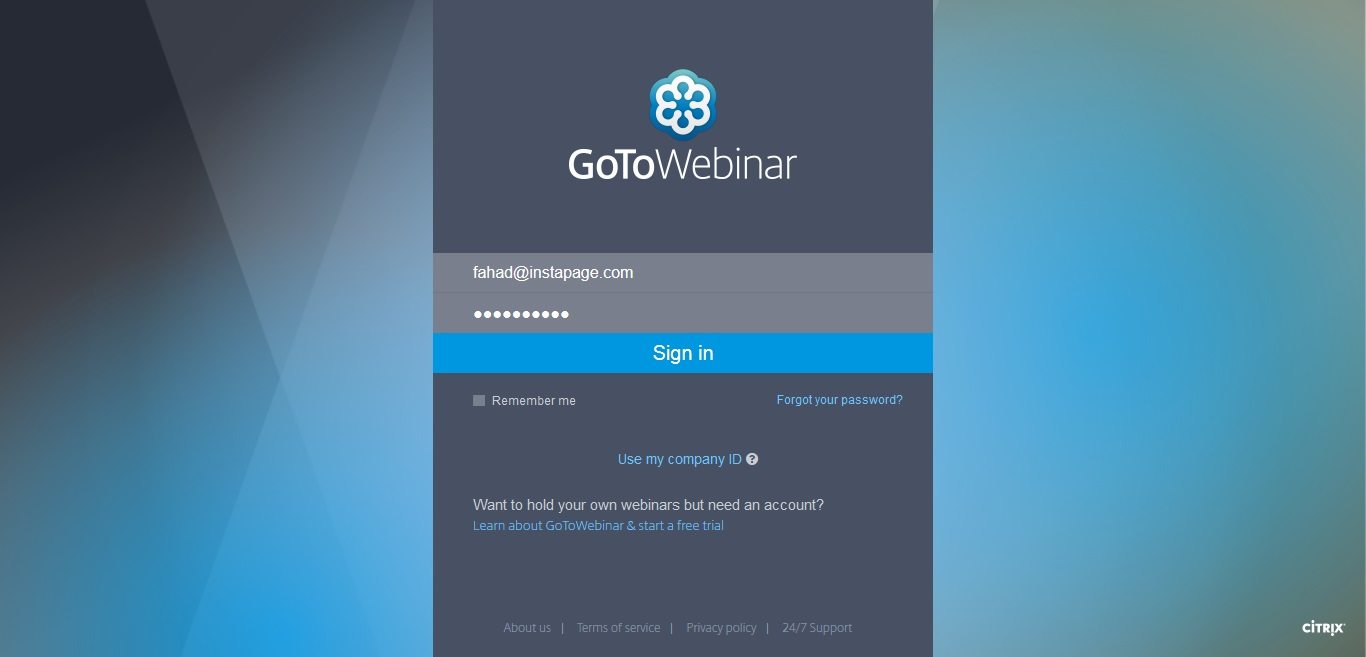 This will connect your Instapage account with your GoToWebinar account. Select the webinar you want showcased on the landing page and then configure field mapping. Edit accordingly and there you have it- you have successfully integrated your page and your form with your GoToWebinar account.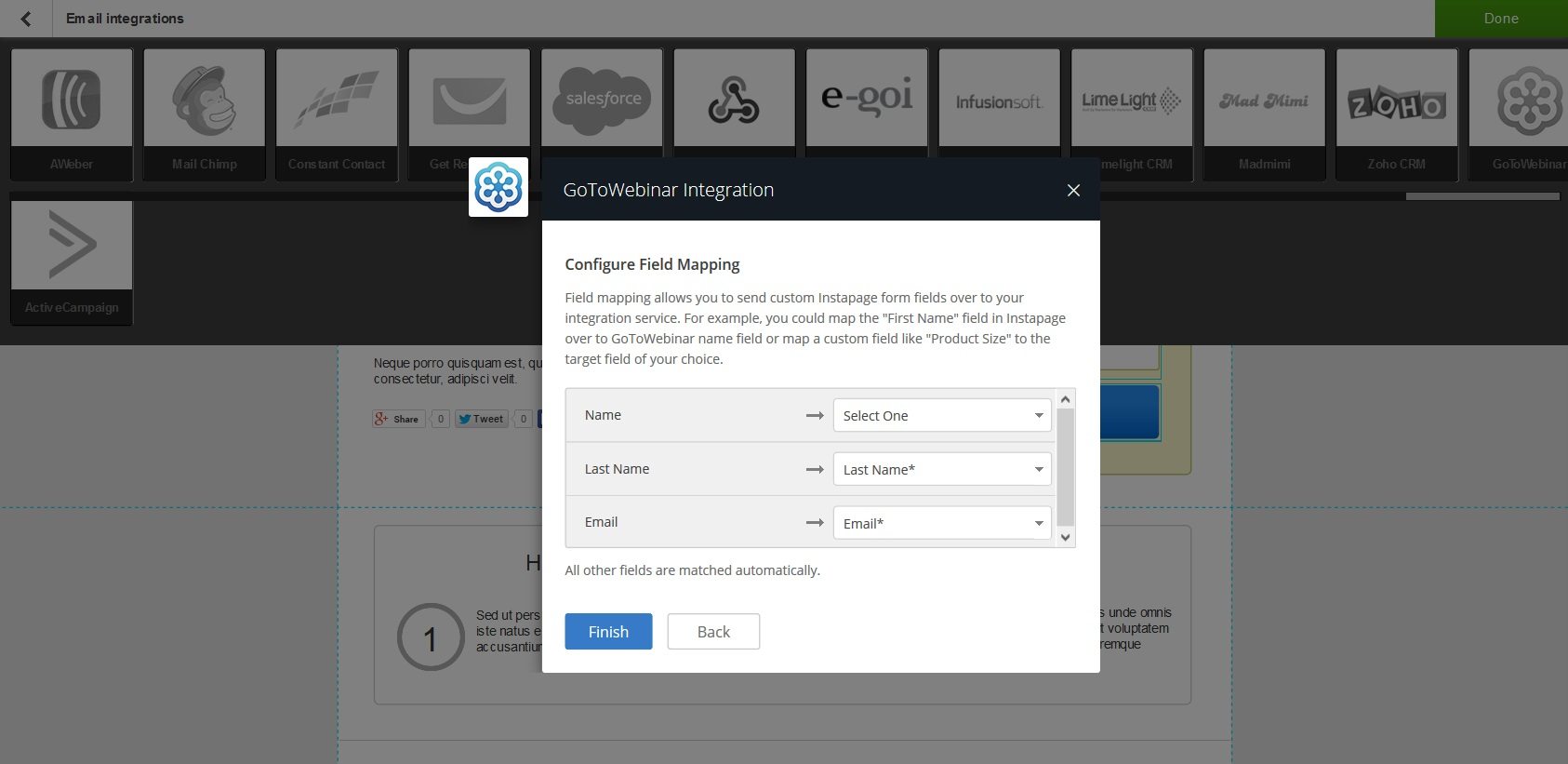 That's it.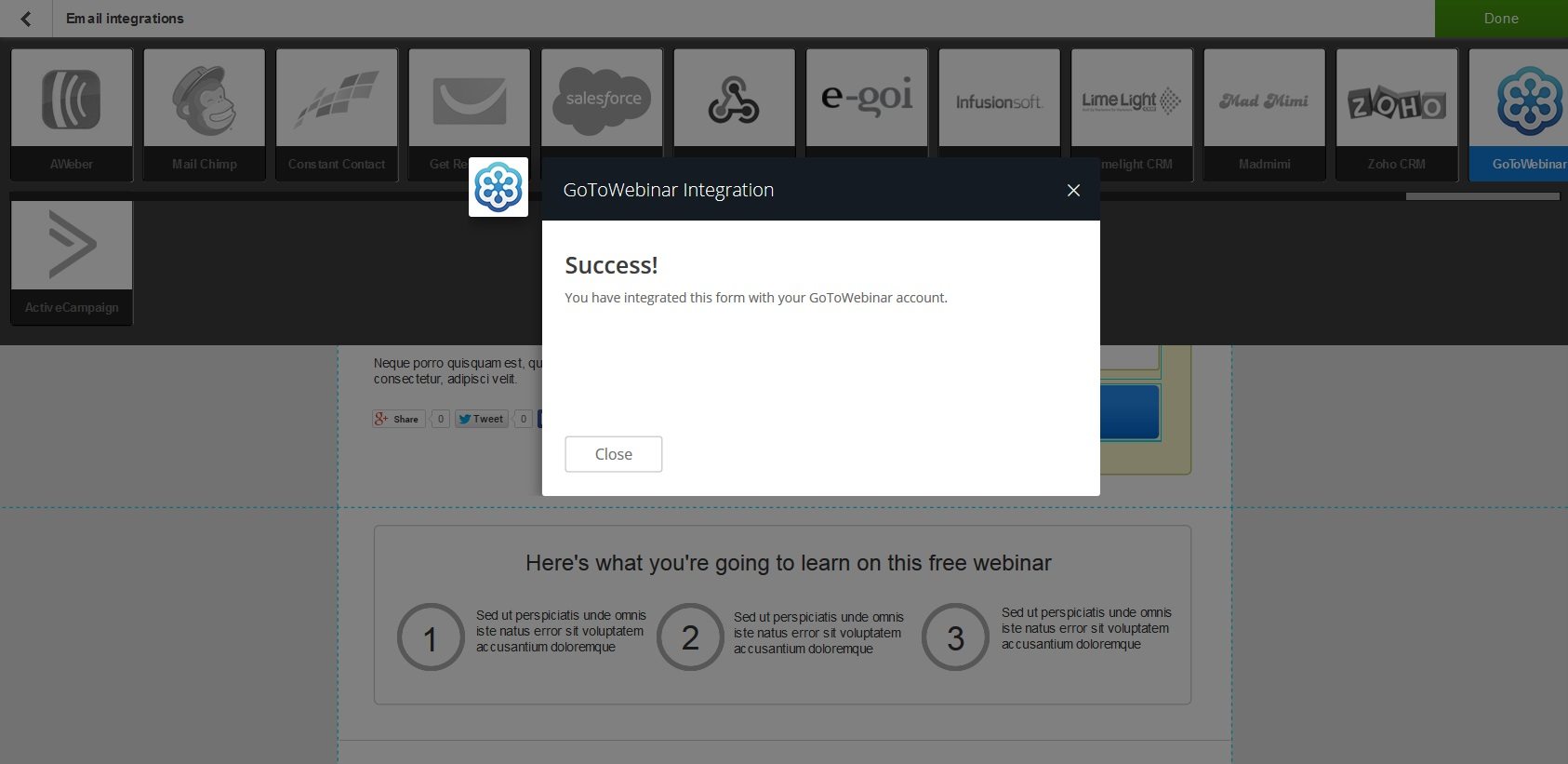 Happy webinar promotion to everybody! Still have questions? Please ask them in the comments below or simply contact our around-the-clock customer success team for support.