There is little room for error on your Google ads.
Why? Because these are all the characters you get for your text ads.

See what I mean?
Paid advertising is a viable source of getting traffic to your website, which is why more marketers in 2015 will be using PPC ads to drive leads to their landing pages. And we know this because more than 1,100 landing pages are created with Instapage daily.
However, not all marketers are going to be successful in their paid campaigns because not all marketers understand what a Google AdWords campaign is.
(PS: It's not just about keyword stuffing people).
Well, we're going to change all of that today.
Not only are we going to give you a short recap on what paid ads are. But, we're going to let you in on the 3 most common mistakes that marketers make with their Google AdWords campaigns and tell you ways to fix them, obviously.
Let's start off with the definitions first.
What are PPC Campaigns?
PPC stands for pay-per-click, and according to Wikipedia it is "the amount spent to get an advertisement clicked."
PPC is an internet marketing model where advertisers pay a specific fee every time a user clicks on their ad. So, instead of relying on organic traffic to your website, you buy traffic for your page by paying a publisher, like Google, to show your ad when your visitor does a search for your relevant keyword(s).
These are three PPC ad results that Google generated when I searched for the keyword "PPC."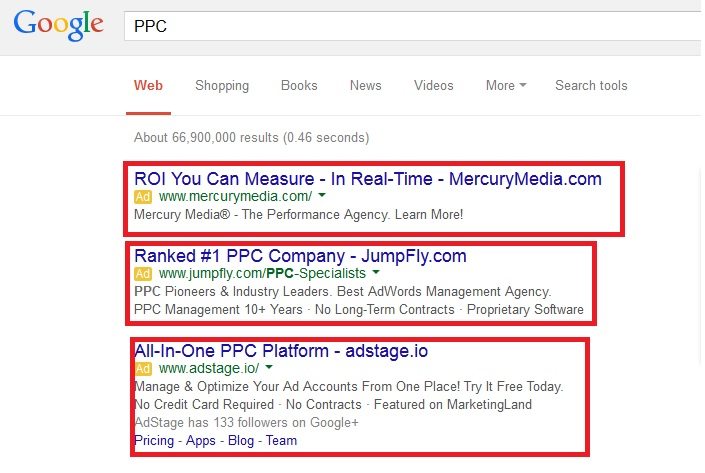 Why is Paid Traffic Important?
Paid traffic is different from organic search or referral traffic. Organic traffic is automatically assumed by most people to be more important than paid traffic. Where paid ads are direct about selling you on something, organic search results use a more subtle strategy to make the sale.
However, does this mean paid ads are bad?
Not at all. In fact, 45.5% of visitors cannot identify the difference between a paid ad and an organic search result. Additionally, users who arrive at your page after clicking a paid ad are 50% more likely to click on your CTA button.
So, paid ads are not only important, but they have a better chance of converting.
Over 60% of users with the intent of purchasing a product click on PPC ads, even when presented with a wide array of organic search results.
Why?
Because when they click a PPC ad they know they are immediately going to go where they want to go. At least that's the case with optimized PPC ads.
What is Google AdWords?
Google AdWords is Google's online advertising program that helps you reach new customers and grow your business.
Google AdWords is what decides where your ad appears. It helps you set a budget and measure the impact your ad has on your customers.
How much money you're charged and where your ad is ranked depends on your quality score.
Quality score is the measurement of how relevant your ads, keywords, and landing pages are to your potential customer. Ad Rank is measured by combining the values of your Maximum Cost Per Click (CPC), your quality score and your ad extensions.
Now that you're up to speed with what paid advertising is, let's start checking off the mistakes marketers are most likely to make with their Google AdWords campaigns.
Mistake # 1: Putting Too Many Keywords In One Ad Group
If it were up to me I would seriously create a new landing page for every keyword I add in my AdWords dashboard, but not even Google is that laser-targeted, (at least, not yet).
The worst thing you can do to your PPC campaigns is stuff too many keywords into one ad group. When you put more than 20 keywords into one ad group, what you risk doing is making your search-to-ad message match hard to reach.
And your PPC ads aren't worth anything if you don't have proper message matching.
Want more clicks? Try going for single keyword ad groups. According to Search Engine Land, "…single-keyword ad groups enable search marketers to maximize a significant share of clicks, conversions, and revenue while only optimizing for a small subset of isolated keywords."
If you think single keyword ad groups are going to be too much work for you, create logical ad groups for your campaigns like Apple does with their Google AdWords campaigns.
Apple sells laptops, mobiles, tablets and mp3 players among other things. Instead of using a broad keyword like "Buy Apple Products" for their campaigns, they use ad groups for every major product.

Pro Tip: Limit every ad group to 20 keywords or less.
Mistake #2: Not Keeping in Mind User Intent to Improve Keyword Strategy
User intent is the mind-set of the user when he's entering a search term into the search engine. It's how you determine what your user is thinking when he types a certain keyword phrase into Google.
To explain this concept and what it means for your AdWords campaigns let's take the example of a fictional company called "Better Websites." Better websites helps its users create code free, beautiful websites.
If a potential customer of Better Websites does a Google search for the keyword phrase, "what's the best way to create code-free websites" the intent of that user is to collect information. They are probably still searching for the best solution and aren't ready to buy yet. Landing pages connected with this keyword should lead the user to a landing page that has more explanatory copy on it.
Now, if the potential customer does a search for the keyword, "Is Better Websites the cheaper choice?" you know that the customer is inclined to buy soon, and so your landing page should be minimal. It should tell him why you are the best in the business and then point them towards your personalized CTA.
Find out which specific keywords are being used that resonate buying intent and target those keywords properly with your landing pages, and overall PPC campaigns.
Pro Tip: Give high priority to keywords with high intent. These keywords should also be isolated in their own ad groups.
Mistake # 3: Not Giving Importance to Message Matching on Your PPC Ads
Without message matching, your PPC ads will not yield any conversions. It's as simple as that, and here's why. Message matching or ad matching is when you align your ad headline and your landing page perfectly.
Here's what message matching looks like in action.
This is the ad for Route, which is a marketing automation tool.

This is the landing page I am taken to when I click the ad.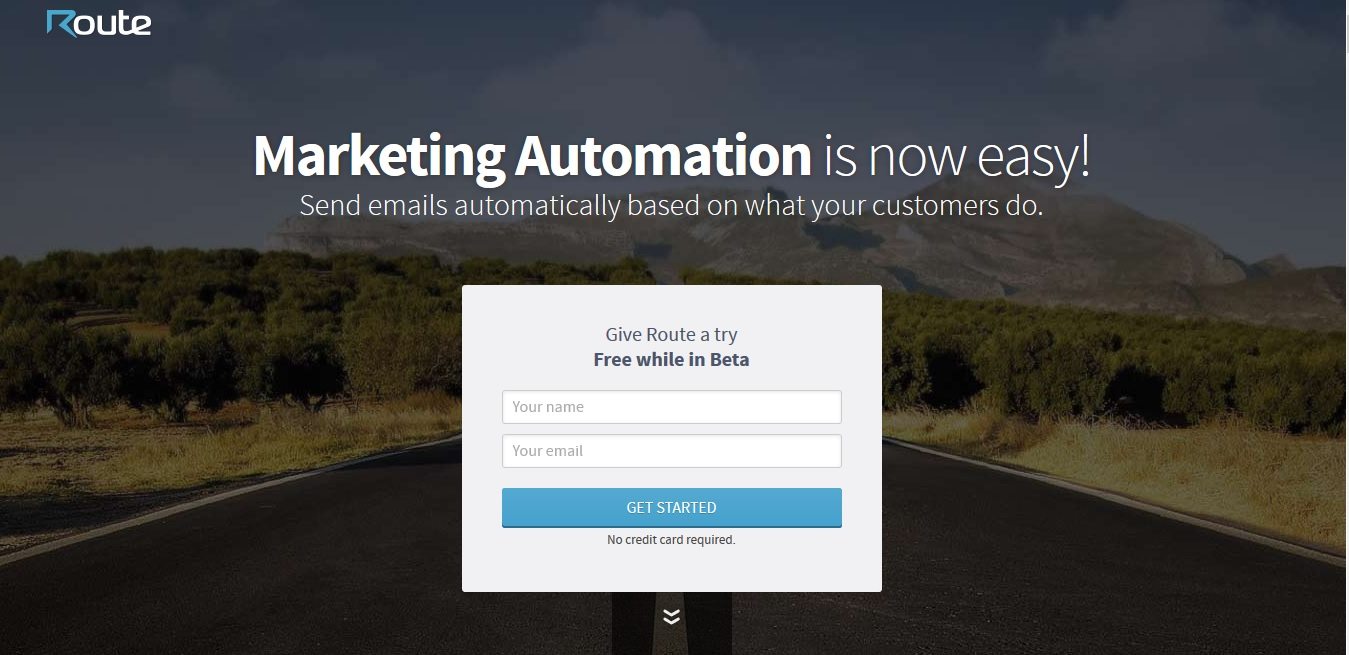 The PPC ad says, "Simple and revolutionary tool to engage and sell more leads." And the corresponding landing page headline says, "Marketing Automation is Now Easy."
A good message match assures the visitor they have arrived on the right page. This is important to avoid confusion, which can happen if a user goes from an ad specific to something they want to a homepage they have to attempt to navigate. Don't make it any harder than you have to for your user to find what you're selling.
Don't ruin your AdWords campaigns by committing these mistakes. And always remember to lead your visitors from your PPC ads to relevant landing pages, because not doing so will only result in a loss of leads for you.
Create your first landing page with Instapage here for free. Still have questions about your paid campaigns? Let us know in the comments.