This post was originally published in November, 2015. The content of this post doesn't reflect the current Instapage pricing plans.
On October 12, 2015 we announced our updated pricing structure.
The update involved revamping all of our pricing plans to make Instapage more powerful than ever.
The response to the new update has been overwhelmingly positive, which is why we're taking the time to explain what each plan has in store for you. This article will help existing users to take full advantage of their current plan, and provide anyone who's thinking of joining Instapage a sneak peek of what they can achieve with a Pro account.
Last week we detailed everything you can do with your Basic Instapage plan. It's now time to look at the Instapage Pro plan.
What does the Instapage Pro plan provide?
In addition to providing unlimited pages, visitors, and domains; the Instapage Pro plan offers users:
Unlimited A/B Split Testing

Chat and Email Support

Read-Only Team Members

Custom Code Editing
The professional plan is for marketers who are creating many landing pages, A/B testing all pages with multiple variants, and who want to trick-out their pages even more by editing the HTML code. They are Pro Marketers (see what I did there?)
The pro marketer is most likely not working alone. They operate with multiple team members and handle their own landing pages, but their client's landing pages as well.
Does this sound like you, or someone you aspire to become shortly? Then upgrade to the new and improved Instapage Pro plan.
Now that we've established the pro plan's features let's go into more detail about each one.
Unlimited benefits
Like other plans, Pro users enjoy unlimited pages and traffic — so you don't have to worry about hitting any traffic limits. You need to create more landing pages because "Businesses with 31 to 40 landing pages got 7 times more leads than those with only 1 to 5 landing pages."
And with more pages and traffic, unlimited A/B testing becomes more valuable.
A/B testing is the glue that holds all your conversion optimization practices together because it gives you data-driven answers to your conversion problems. The Instapage Pro plan allows you to create unlimited variations with a few clicks: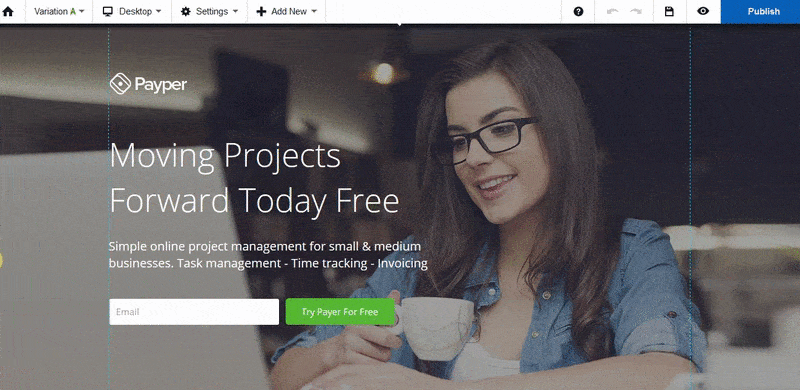 Allowing you to test multiple elements of your landing pages — increasing your chances of lead generation with each new variation.
Not only this, but you can view all your A/B testing results in an easy to understand analytics dashboard:
Chat and email support
Our customer success team operates around the clock, which means all help tickets get a response in record time.
Having trouble setting up a domain or adding HTML code? Send us a message and your problem will get solved quickly with ease.
Don't have time to wait for an email? Log into your Instapage account and visit your dashboard. You will find the live chat widget on the bottom right side of the screen:
With chat and email support, you can start waving any landing page troubles goodbye.
Read-only team members
If you're collaborating with a team and want to share your landing pages amongst team members, you don't have to pass your login information to them anymore.
Now you can add multiple users with different roles and even choose which of your client accounts they can access. This is the Pro plan's "read-only" functionality.
This way the new team member can view your pages, but can't edit or publish pages.
This is how you invite a team member: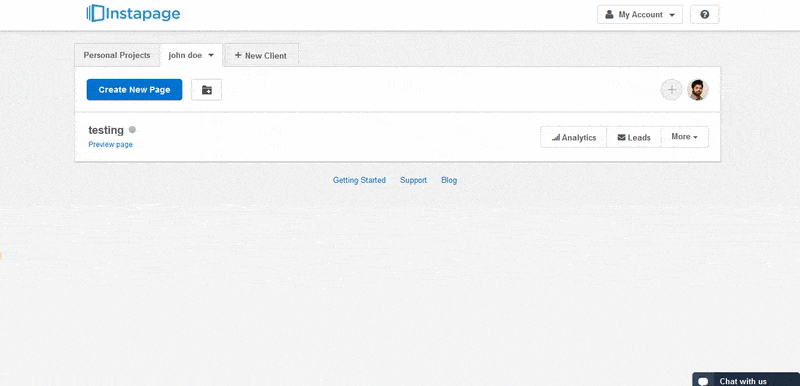 This is what we call pro management.
Custom Code Editing
The Instapage builder performs all the work for you — no coding necessary.
However, the pro marketer sometimes needs advanced landing page features like embedding YouTube videos, countdown timers, or exit pop-ups. The Pro plan allows you all of this with custom code editing.
Want to add a custom fonts to your landing page?
On the Pro plan, you can do this and so much more.
To summarize
The Pro plan empowers marketers to create unlimited landing pages efficiently while managing their teams and client projects effortlessly. With this plan, you get HTML flexibility and more A/B testing freedom — not to mention a live chat option to answer all of your questions.
So, when are you signing up for Instapage? Upgrade today and take advantage of this incredible opportunity!