Show Me The 10 Best Reasons to Create with Instapage
Expedia once earned a whopping $12 million in profit by removing one field from their lead capture form.
Express Watches increased their sales by 107% simply by adding an "authorized dealer" banner to their landing page.
DIY themes increased their conversion rate by 102.2% by removing social proof from their signup form in the sidebar.
What do these A/B test results tell us?
A/B testing works by increasing conversions and sales
There's no insignificant element when it comes to your landing pages
Even adding one word in your headline can potentially increase conversions, the same goes for changing the size of your CTA button.
So, what does all this mean?
The more flexibility and customization you have with your landing page design, the more opportunities you have to increase your conversions.
More flexibility and customization
Instapage understands the modern marketer's need for freedom when it comes to creating landing pages. That's why our software allows you to create high-converting landing pages in just a few minutes with a few button clicks.
Today, we're happy to announce two new features that will not only give you more control over your landing page design but also allow you to customize your pages to conversion perfection. That's what our new CTA button settings and page section overlay options provide.
New, better call-to-action button options
It's no secret that a well-designed call-to-action button persuades visitors to fulfill your conversion goal. Instapage offers you the opportunity to create better buttons by enabling you to:
Change the font of your call-to-action button copy
Modify the size of your button font
Adjust your button's corner radius
These options translate to better buttons for your landing pages, which means a more pleasurable and optimized experience for your visitors.
This is what the old button settings used to look like:

And here's how you create new, better buttons with Instapage: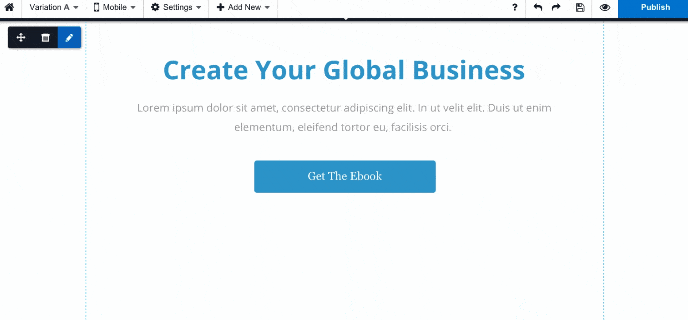 With these settings, you have the opportunity to perform even more A/B tests on your call-to-action buttons. Test which font performs better with your visitors or see whether your visitors prefer square or rounded buttons. All you need to do is click "edit" on the button option and customize to your liking.
Page section overlay
Just like call-to-action buttons, images play a crucial role in landing pages. They not only set the mood for conversions but also help explain your offer.
Some landing page trends on the rise are the use of videos, custom photography, as well as full-screen backgrounds. Not only does a personalized background appeal to your visitors, but it also helps push them to convert.
Before, you already had the freedom to set any image as your landing page background. Now, you can change the color of the background as well as modify the image's overlay opacity, giving you more options to A/B test.
Using this feature couldn't be easier, just click the "edit pencil" on the background and choose the color and percentage that looks best on the page:
At Instapage, we believe "every promotion deserves its own page" and because of that we understand the necessity to create multiple landing pages. With better buttons and more background customization, you can create more landing pages in record time — all while generating more conversions for your marketing campaigns.
Current Instapage users can login here to take advantage of these new features right now. Excited about these features but don't have an Instapage account? Start creating your landing pages with Instapage and watch your conversion rates continue to increase.