Conventional advertising techniques like newspaper ads and direct mail flyers may have proven successful in years past, but the Internet and digital advertising have taken over. Without a strong, expansive online presence, your business doesn't stand a chance at succeeding.
The Internet certainly extends your ad reach, but with that comes more competition. That's why your online presence must be strong and robust. Today's article will look at some of the best options available.
The best digital advertising channels available today
PPC advertising
Pay-per-click advertising is a form of digital advertising in which advertisers bid to have their ads displayed on popular websites to generate traffic. Advertisers must pay a fee each time one of their ads is clicked. In a way, it's a way of buying visits to your site, rather than earning them organically.
There are many different types of PPC advertising, one of the most frequent is paid search advertising (search engine advertising) which allows advertisers to bid for top ad placement on a search results page.
Google
Google Ads is the single most popular PPC advertising platform in the world. This platform allows you to create online ads to appear on Google's search engine and other Google properties, to reach audiences that are actively searching for products and services similar to yours. Here's an example for "best post-click landing pages":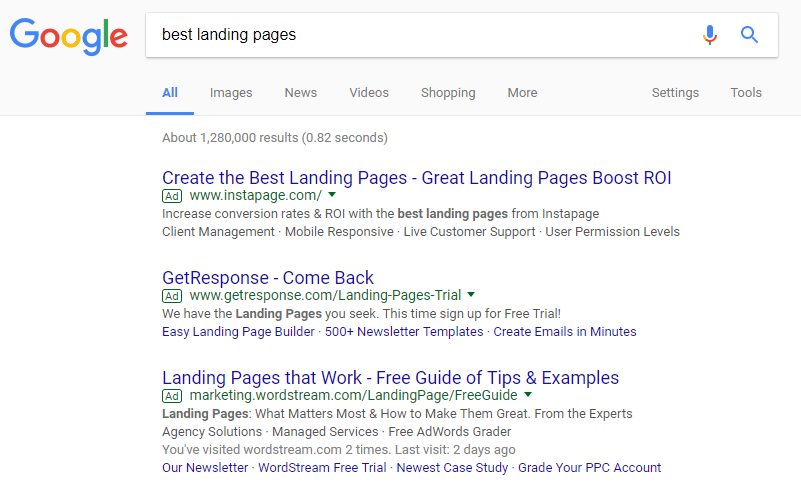 For a comprehensive list of tips for how to use Google Ads to boost your conversion rates, take a look at our 25 Google Ads tips.
Bing
Bing — the second most popular search engine in the world, with a 33.5% share of the U.S. search market — also has several advantageous features for marketers.
With fewer advertisers driving up the price of keywords, it's at least half as expensive as Google Ads. In addition, Bing and Yahoo partner for their ad network, which means when you advertise on Bing, you expand your reach with Yahoo, too.
Bing offers more granular control at the campaign and ad group levels, allowing advertisers to assign different campaigns in different time zones. It has better device targeting options, more transparency with search partner targeting, and improved social extensions. It also continues to show ads in the right margin of SERP, something Google stopped doing: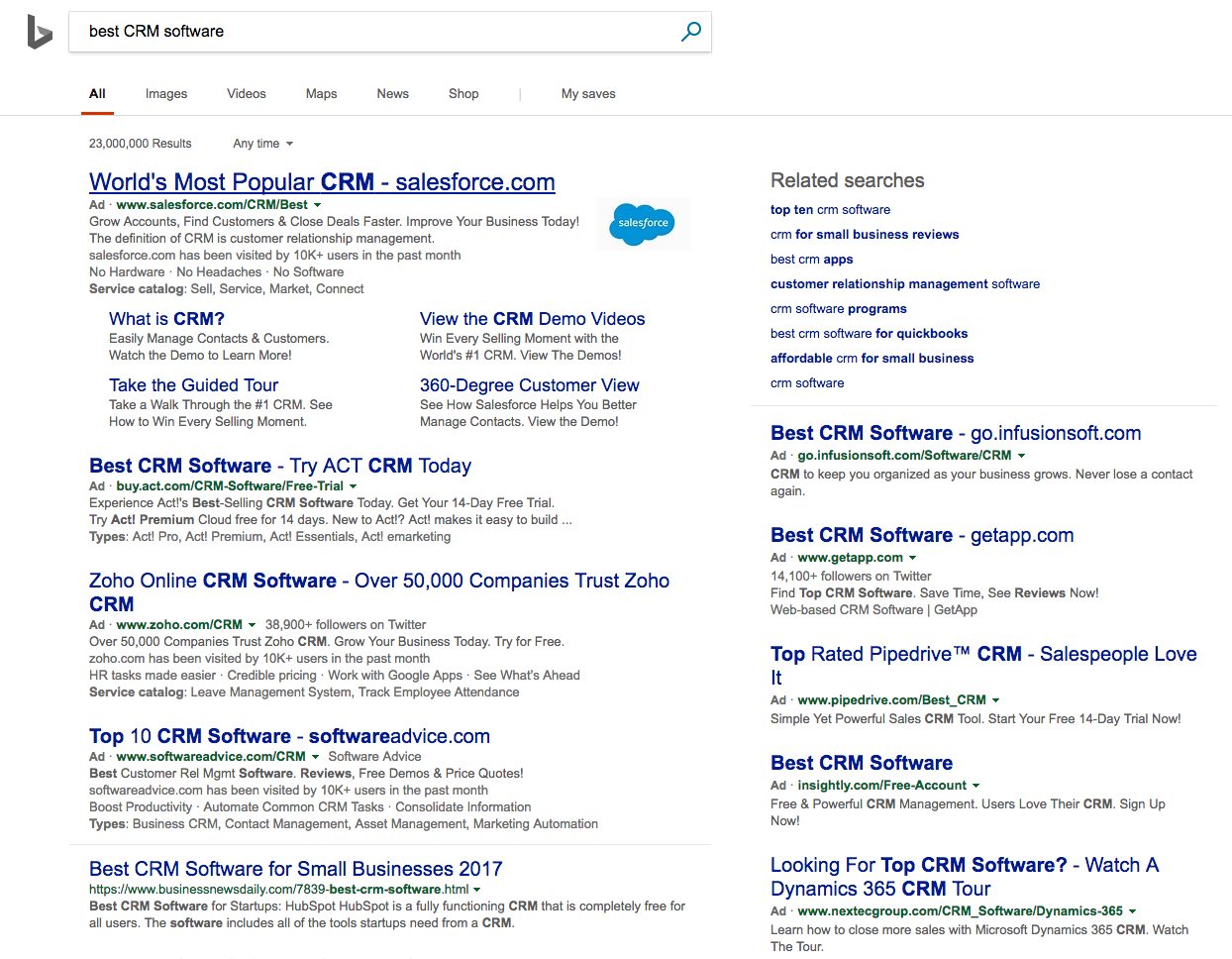 Finally, because of its outstanding image search and impressive social media integration, there are 142 unique searchers on the Bing Network — 68 million who aren't reached on Google. As a whole, these users conduct 5 billion monthly searches on Bing.
Display advertising
With display advertising, ads are placed on relevant third-party sites in the form of banner, image, or text ads. Placement on the page doesn't matter — they can be spotted anywhere.
Here are three display ads that were all found on the same New York Times website.
One across the top of the page:

One in the middle of the content:

And a banner on the right side of the screen: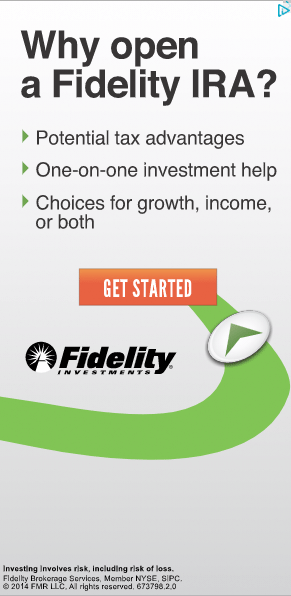 No matter where they're located, they must be optimized to target specific audiences, and it's best if connected to a post-click landing page. That's because post-click landing pages are dedicated to a single offer (like the one promised in your ad). Display ads often produce a lower click-through rate than search ads, but usually carry a lower CPC. Plus, they're especially effective for building brand awareness.
The primary difference between display advertising and paid search advertising is that display ads use a push approach, while search ads use a pull approach. People who see search ads were already looking for your product or a similar one; people who come across your display ads were targeted purposefully. This is called remarketing, and has become one of the most effective digital advertising trends today.
Remarketing (aka retargeting) is a form of personalized advertising, based on prior online actions — visiting a website, watching a video, reading a blog, opening an email, looking at images, etc. This method involves placing tracking cookies on a user's browser, using those cookies to "follow" them around the web, and then displaying ads that are relevant to them.
Based on the Advertising Personalization Classification System, this would be considered Level 3: Niche Interest: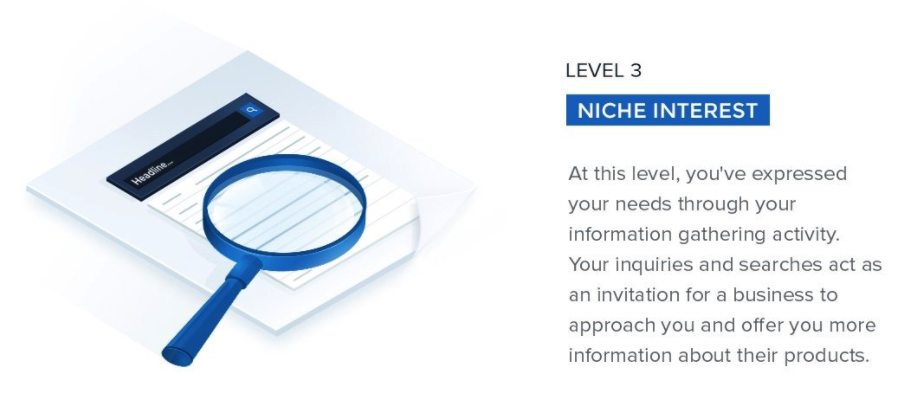 Search Engine Journal's 2017 State of Digital Marketing report shows that 68% of search experts practice remarketing, and 66% find it to be an effective tactic. That's because, on average, most sites are only able to convert 2% of their visitors. But with retargeting, you're able to recapture the interest of the remaining 98%, and eventually bring them back to your site for another chance to convert.
Email marketing
The majority of lead generation strategies revolve around one central goal: collecting an email address. The reason behind this is that email marketing is one of the most effective digital marketing channels available, providing brands with an ROI of up to 4,300%.
Email marketing allows brands to communicate on a personal level, and build stronger connections with consumers. Since those people have already committed to receiving your emails, they are more likely to engage with them.
Emails can be targeted to certain prospects based on where they are in your sales funnel. Creating buyer personas for each level and delivering appropriate content based on those personas can improve the efficiency and effectiveness of your lead nurturing efforts.
Above all else, well-designed, professionally-optimized email campaigns have the ability to produce higher conversion rates than any other form of channel advertising.
Social media marketing
Since 2008, social media marketing has risen sharply, and the social media platforms themselves have evolved into some of the most powerful advertising channels:
Business owners and digital marketers leverage social media for many purposes: to create brand awareness, build connections with potential customers, drive traffic to post-click landing pages and websites, and to sell products and services. Some of the most popular platforms to market your brand, product, or service include Facebook, Instagram, Twitter, LinkedIn, and Pinterest.
Here's a brief overview to get you started, with an ad example from each platform.
Facebook
Facebook continues to have the highest number of monthly users (2 billion per month), allowing businesses to reach almost any type of consumer. Specific audiences can be targeted with Facebook ads, like this in-feed image ad from LendingClub: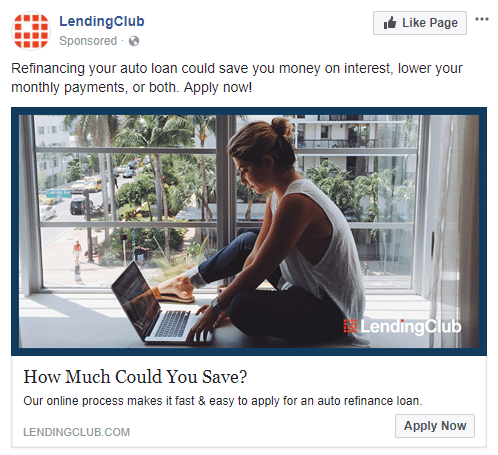 In addition to image ads, there are many other Facebook ad formats available, including:
Video: Highlights product features, and attracts users with sound and motion
Collection: Encourages shopping by displaying user-customized items from a product catalog
Canvas: Allows users to open a full-screen, mobile-optimized experience
Carousel: Showcases up to ten images or videos, each with its own link
Slideshow: Uses motion, sound, and text to advertise on any connection speed
Lead Generation: Image, video, or carousel ad, followed by a lead capture form to collect info from interested prospects
Offers: Image, video, or carousel ad, offering a discount to customers
Post Engagement: Boosts Facebook Page posts to generate more likes, comments, shares, and photo views.
Instagram
If you can promote your product or service with images and/or video ads, Instagram is the perfect social media marketing platform for you. On this image-based network, over 95 million photos and videos are shared every day.
Instagram ad formats include:
Photo ads: Tell a story or feature products with visually engaging images
Video ads: Attract users with sound and motion up to 60 seconds long
Carousel ads: Multiple images with a call to action button, taking users to a website to learn more
Stories ads: Full-screen ads within users' Stories feeds
Instagram recently added call-to-action buttons to their ads (Shop Now, Install Now, etc.), allowing advertisers to link to any destination on or off of Instagram Here's an example of an image ad with a "Sign Up" CTA button at the bottom: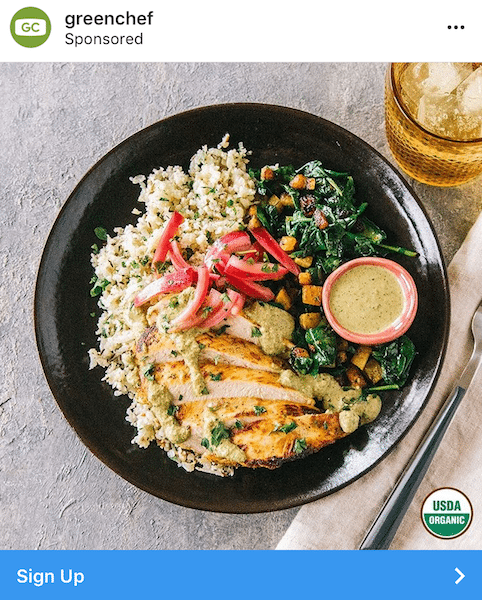 Twitter
Some advertisers favor Twitter ads over other advertising platforms because Twitter offers several unique ad targeting features that aren't found on any other platform.
First, the ads are pay-for-performance, so advertisers only pay when their marketing objective (website conversions, engagement, app installs, account follows, etc.) is achieved. Conversely, LinkedIn doesn't offer any pay-for-performance advertising options, and Facebook's options (page links, app installs, link clicks, etc.) aren't nearly as impressive as Twitters in terms of lead generation.
Second, Twitter allows for more precise targeting options than other platforms, like Facebook. While Facebook only allows topic targeting, Twitter allows targeting by specific keywords, including unique hashtags. In addition, Tweet engager targeting enables advertisers to remarket to users who recently engaged with their Tweet, and Tailored Audiences enable them to target users who follow other specific accounts.
Three types of Twitter ads include:
Promoted Tweets: Paid Tweets displayed to people who are not already followers, appearing directly in targeted users' timelines, at the top of search results, and in the Twitter mobile app.
Promoted Accounts: Allow advertisers to get their accounts in front of targeted users — directly in timelines, in the Who to Follow suggestions, and search results — to gain relevant followers.
Promoted Trends: Allow advertisers to promote a hashtag at the top of the trending topics list. When clicked, an organic list of search results for the topic is displayed, with a Promoted Tweet from the advertiser at the top of the list.
Here's a Promoted Tweet from Stitch Fix, used to display their products, service, and a customer testimonial in front of all Twitter users: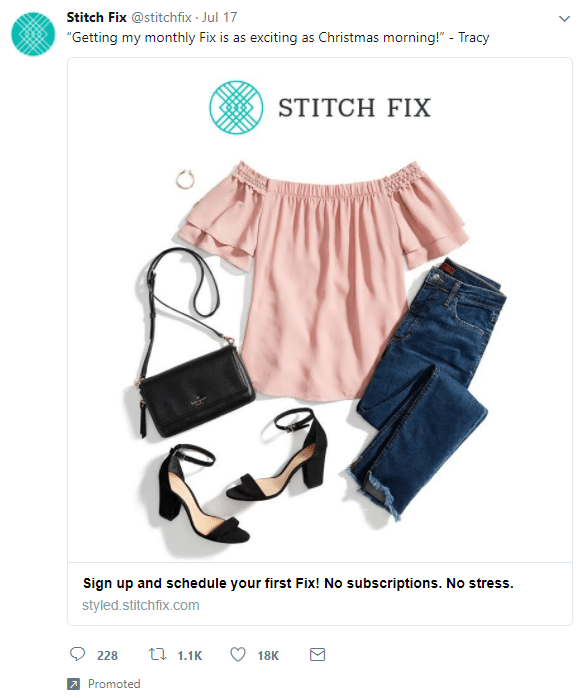 LinkedIn
LinkedIn is well-known for being a business-based networking platform, best for connecting with a professionally oriented audience — other professionals, business owners, and industry-based leads.
Types of LinkedIn ads include:
Sponsored content: Native advertisements displayed directly within the LinkedIn feed, great for raising awareness of company events or initiatives; generating leads with pre-filled forms; increasing qualified traffic to posts or pages; gaining followers; and boosting engagement.
Sponsored InMail: Personalized messages with a clearly visible CTA button, sent to highly targeted recipients. Ideal for directing traffic to post-click landing pages, driving downloads of gated assets; promoting webinars and special events; generating B2B leads; and directly engaging with valuable prospects.
Text ads: PPC ads, displayed on the side rail or inline, created to target highly specific B2B audiences; drive traffic to your website or post-click landing pages; and attract quality job candidates.
This is a Sponsored content ad from Upwork, displayed natively in users' LinkedIn feed: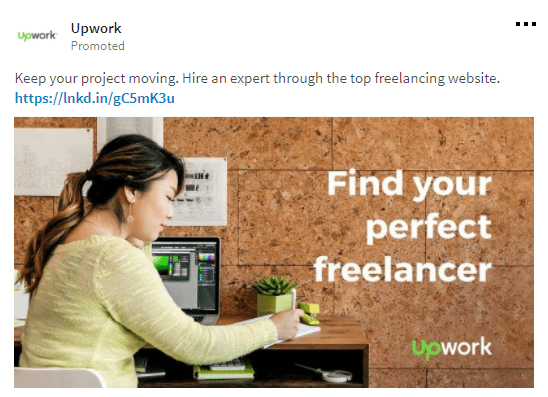 Pinterest
Pinterest is another social media channel that's great for image-based businesses. In fact, 87% of Pinterest users have purchased a product because of Pinterest, and 93% have used Pinterest to plan a future purchase.
Here are the five types of Pinterest ads marketers can use to help Pinners find inspiration and ideas, while simultaneously boosting their business equity:
Promoted Pins: Paid image pins displayed in front of more people to increase brand awareness, engagement, and traffic to websites and post-click landing pages.
Promoted Video Pins: Paid video pins used to capture increased attention and engagement from Pinners.
One-tap Promoted Pins: Promoted Pins that take people straight to a website or post-click landing page with just one click.
Promoted App Pins: Allow Pinterest users to discover and download iOS apps directly from Pins.
Cinematic Pins: A made-for-mobile animation that uses a sequence of images to deliver eye-catching action in an easier-to-execute format than video.
Daily Burn created this Promoted Pin to send users to their dedicated Pinterest post-click landing page to sign up for a 30-day free trial: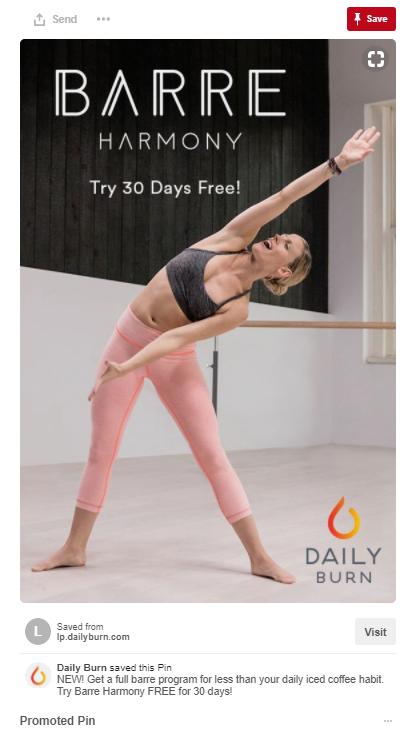 Whether it's to create brand awareness, increase engagement, boost traffic, or generate sales, leveraging social media is critical. Just like selecting the best digital advertising channel for your business is critical, utilizing the most appropriate social media platform and ad format (based on your targeted audience and overall marketing objectives) is equally as important.
Mobile advertising
Nearly 60% of searches are conducted from mobile devices, and 77% of those searches are conducted from a mobile device even when a desktop PC is available. So clearly, mobile advertising is essential.
Mobile advertising encompasses any type of advertising channel that specifically targets mobile device users — like this Facebook Mobile ad: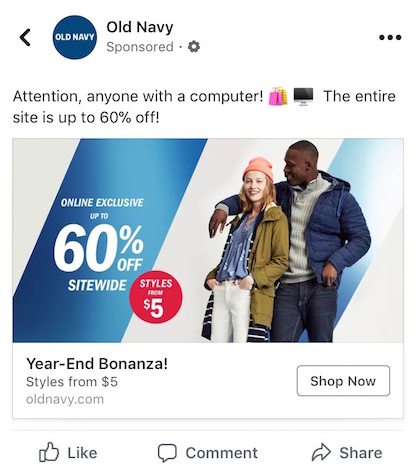 An effective mobile advertising strategy should consist of a variety of components, including a mobile responsive website, mobile display ads, and post-click landing pages, in-app advertising, and more. Developing a mobile app is another great idea, although it can be a bit more difficult, expensive, and time-consuming than the other methods.
SMS (text messaging) has become increasingly popular among retailers who use it to send customers promotional offers, updates, special events, etc. MMS allows you add multimedia to the mix.
Video advertising
Marketers who use video increase their revenue 49% faster than those who don't. So if you're integrating video into your campaigns, you're already ahead of your competition.
The most common video advertising is found on major video platforms like YouTube, where a video ad typically plays before, during, or after the main content to capture viewers' attention and drive website and post-click landing page traffic.
There are two main types of YouTube video ads: TrueView video ads (In-Stream or Discovery/In-Display) and Pre-Roll video ads.
TrueView In-Stream ads play before the a posted YouTube video, while In-Display video ads appear as a sponsored, suggested video in the top right sidebar above playlists and YouTube suggested videos: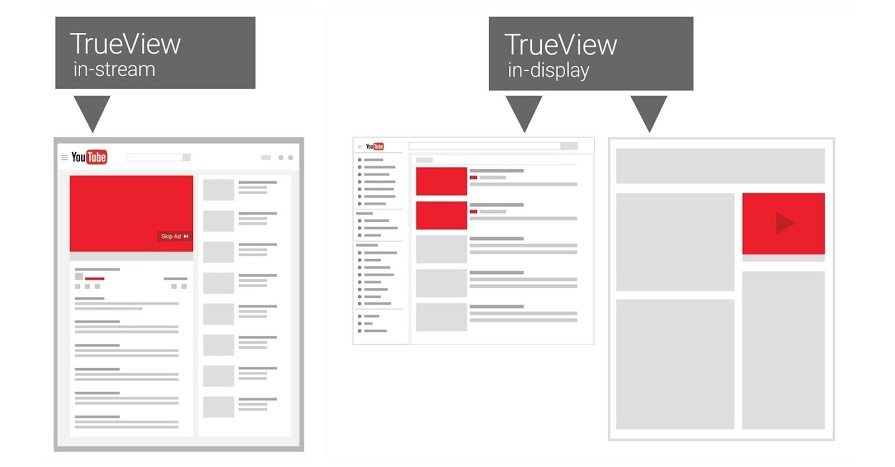 A major difference between these ads is that In-Stream ads are skippable after 5 seconds, and Pre-Roll video ads are non-skippable. Pre-Roll ads are also pay-per-click so it's recommended that they're only 15-20 seconds, making them less expensive and more likely to run.
No matter what type of video ad you prefer, it's important to distribute video assets throughout your entire marketing strategy, from content marketing to social media marketing to email marketing, and more.
To sum up, video advertising should become a priority for your brand in the future, especially with shrinking attention spans and the preference for searchers to watch as opposed to read.
Forum marketing
Forum marketing — collaborative sharing of information and user-generated content — is the perfect way to develop effective relationships and have meaningful exchanges with potential customers, and even other experts and influencers in your market.
Two of the most widely used web forums are Reddit and Quora.
Reddit
Reddit brings over 250 million people together, allowing them to share stories and conversation across more than 50,000 thousand passionate communities of similar interests and ideas. The forum is full of both small, niche subreddits, and large subreddits, so it's simple to choose who to market your content to.
To demonstrate, here is the r/gaming/ page with a relevant Duracell advertisement at the top of the forum list: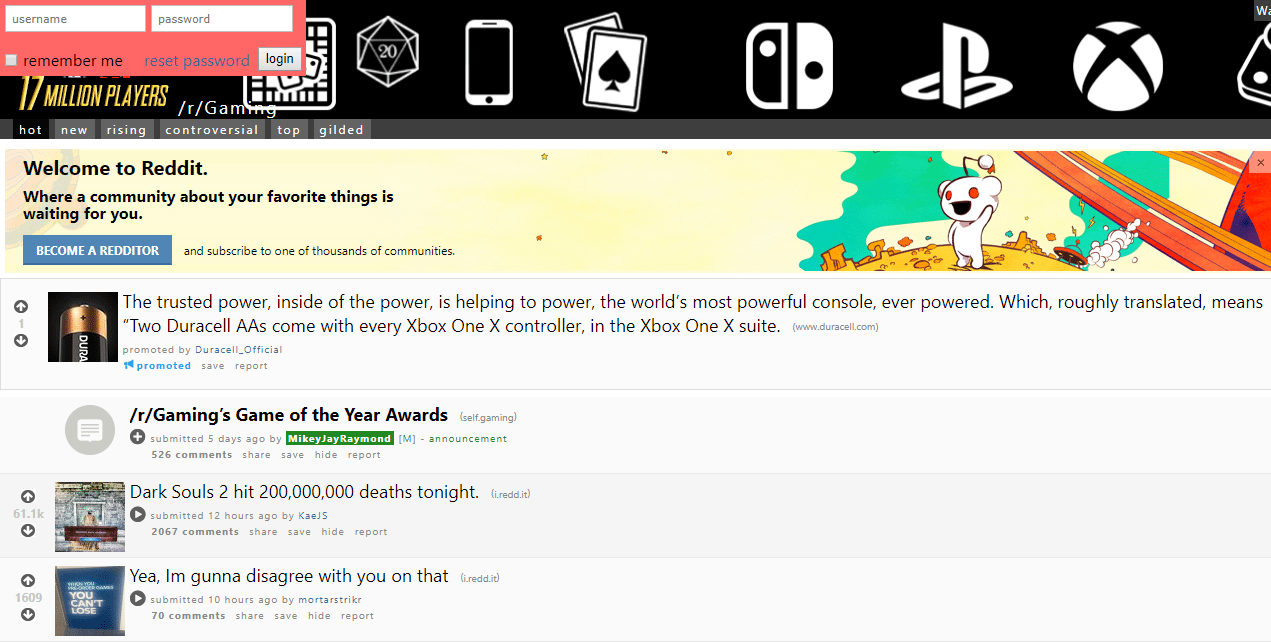 Quora
With over 200 million monthly unique visitors, Quora is used to ask questions and receive insightful answers or reliable information about companies, products, competitors, and industries, and more. Advertising on Quora is especially ideal for influencing prospects during the consideration phase of the buyer's journey, like Shopify does here: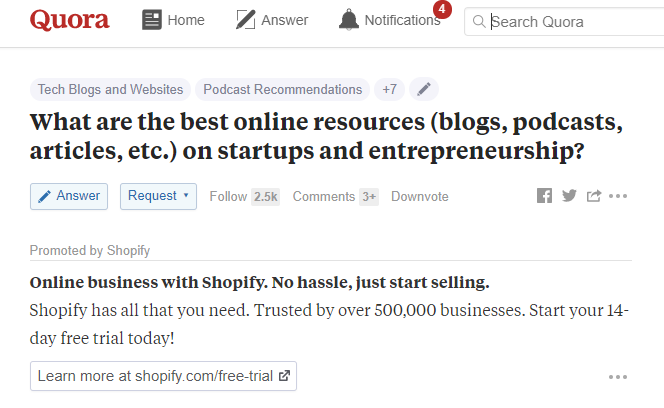 Specialized knowledge is exactly what people are looking for, and forums are particularly well-suited for providing this information. By responding to users' specific questions, delivering useful insights, and advertising relevant offers, others will quickly begin gravitating to your content as well.
One more thing about advertising channels
By no means are you limited to a single channel. Multi-channel advertising and cross-channel advertising strategies have had substantial impacts on conversion rates (see retargeting earlier). Multi-channel advertising is used to target consumers on individual platforms — various websites, social media, email, mobile, etc. — so they can interact with your business when and where they prefer. With multi-channel campaigns, your presence across channels isn't always consistent.
You can take it a step further with cross-channel advertising, which involves marketing to a potential customer across various channels that are all connected. In this case, all channels used in your campaign are consistent and interdependent on each other to provide consumers with a consistent experience.
It's equally important to recognize that not all types of advertising channels will perform well for your brand. Selecting the best digital advertising channel depends largely on your business and the kind of customers you're targeting. No matter which channel(s) you spend money, always make sure you're providing the best post-ad click experience for prospects. For that, use Instapage, the most robust post-click optimization platform available.