With "Deflategate" (finally) over and football season starting tomorrow, we look at how your landing page relates to the gridiron. At first mention, football and landing pages may seem to have nothing in common.
That couldn't be further from the truth.
Regardless if your landing page's goal is to collect emails for your list, increase webinar sign ups, generate sales leads, or get more people to read your whitepaper – conversions (and your conversion rate) are at the heart of your landing page.
In the NFL, team success is highly dependent on conversion rates as well. Specifically, the ability to "keep the chains moving" and get first downs. Converting on 3rd and 4th down is paramount to each team's success. Last season the team that led the NFL on 3rd down conversions was the New Orleans Saints at 48.3% and their 4th down conversion percentage also led the league (even higher than their 3rd down percentage) at 53.3%.
So again … What do football and landing page conversions have in common? Quite a lot, actually.
1. Landing Page "Gameplan"
At its most basic level, football is about two things: Blocking and tackling. The offense's objective is to block whereas the defense is tasked with tackling. At a more advanced level, teams have a gameplan filled with specific offensive plays to run, defensive schemes to use, and goal-line packages to implement.
The same advanced strategy applies to landing pages because your gameplan should include a catchy headline, benefit-oriented copy, a relevant picture of what's being offered, an appropriately-sized form, and a visible call-to-action for the visitor to convert on. It's also recommended you follow a logical flow from conception to completion and testing: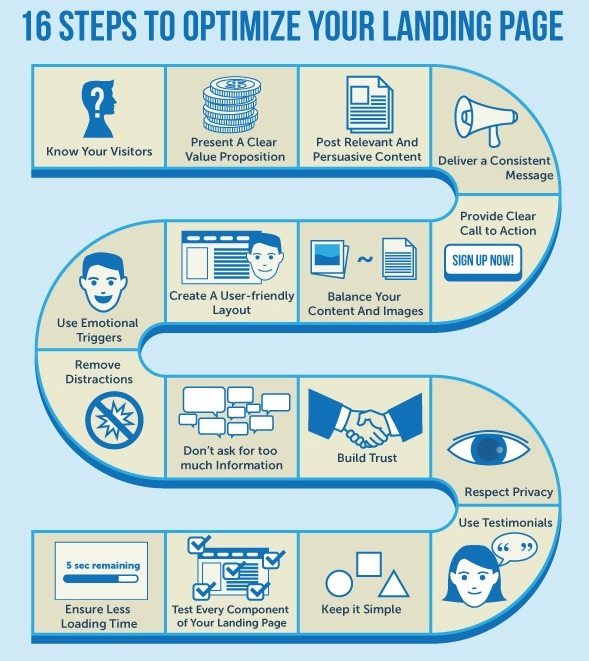 We've said it before on the Instapage blog, and we're saying it again: All of these landing page elements work in unison to help your visitors convert on your page.
2. Landing Page "Huddles"
After almost every single play in football, each team huddles to discuss their next play. It's a pause, of sorts.
In the landing page conversion process, you don't want your visitors to pause – you don't want any huddling. Any hesitation on their part could ultimately cause them to leave your page and never return! Instead, you want the hurry up offense approach where there's no stop in the action. People land on your page, see what you're offering, and convert on your form with no hesitation.
3. Landing Page "Halftime"
Halftime effectively serves two main purposes for both teams: An extended rest period and a chance to re-evaluate the gameplan. Halftime also stops any momentum a team may have built up to that point in the game.
When it comes to your landing page and conversion process, any "halftime" can slow down or stop any momentum your visitor built up.
Think about this: You chose a highly relevant keyword phrase to bid on in AdWords, wrote brilliant ad copy, and directed visitors to your optimized landing page. Except when they click on your ad and arrive on your page, it loads at a snail's pace (halftime) because the picture you chose for the page is way too "heavy."
Heavy images and page load speeds are particularly important because Google uses it as a ranking factor for your page. The longer your page takes to load, the more negative experience a user has with your page – which could negatively impact your ad rank.
This "momentum killer" could easily frustrate users and cause them to back out and find your competitor.
4. Landing Page "Penalties"
In recent years the NFL has modified game rules to protect the offense more and encourage higher scoring. For example, defenders can't touch receivers past five yards and the "defenseless receiver" rule where defenders can't tackle a receiver while he's in midair. They did this because they want more offense and scoring (conversions).
"False start" and "offside" are two common penalties that plague NFL teams each game. Not only do they make it tougher to convert on 3rd and 4th down (but eventually scoring a touchdown as well).
In terms of landing pages, think of false starts and offside as "jumping the gun" or getting too anxious with your form. This means don't ask for too much on your form. Only ask for what is absolutely necessary for you to maximize your landing page's conversions. Do you really need a form field asking how many employees a company has? Is it really necessary to know what the visitor's job title is if they're registering for your webinar?
Another example of penalizing yourself is not having security measures in place. For example, if you're an e-commerce site and your page is not secure with "https," the VeriSign logo, or a privacy policy – your conversions could be suffering severely. An abandoned shopping cart is the worst thing that can happen to you.
To that point, a recent survey shows that 17% of respondents are concerned about payment security. This means about 1 out of 6 people who place an item in their online shopping cart never make a purchase. This data also helps contribute to the alarming statistic that about $4 trillion dollars is lost due to shopping cart abandonment.
You could help increase your conversion rate by simply adding a few security measures to the page.
5. Landing Page "Touchdown Celebrations"
Touchdown celebrations used to be a much bigger deal. The "Bob 'N Weave," the "Dirty Bird," the "High-Step" …
Nowadays though, players get penalized for excessive dancing, using props, and slam dunking the ball over the goal post.
When your visitors convert on your page (score), make it a celebration about them! Send them to a thank you page, give them what was promised (e.g. free ebook, registered for webinar, subscribed to blog), and provide them related content they may be interested in. You know, like ChannelAdvisor does with this thank you page:
Also, send them a thank you email to confirm their submission on your page. Doing this helps you build trust with them and develops a better relationship with them. Heck, you can even throw a virtual party for them with party favors, fireworks, and standing ovation if you want (but we'll let you make that decision).
Conclusion
And you thought football and landing pages had nothing in common…
Hopefully now you can see why it's important for your landing page to:
Have a solid gameplan
Eliminate "pauses"
Maintain momentum
Reduce self-inflicted penalties
Celebrate each conversion with a solid thank you process
Now that you have some actionable tips on how to optimize your landing page, are you ready for some football?