Not everyone who advertises on Google AdWords gets assigned a support representative or an optimization team at Google. In fact, it's sometimes a bit tricky who gets help and who doesn't. Google tends to evaluate which accounts are getting support on a quarterly basis, so some businesses find themselves with account help one quarter – and none the next – or vice versa.
If you are one of the chosen, you might see a message like this in your AdWords account:
"You've been selected for Google Agency Support. Schedule an introductory call with [support representative], your Agency Strategist, today."
In today's post, I'll focus on things you can ask your account representative for – some of which you might not know are available – that can give your Google AdWords performance the boost it needs.
1. Competitor Benchmark Data
You may be surprised to learn that your Google support representative has access to blended data about your "peer group" (businesses that Google views as your competitors, who likely bid on similar keywords to yours) and they will actually provide this data to you, if asked.
You won't know exactly which companies have been included in that peer group. However, you can get your hands on charts that show how your AdWords account stacks up against competitors when it comes to:
Average position
Average CPC
Overall spend
Device breakdown
Many other categories
It looks something like this: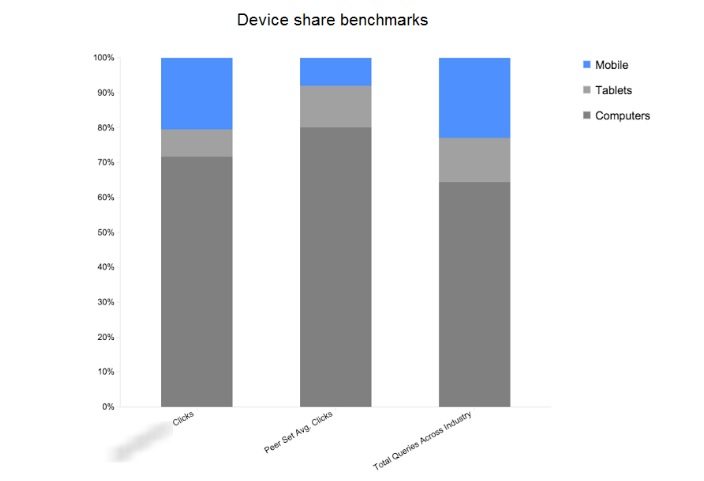 This data can be useful in assessing how your campaigns are performing against the competition and help direct you where to focus your optimization efforts.
2. Push Through Rejected Ads
As you may know, not every ad that is submitted to AdWords is approved for publishing, so it can be very disappointing when you've written a brilliant ad, submitted for approval, and it gets rejected.
However, sometimes ads don't overtly violate a Google ads policy. In these instances, you can lean on your Google representative to get your ad approved. Without them, you're forced to either change the ad yourself or call the general AdWords support line (866-246-6453), experiencing long delays.
3. Escalate Questions and Issues to Other Google Teams
Let's say you're also working with DoubleClick on display advertising campaigns, and you need an introduction to a specialist. Or, you want to test out TV advertising through Google. Or get in touch with the YouTube team to explore promoted videos. Rather than trying to contact the appropriate support representative from each advertising platform, ask your AdWords representative to make a warm introduction. Sometimes a handoff from within Google can go a long way. Just like in job searching, it can often be who you know, not what you know.
4. Get Included in Betas & Fresh Ad Products
Google is famous for keeping products in "beta" for ages. But if you want to be among the first businesses to test out new channels within the AdWords lexicon, your Google representative is your ticket behind the curtain.
To give you a few examples, the following three sections are current beta projects available to some advertisers. Ask your representative to "enable your AdWords account" to be eligible for them.
Display Select Keywords
Google Display can sometimes be a major headache for advertisers. It works for some accounts and is riddled with low-quality clicks and very few qualified leads for other accounts. Think of the "Display Select Keywords" beta as a supercharged version of the display network. The details of its inner workings are not public, but the new approach promises to target your audience more carefully, go after more of the right prospects, and reduce the clutter.
Here's what it might look like within your account to get this enabled, once your representative enables it for you: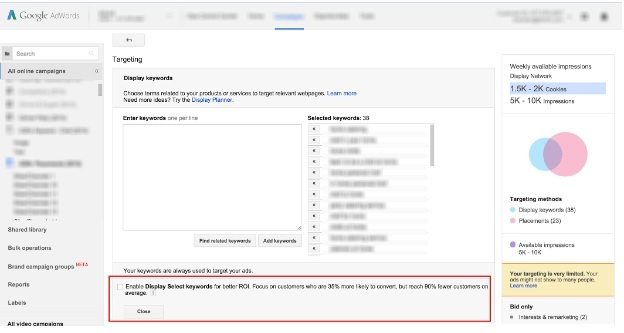 Google Sponsored Promotions
You may have noticed that Gmail came out with a series of folders in your inbox, one of which is called "Promotions." Now, you can target ads to this folder. So far, advertisers are seeing very low cost-per-click for this beta test (averaging between $0.03 to $0.08 CPC), but also fairly low lead quality.
Here's what the ad creative might look like for Google Sponsored Promotions, using WordStream's PPC Audit as the example: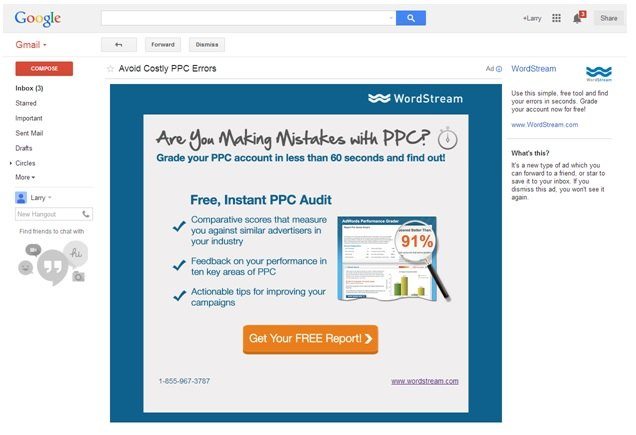 Call Conversion Tracking
Finally, a way to get a more complete picture of leads and sales coming from your AdWords ads is taking advantage of Google's new call tracking tools. Conversions are a complex thing – sometimes they don't take place right away via the lead capture form on your site – but after some research, a visitor who came from an ad might call the phone number on your website.
How do you properly attribute this conversion? How do you then optimize your campaigns to bid higher on a keyword that ultimately encouraged a prospect to call, rather than rewarding keywords that might not yield such quality leads?
This new feature allows you to do just that: Identify and measure calls from your website that occur after an ad click.
On the AdWords blog, you can peruse this high-level overview to learn more about the feature. If you choose to implement this feature, you can find an Implementation Guide here.
Of course, AdWords success comes down to meticulous optimization and knowing your business well. No one knows your business and customers better than you, and no one is equally invested in your success – including your account manager at Google. But the help and networking provided can be useful in a number of areas including testing new features, making key introductions, going through the checklist of basic optimizations, and helping to escalate administrative items, to name a few.
Now I ask you… Have you had success with any of these strategies?
Igor Belogolovsky is Cofounder of Clever Zebo, a team of conversion rate optimization experts based in the San Francisco Bay Area.